by: Wax
After a week off for DreamHack: Atlanta, WTL Winter resumes with the eighth week of regular season games.
Dragon Phoenix Gaming managed to just barely take the #1 spot from ONSYDE Gaming before the DreamHack break, edging out their new rivals by the difference of a single map. Now, the two teams are on course for a titanic clash in week eight, where Maru and herO will face off again in an Atlanta rematch.
Week 7 Results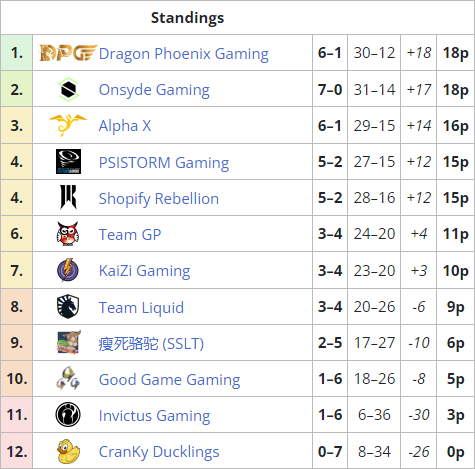 Top 7 teams qualify for the playoffs, bottom 2 teams must requalify.
Points are awarded as follows:
3 points for a victory in a series that does not require an ace match
2 points for a victory in a series that requires an ace-match
1 point for a loss in a series that requires an ace-match
0 points for a loss in a series that does not require an ace match
Alpha X 4 – 3 瘦死骆驼 (SSLT)
Watch VOD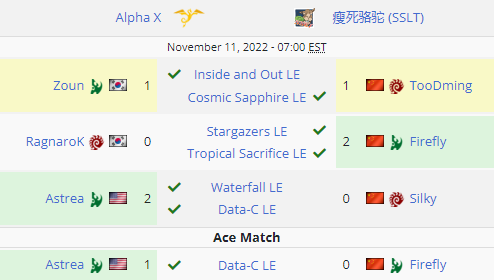 SSLT started the week with a huge upset, winning a valuable point against Alpha X that might ensure they finish outside of the relegation zone (bottom 2).
The series began with SSLT.Toodming opting out of his usual cheesy play and going for a macro-oriented style against αX.Zoun on Inside and Out. However, this didn't work out for him, and Zoun won after safely assembling a Carrier deathball. Toodming decided to stick to his guns on the next map of Cosmic Sapphire, and it paid off as a 6-minute Ling-Baneling strike allowed him to tie the series.
SSLT.Firefly kept his team's momentum going after the good start, beating αX.RagnaroK on Cosmic Sapphire. The Alpha X ace looked to punish his opponent's Glaive Adept opener by making lots of Roach-Ravager-Ling off a low Drone count, but ended up in a bad position after he failed to do significant damage. Firefly calmly consolidated his lead, putting together a strong Gateway unit army and finishing RagnaroK just as he hatched Lurkers.
Firefly then pushed his team's lead even further on Tropical Sacrifice, beating the Code S runner-up yet again. He went for another Glaive-Adept opener variant, this time hitting with a somewhat delayed 'timing' off of three bases. This put a dent in RagnaroK's economy, forcing him into a defensive posture. Firefly kept up with the pressure with continued mass Gateway unit attacks, but RagnaroK survived until he had Lurkers to stabilize his defenses. That put Firefly in a bit of trouble as he had delayed his tech to keep attacking with mass Gateway units, but Disruptors arrived in time to save the day. Ultimately, Firefly was able to keep taking good trades with Disruptors + Gateway units to force another GG out of RagnaroK.
αX.Astrea prevented things from becoming a complete disaster, taking a 2-0 against SSLT.Silky to force the ace match. Their first game on Waterfall was fairly one-sided, with Astrea dealing a lot of damage with early Oracle-Adept and then finishing Silky off with mass Glaive Adepts. Astrea's Oracle-Adept harassment tormented Silky once again on Data-C, and this time Astrea ended the game with a fast transition into a Carrier deathball.
With αX.Astrea playing well on the day, he got the nod for the ace match over usual ace RagnaroK. As for SSLT, their best performing player SSLT.Firefly was the clear and obvious choice.
Playing on the ramp-natural map of Data-C, Astrea opted for a fast expansion while Firefly went for a slower expansion off of 2 Gateways. Both players went for fast Oracle tech, and they ended up in a situation where they were ransacking each other's Probe lines. Astrea got the far better end of this exchange, with his greedier opener allowing him to survive with significantly more Probes. This quickly snowballed into an advantage for Astrea in the Blink-Stalker wars, and he was able to force the final GG at around the 7:40 mark.
Invictus Gaming 0 – 6 PSISTORM Gaming
Watch VOD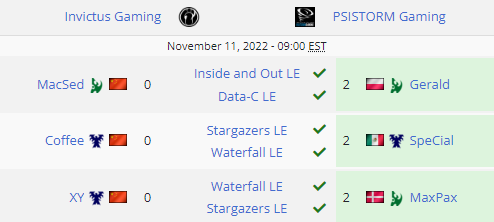 A newly beardless
PSISTORM.Gerald
started his team's resounding victory with a 2-0 over
iG.MacSed
. The first game on Inside and Out played out until both sides had maxed armies, but MacSed was at a big disadvantage due to having mostly Gateway units against Gerald's Disruptor-backed force. Huge chunks of MacSed's army evaporated once it was time to fight, giving Gerald the victory. Oracles were the key to Gerald's game two victory on Data-C, with a pair of the flyers constantly stressing MacSed's economy throughout the game. Eventually, MacSed was forced into an all-or-nothing Stalker Attack, which Gerald held off to take another win.
PSISTORM.SpeCial was the next PSISTORM player to get a 2-0, taking down iG.Coffee. The first game on Stargazers saw Coffee hold his own for a while, but he was eventually outfought in a series of Marine-Tank battles. SpeCial then got a chance to play his preferred 2-Starport style in game two, which he used to win the early/mid-game skirmishes and force the GG.
With the full three points already taken, PSISTORM.MaxPax maximized his team's map score with a final 2-0 against iG.XY. XY tried to take advantage of Waterfall's short distance with a 2-base all-in aided by SCVs, but MaxPax was able to buy time and crush the attack with Chargelots, Archons, and Colossus. XY got cheesy on game two on Stargazers, playing one base tech to go for a series of Mine and Hellion drops. While this succeeded in killing a lot of Probes, it only gave him a minor advantage due to his one-base start. XY tried to follow-up with another 2-base all-in push, but once again MaxPax had enough troops to stuff the attack.
Team GP 2 – 4 ONSYDE Gaming
Watch VOD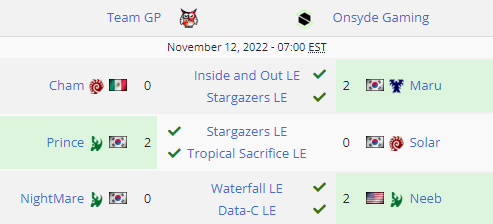 The series opened with
GP.Cham
testing himself in a fairly straight-forward macro duel against
OG.Maru
on Inside and Out, starting with Roach-Ravager-Bane and later adding Ultras. While Cham made a good effort of it for around 16-minutes, he was eventually overpowered by Maru's unrelenting infantry army. Cham pivoted to cheese in game two on Stargazers, going for a fast Nydus off of three bases. While the Nydus went undetected, Maru happened to be playing a fairly safe build with lots of early infantry, and he got an easy win after thwarting the attack.
We returned to Stargazers for the first game between GP.Prince vs OG.Solar. Although Prince was well-known for his cheeses in previous seasons, he ended up playing what was probably his best macro game in the WTL. Playing a passive, late-game oriented strategy, he held off all sorts of aggression from Solar and put together a powerful Carrier deathball. Solar was unable to match its firepower, and ceded defeat in just under 15 minutes. Prince reverted to his cheesy ways on Waterfall, bringing out the DT into fast DT-Blink opener he used to beat Dark in Code S. The strategy worked out beautifully just like it did in the GSL: DT's blinked in and hacked down the Zerg third, and a Blink-Stalker follow-up forced the GG from the economically crippled Zerg.
Team GP were on the verge of stealing another point off a stronger team, but OG.Neeb spoiled their fun with a clutch 2-0 of GP.NightMare. Game one on Waterfall went to Neeb in the mid-game, as he used his Stalker-Chargelot army to smash NightMare before he had Zealots of his own. A few seconds of tunnel vision led to NightMare's downfall in game two, as his focus on Prism-Adept harass let a couple of Neeb's fast DT's slip into his main. NightMare couldn't overcome the huge Probe damage he took, and he was soon forced to GG out.
CranKy Ducklings 2 – 4 Team Liquid
Watch VOD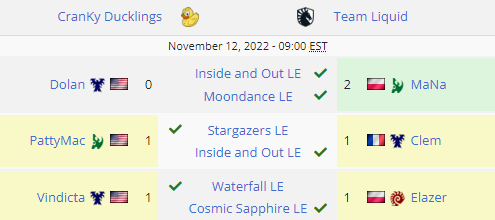 Liquid`MaNa
didn't get off to the best start against
CranKy.Dolan
on Inside and Out, getting caught off guard by a 3-Barracks opener and losing several Probes. However, he was able to fend off several of Dolan's attempts to finish the game, and eventually completed the comeback with a mass-splash army. MaNa got a bit cheesy on Moondance, proxying a Dark Shrine and Gateway for a fast DT-poke. Some defensive mismicro from Dolan allowed the DT's to cause him far more trouble than they should have, and he GG'd out after his desperation all-in was thwarted by MaNa.
The 2-0 from MaNa ended up being much more important than expected, as the next two Liquid players gave up 1-1 draws. Liquid`Clem may have underestimated CranKy.PattyMac in their first game on Stargazers, getting a little too aggressive against the Chargelot-heavy Protoss. It took just one bad engagement in the field, and one big warp-in Zealot warp-in in the Terran main, for Clem to surrender the upset. Things went much more smoothly for Clem on Inside and Out, as he held off PattyMac's Blink-Stalker aggression and counter-attacked to get a quick 1-1.
CranKy.Vindicta continued the pressure against TL, getting the better of Liquid`Elazer in an extended macro bout on Waterfall. However, the Polish Zerg was able to come through with the series-clinching win on Cosmic Sapphire, using Roach-Ravager-Ling to beat Vindicta's mech army.
Dragon Phoenix Gaming 5 – 1 Good Game Gaming
Watch VOD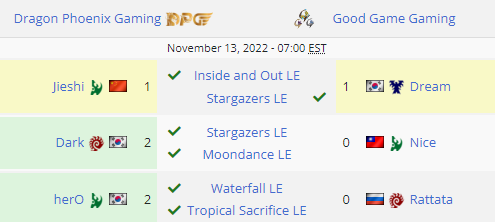 Pegged as a potential weak point in the TL.net preview,
DPG.Jieshi
pulled his weight from the very start by upsetting
GGG.Dream
on Inside and Out. Jieshi's proxy-pylon Dark Templars went unscouted, and struck at the perfect moment when Dream was out of scan. The DT's dealt grievous damage to Dream, allowing Jieshi to clean up easily later. It was Dream's turn to get aggressive in game two, as he started with a Hellion drop before going for a Raven-assisted Tank-push. Things went mostly according to plan for Dream, and he collected a GG from Jieshi to tie the series.
Next up for DPG was DPG.Dark, who was fresh off an impressive championship run in the AfreecaTV Champions Cup. There was no championship hangover for him against GGG.Nice—literally, as Dark said in his interview he couldn't drink to celebrate due to having this match coming up. Dark took game one on Stargazers with a Queen-Nydus all-in, and then finished the job on Moondance with a Ravager-Ling timing.
DPG.herO applied the coup de grace, taking a 2-0 against GGG.Rattata to end the series. herO won on Waterfall by playing a pretty conventional version of his Oracle-Blink style, where he killed a ton of Drones with harassment and then finished the Zerg off with mass Gateway units. Game two on Tropical Sacrifice followed a very similar pattern, with the difference being that herO added Robotics tech to win with a more splashy army.
KaiZi Gaming 2 – 4 Shopify Rebellion
Watch VOD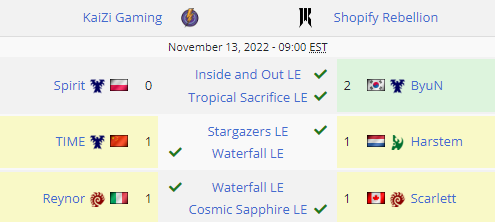 KaiZi Gaming's woes continued against Shopify Rebellion, as ace-player Reynor gave up his fourth 1-1 ZvZ draw of the season en route to a team loss.
SR.ByuN started with a 2-0 win over KZ.Spirit, which turned out to be the deciding result as the other matches ended in 1-1 draws. The first game was a 14-minute Marine-Tank bloodbath, with ByuN attacking relentlessly until he found a game-ending hole in Spirit's defense. The two players brawled with Marine-Tank once more in game two, and again ByuN got the upper hand. This time, ByuN's superior handling of a semi-basetrade situation was the key to victory, as he expertly juggled offensive and defensive multitasking.
Another macro game was on the menu as KZ.TIME and SR.Harstem started their series on Stargazers. Harstem's Blink-DT backdoor attacks ended up being the key to victory in the 17+ minute bout, preventing TIME from establishing a proper half-map split and forcing the eventual GG. TIME tied the series with some committed early-game pressure on Waterfall, microing a motley array of Marines, Cyclones, Liberators, and Medivacs to victory against Harstem's Phoenix expansion.
KZ.Reynor was able to keep his team alive for one more game, winning his first map against SR.Scarlett on Waterfall. No one managed to get out a Hive unit in this scrappy, 23-minute-long Roach war, where the supply counts ballooned and plummeted constantly. Reynor managed to eke out just a little bit more mineral income in the concluding minutes of the game, giving him the numerical advantage needed to win the final fight.
However, it was only a momentary lifeline for KaiZi Gaming, as Scarlett closed the series out on Cosmic Sapphire. Things seemed to go poorly for Scarlett in the early game, as her decision to bypass Banelings and go directly into Roaches forced her to give up her third base to Reynor's Ling-Bane. However, Reynor overplayed his lead with greed, leaving himself vulnerable to a big Roach-Ling attack. Reynor just couldn't get out enough defensive Roaches out in time, and he was forced to surrender the series.
This week's MVP goes to Astrea for his series-saving 3-0 against SSLT (2-0 Silky, 1-0 Firefly). There are only a few points separating the teams at the top of the table, and Astrea's heroics helped Alpha X salvage a crucial point against the feisty SSLT Roster.
SSLT.Firefly himself was considered for MVP due to his 2-0 of RagnaroK in the same series, but his ace loss match to Astrea tipped it in favor of the American. Another player who deserved consideration was GP.Prince, who picked up a 2-0 win against Solar in a losing effort for his team.
Weekly MVP's:
Week 1: OG.Solar
Week 2: GP.Cham
Week 3: OG.Neeb
Week 4: OG.Maru
Week 5: SR.ByuN
Week 6: DPG.Dark
Week 7: αX.Astrea
Week 8 Preview
Friday, Nov 25 12:00pm GMT (GMT+00:00) Matches
Alpha X stumbled in week 7, only managing an ace-match win against SSLT. This was primarily due to Firefly, who continued to play out of his mind by taking a stunning 2-0 upset against RagnaroK.
Unfortunately for iG, they don't have a wildcard like Firefly who could complicate things for the Golden Dragons. I expect Alpha X to get back on track with a routine victory.
Prediction: Alpha X 5 – 1 Invictus Gaming
The Ducklings project to end the season in last place without a win, but there have been a few silver linings to be found. They still haven't suffered a 0-6 loss, managing to fight hard and take at least a map in each series. Their players have also given some promising performances—PattyMac in particular stole a 1-1 against Clem and actually had a pretty solid lead against Reynor before losing 0-2.
While I doubt the Ducklings can beat PSISTORM, I think they'll at least continue their not-swept streak here.
One final thing to look out for in this match is Has making his debut for PSISTORM Gaming. He was a positive contributor for PREP eSPORTS two seasons ago with a 11-9 record—can he do the same for PSISTORM?
Prediction: PSISTORM Gaming 5 – 1 CranKy Ducklings
Saturday, Nov 26 12:00pm GMT (GMT+00:00) Matches
Team GP members have earned good individual tournament results as of late, suggesting this mid-table run in the WTL is no fluke. Cham followed up his DH: Latin America championship run with a respectable RO24 finish at DH: Atlanta, while NightMare made an important career breakthrough by reaching the top eight.
I'm tempted to say Team GP have reached a place where they should beat SSLT comfortably, but SSLT are too unpredictable to write off. TooDming and Silky's cheesy gambles always have a chance to pay off, whereas Firefly is just playing fantastic all-around this season. NightMare should be favored to take the 2-0 against TooDming, but the two mirrors could make this a close call for Team GP.
Prediction: Team GP 4 – 2 SSLT
Is KaiZi Gaming on the verge of a crisis? They're just one spot inside the playoffs cutoff line at 7th place, but have drawn some scary match-ups against 8th place Liquid.
The top-tier ZvT match between Reynor and Clem could go either way, but I have to favor Clem just slightly after his reverse-sweep victory against the Italian in the DH: Europe finals. Similarly, the inter-Polish match of Spirit vs Elazer seems to favor Liquid by a small margin, with a 1-1 tie being the most likely outcome.
The only match-up where you could say KaiZi have a decisive advantage is TIME vs MaNa. However, TIME was unusually shaky at DreamHack: Atlanta, getting eliminated with a 0-6 record. His final loss was a 0-2 against a big PvT underdog in NightMare—could MaNa pull off a similar upset?
Prediction: KaiZi Gaming 4 – 2 Team Liquid
Sunday, Nov 27 12:00pm GMT (GMT+00:00) Matches
GGG might be trailing far behind Shopify in the standings, but they have a surprisingly decent chance of taking the upset in this match.
Dream is just a tricky TvZ draw for anyone—simply being aware of his love of proxy-Barracks and 2-base all-ins strategies doesn't mean Lambo will automatically be able to stop them. Drawing Rattata onto Scarlett is quite the boon for GGG as well, with the vagaries of ZvZ making it ripe for an upset or at least a 1-1 draw.
ByuN vs Nice will be the key match-up for Shopify, as there's a massive gap between the two players on paper (ByuN has nearly a 95% chance of winning a BO3 according to Aligulac). If he can't take the 2-0 as expected, then Shopify might be in some real trouble.
Prediction: Shopify Rebellion 4 – 2 Good Game Gaming
Eight weeks in, we've come to what could be the best game of the regular season. In January, these two teams may very well face off with the WTL championship on the line. For now, they're playing for temporary control of the #1 spot in the regular season standings.
Thankfully, neither side decided to get cute and bench a key player. These are full-strength line-ups for both sides, and they've aligned without a single mirror match.
I see the first match of Dark vs Neeb leaning in DPG's favor. This is mostly based on reputation—Dark didn't play much ZvP in his AfreecaTV Champions Cup run (2-0 vs ShoWTimE)—but I'm okay using his ridiculous ZvT form as a proxy for his overall level of play.
The second tilt is a herO vs Maru rematch, coming just a few days after their semifinal bout at DreamHack: Atlanta. These two have been trading series back and forth all year, and herO won their latest match by a narrow 3-2 margin. A 1-1 draw seems like the most likely outcome, but this one really could go either way over a sample of just two games.
The final match Cure vs Solar seems to favor ONSYDE Gaming. Solar is coming off of a narrow 2-3 defeat at the hands of Maru at DreamHack Atlanta, and he's looking very strong overall in ZvT. On the other hand, Cure is in a minor slump at the moment, and has even lost his last five matches against Solar.
Given the match-ups, I think this one is headed to an ace match. Both Dark or herO would be realistic picks for DPG, while you would think it would surely be Maru taking the reins for ONSYDE. Either match-up would be close to 50/50, but I'll give DPG the edge since both players have defeated Maru in major BO5+ matches lately.
Prediction: Dragon Phoenix Gaming 4 – 3 ONSYDE Gaming
---
Source: https://tl.net/forum/starcraft-2/603616-wtl-2022-winter-week-7-recap-week-8-preview