When I started The Disruptive Group last year, one of my first tasks – like any entrepreneur – was to open a bank account.
Being a fervent proponent of Fintech, I looked at the different options available in the UK, including the different Fintech startups. My requirements for the ideal bank?
– Easy onboarding. We keep hearing about horror stories of businesses taking months to open a bank account, and I wanted an on boarding as simple as a Revolut or N26.
– Integration with Xero and other accounting software. As a small company, I had no desire to have someone manually validate data between the bank account and accounting system.
– Modern user interface. Having used Internet banking for almost 20 years, I wanted to have a modern UI (and especially search function, download, etc.) that was like Spotify more than Yahoo in the 90s…
After spending quite a bit of time looking at different bank accounts and Fintech startups, my choice was…. HSBC!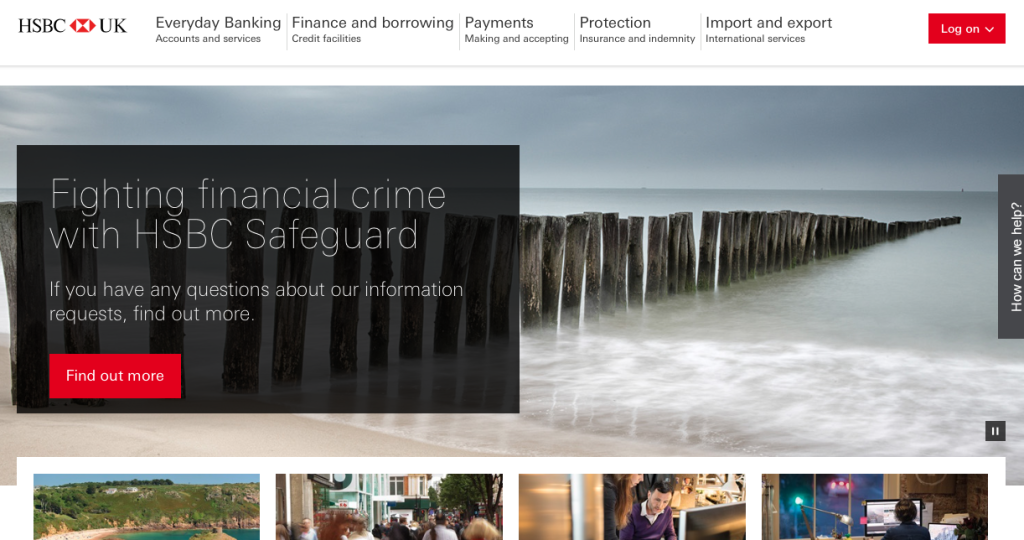 This seemed a bit bizarre, but I couldn't find any Fintech company that was really interesting at that time (it was a year ago), and between all the traditional banks, they were all equally unexciting. I therefore went with HSBC, which seemed OK, mainly because TDG was designed to be international, and HBSC has a large international network.
My experience?
– Onboarding: horrible experience! It took more than a month to open the bank account, including waiting for hours on the phone. The worst was to wait on the phone just to book a slot for another call!
– Integration with Xero: They offer an integration with Xero, but it doesn't seem to work for some reasons. I"m sure I could make it to work if I spent hours, but as an entrepreneur, time is a scarce resource…
– Modern user interface: Hahaha! I don't really mind if the UI hasn't changed for 10 years, but seeing only 10 days of transactions, isn't it crazy? Does it mean I have to consult my bank account every day, and then constantly download PDFs?
Overall, the experience with HSBC was exactly like the horror stories we hear from SME Banking: slow, old, painful. This might be of course be a bit unfair on HSBC, because I'm not sure other banks would fare much better…
After this experience, when we launched CFTE with Tram Anh 6 months ago, I decided to take a radically different approach. The timing was better, since there had been more Fintech startups targeting SME banking. After my market research, I decided to go with Tide, which had a good reputation, and funding from Passion Capital, the same investor as GoCardless and Monzo – two companies I find very interesting…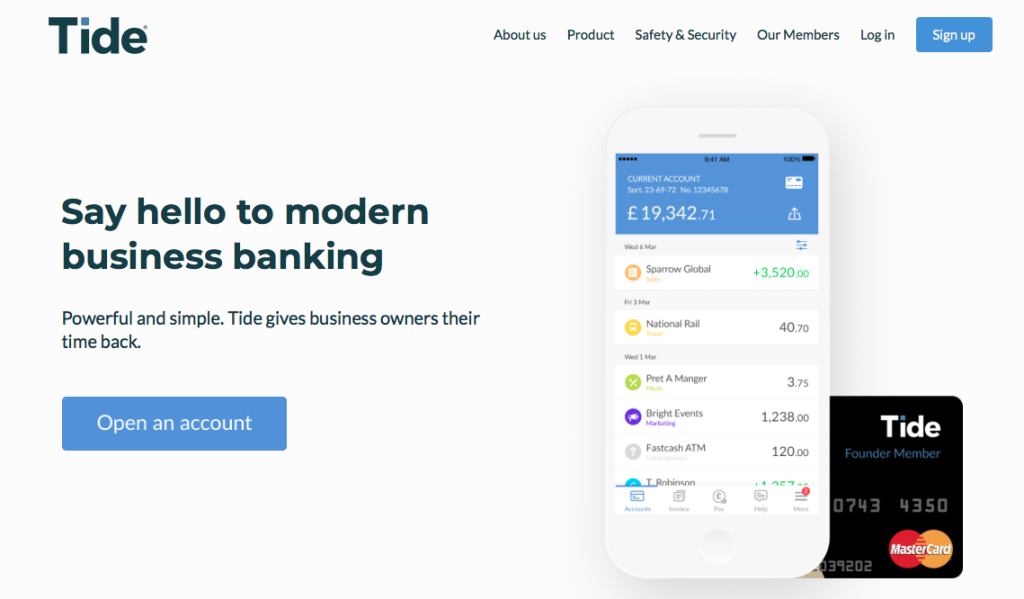 My experience with Tide?
– Onboarding: this is what it should be! For anyone who wants to know what a frictionless onboarding is, I'd suggest to try Tide if you have a UK company. All from a mobile phone, it didn't take more than 3 minutes to enter all the information.
– Integration with Xero: No integration with Xero yet when we registered, but it was on their roadmap.
– Modern user interface: This is exactly what I would expect from a UI in 2017, easy to use, account management directly from a mobile, search function.
So overall, I was very happy with Tide, which was exactly what I wanted from a bank account.
Or so I thought…
The problem started to happen during the summer, when we had to receive our first payment from the US. I looked in the Tide app for my IBAN, but couldn't find it. I then looked on the Internet, to realise that Tide doesn't provide an IBAN…
For those of you who are not expert in payments, a quick summary on why an IBAN is important:
– To pay and receive money from my account (whether it's a bank like HSBC, or a Tide which looks like a bank), the money will have to transit through some payment rails.
– Both HSBC and Tide would use the UK national payment infrastructure (Faster Payments) to send and receive money with another accountholder in the UK. So no problem for me to be paid and to pay in the UK with Tide.
– But for international payments, this doesn't work, and an IBAN is necessary so that payments can be communicated through the SWIFT network. Tide doesn't offer an IBAN, whereas it's a basic feature of HSBC.
In other words, my Tide account allows to pay and receive money in the UK, but not internationally – i.e I could not receive money from abroad, nor pay, which was a slightly annoying problem…
In my quest to find a good SME bank account, I therefore tried the new Transferwise for Business that seemed to offer exactly what we were looking for, a borderless account with 4 different accounts in multiple currencies.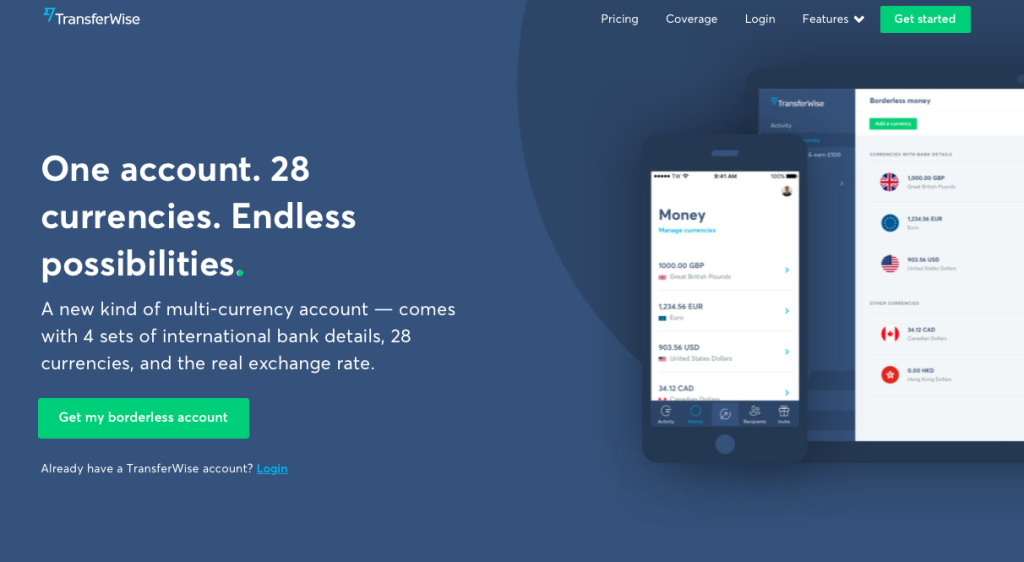 – Onboarding: all good, Transferwise has the on boarding we expect from modern banking
– Integration with Xero: No integration with Xero yet when we registered
– Modern user interface: Great simple interface
– International payments: Yes, with 4 different currencies.
So I thought I had found the perfect solution, until I accessed my Transferwise account, and realised that the Transferwise borderless accounts were not that borderless… They were actually accounts in different currencies, but still national accounts – so the GBP account could only receive money from the UK, the USD account from the US, and still no international payments… Who would have thought it was so complex to receive money in a FIntech world?
Going through my list of my favourite Fintech startups, I decided to open an account with Revolut Business. Having had the experience with Transferwise, I asked Revolut's support about IBAN accounts, to which they said yes, no problem.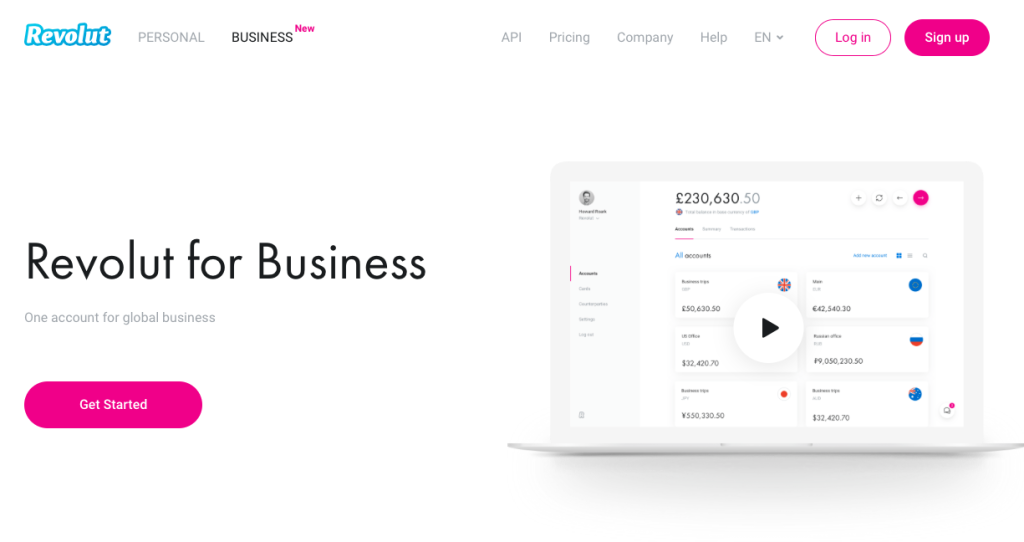 And so here is my experience with Revolut:
– Onboarding: just like other Fintechs, frictionless onboarding, no problem
– Integration with Xero: No integration with Xero yet when we registered, but on their roadmap
– Modern user interface: No problem, very good
– International payments: Yes, with IBAN
Being a big fan of Revolut, I was therefore quite keen to receive our first Revolut international payment, and that's where we stumbled onto a big problem…
Revolut does offer an IBAN, but this is a pooled account. In other words, for a client to send us money, they have to send money to Revolut's IBAN, add our reference in the message, and Revolut will transfer the money to our account. Why is it a problem? The problem is that instead of sending us the money like this:
– Bank : XYZ
– Account Number: 12345678
– Account Holder: CFTE
Our client would have to send the money like this:
– Bank : XYZ
– Account Number : 12345678
– Account Holder: Revolut
– Message : ABCDE (a code that identifies our account with Revolut)
And that some clients needed to have the same beneficiary account as the company they signed the contract with, i.e. CFTE and not Revolut.
I had of course anticipated this issue, and had asked Revolut if they could provide individual IBAN accounts, and not pooled accounts – which they do. I therefore asked them to open an individual IBAN account for CFTE, and they asked us to send our bank statements for KYC. We sent them our Tide statements, and they refused! Because Tide is not a bank, but has an e-money license. In other words, we could only have a unique IBAN account with Revolut if we already had an account with a bank…
In conclusion, I haven't found a way to receive international payments from a Fintech startup. Since one of TDG's projects is to set up a bank, I can clearly understand some of the issues that they're facing, and getting the pipes of banking right is less easy than it seems.
When I opened my account with Tide, I was confident I could find a Fintech account with a modern UI, great features, and simple onboarding, and I was right. But I hadn't anticipated that a basic feature of banking such as "receive international payments" would be so difficult to find.
As of today, I haven't found the ideal SME bank yet – it might be out there, so don't hesitate to PM me if you know the dream SME account. In my opinion, the ideal account should get the banking right – like HSBC – and the tech right – like Tide, Transferwise or Revolut. In other words, a FinTech account…
In all cases, it shows that even in a big market like SMEs, and despite the arrival of many great startups in the last few years, there is still a huge untapped market. In my opinion, SME banking will be one of the most interesting opportunities in the next few years, and my experience shows that competition is only just starting…
If you want updates on Disruptive Finance and Fintech:
– You can enter your email address to receive an email whenever I write a new post
– You can also follow me on Twitter here
Don't hesitate to share if you like this post
Related
Source: http://www.disruptivefinance.co.uk/2017/12/12/why-sme-banking-is-a-land-of-opportunity/