Skills for finance are changing. And this is happening today already: "NAB will make 6,000 job cuts over then next 3 years with its digital banking revamp… NAB is hiring 2,000 people with different capabilities" says Banking Technology.
After a very fast paced trip in Hong Kong, Malaysia, and Vietnam (more on this later, but just know that the Asian Fintech boom is continuing at full speed), I'll be in Singapore for the Singapore Fintech Festival – the largest Fintech event in the world.
We will have our first CFTE event in Singapore: "Evening of Conversations" where Tram Anh, CFTE co-founder, and myself, will be discussing about the future of jobs in finance with an amazing panel:
Gina Heng, CEO of Lattice 80, one of the largest Fintech ecosystems in the world
Janos Barberis, founder of SuperCharger, the largest Fintech accelerator in Asia, and senior lecturer of Around Fintech in 8 hours
Veiverne Yuen, co-founder and CIO of Tryb Capital, and guest speaker on Around Fintech in 8 hours
Choy Siew Kai, head of data and analytics and GIC, and one of the most impressive thought leaders I know
If you're in Singapore, join me for the event, it should be very interesting – and quite fun too. Also, we'll do something special for the first participants of Around Fintech in 8 hours who just completed the course, so it should be a great way to meet many people.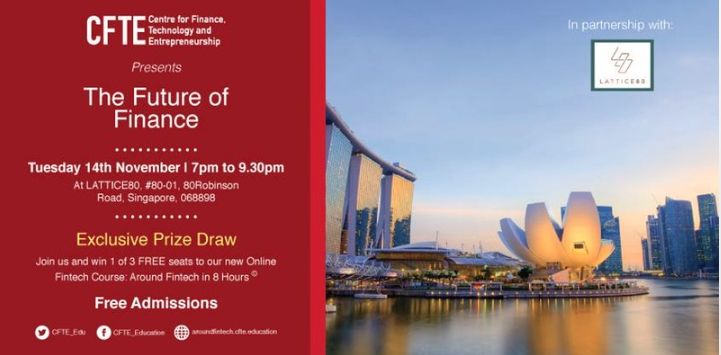 If you want updates on Disruptive Finance and Fintech:
– You can enter your email address to receive an email whenever I write a new post
– You can also follow me on Twitter here
Don't hesitate to share if you like this post
Related
Source: http://www.disruptivefinance.co.uk/2017/11/07/skils-for-finance-20/