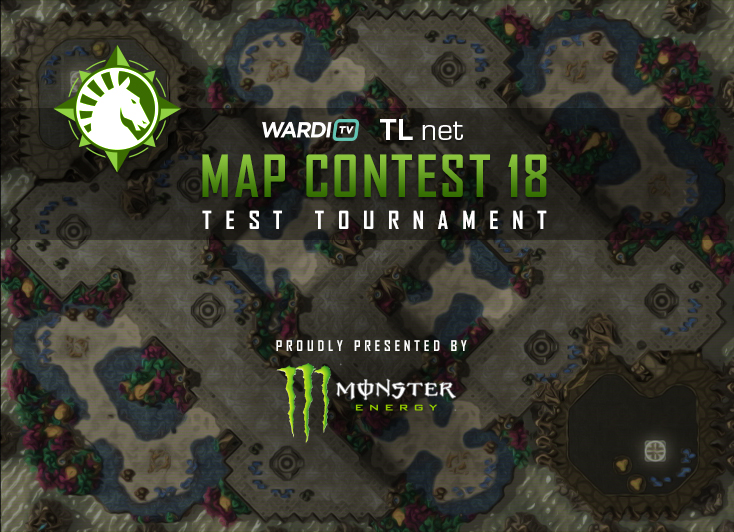 Team Liquid Map Contest #18 is up and running and that means we need a tournament! We are excited to be back one more time for the 10th WardiTV Team Liquid Map Contest Tournament!
20 Players will duke it out on brand new maps that will likely make up our future ladder map pools!
Special thanks again to Monster for helping to bring this Team Liquid Map Contest and hence tournament to us!
Check out the maps and the tournament info on Liquipedia (Coming soon)!
---
Format & Dates
Group stages are Round Robin BO3, with 5 players in each group. First place of each group goes directly to the RO8, while second and third will face off against each other in the RO12.
Some matches during groups may be played simultaneously and replays cast at the end of the show to help with scheduling – full information will be set up once we have a proper match schedule in place.
Group A Tuesday, May 23 11:00am GMT (GMT+00:00)
Group B Thursday, May 25 11:00am GMT (GMT+00:00)
Group C Friday, May 26 11:00am GMT (GMT+00:00)
Group D Date TBD (will be played at the same time as one of the other groups.)
RO12 & RO8 Saturday, May 27 11:00am GMT (GMT+00:00)
RO8-Finals Sunday, May 28 11:00am GMT (GMT+00:00)
---
Prize Money
1st – $750 & 200 WardiTV 2023 Points
2nd – $400 & 150 WardiTV 2023 Points
3rd/4th – $250 & 125 WardiTV 2023 Points
5th-8th – $175 & 100 WardiTV 2023 Points
9th-12th – $125 & 75 WardiTV 2023 Points
13-16th – $50 & 50 WardiTV 2023 Points
17-20th – $25 & 25 WardiTV 2023 Points
---
Streams

WardiTV
Please contact Wardi for alternative language casting. Our usual partners are invited to join us but please ask for graphics which may be required.
Source: https://tl.net/forum/sc2-tournaments/611554-warditv-tl-map-contest-tournament-10