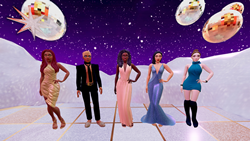 We're thrilled to launch this industry-first innovation and to push avatar technology forward for all consumers outside of gaming environments.
NEW YORK (PRWEB) November 17, 2022
Obsess, a leading experiential e-commerce platform enabling brands to create immersive virtual stores, today launched "Branded Avatars," a first-of-its-kind industry technology that enables brands to customize the look-and-feel and character style of shopper avatars to create branded metaverse experiences on their e-commerce sites. The new capability then lets shoppers personalize all aspects of their branded avatar, including skin tone, facial features, body shape, clothing and makeup.
Charlotte Tilbury is the first brand to partner with Obsess to offer the innovative new functionality, introducing it as part of its Charlotte's Beauty Realm holiday wonderland to further personalize the virtual store experience and deepen its connection with customers.
While consumers could create avatars in mobile apps and gaming environments previously, Obsess's new technology represents the first time shoppers will be able to customize their own avatars in a browser-based virtual store environment—with no download, signup, login or fee required. The function also allows shoppers to apply complete makeup looks to their avatars for the first time ever, giving brands the opportunity to curate unique beauty looks for their customers.
In addition, the new function enables friends to shop and attend events together in real time with their friends' avatars. Shoppers can use their personalized avatars to walk through and experience the virtual environment together, discovering, learning about and purchasing products, all while interacting and conversing in real time.
"Innovative brands have been looking to incorporate more personalization, gamification and social interactivity into their virtual store experiences to make shopping in these environments more engaging, social and fun—essentially more like shopping in real life," said Neha Singh, Founder and CEO of Obsess. "We're thrilled to launch this industry-first innovation and to push avatar technology forward for all consumers outside of gaming environments. Our platform now enables brands to create their own custom metaverse on their site—where both the environment and avatar style match the brand's look-and-feel—to give consumers an unforgettable shopping experience."
"We're thrilled to continue our partnership with Obsess and to launch an exciting new avatar functionality within Charlotte's Beauty Realm that allows customers to experience our holiday campaign in another dimension," said Corinne Suchy, Chief Growth and Technology Officer, Charlotte Tilbury. "We have broken new ground with Obsess as we use advanced technology capabilities to create personalization options that offer a phenomenal level of detail that one would expect from a brand led by a visionary like Charlotte Tilbury."
The new technology builds on Obsess's previous launch of its Shop with Friends capability and gives brands a new way to drive customer engagement, dwell time, AOV and conversion while providing their customers with a delightful way to express their individuality and style through their avatars.
About Obsess

Obsess is a leading experiential e-commerce platform that enables retailers to create immersive, branded, discovery-driven virtual stores on their websites and on metaverse platforms. The mission of the company is to create the next-generation online shopping interface that transforms the thumbnail grid into a visual, interactive, social and highly engaging experience. The company is headquartered in New York City. For more information, please visit ObsessAR.com or email contact@obsessAR.com.
About Charlotte Tilbury Beauty

Launched in September 2013 by iconic Beauty Entrepreneur Charlotte Tilbury MBE, Charlotte Tilbury Beauty was born out of Charlotte's long-held desire to empower everyone to feel like the most beautiful version of themselves, helping people around the world gain the confidence to achieve their biggest and boldest dreams.
All of Charlotte's products are her beauty secrets from over 29-years of working in fashion, editorial, runway and red carpet bottled. Offering a wide range of skincare and makeup items, suitable for all skin tones, shades and types, the products aim to beautify and improve the look of skin, using ingredients of the highest quality, formulated in specialist factories worldwide and presented in a distinctive range of sophisticated and luxurious packaging.
Charlotte Tilbury Beauty continues to break records across regions, channels, and categories. The company now employs over 1,800 people globally and sells over 500 products across colour, complexion, and skincare. Charlotte Tilbury has a physical presence in 21 global markets, is available in 41 countries via charlottetilbury.com, and has over 2000 points of distribution worldwide including department stores and travel retail. There are 27 standalone Charlotte Tilbury stores across the UK, North America, Europe, the Middle East, and the Asia Pacific.
Share article on social media or email:
Source: https://www.prweb.com/releases/2022/11/prweb19026891.htm