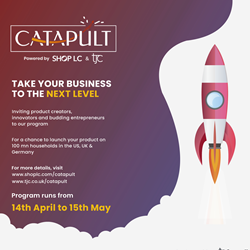 Our goal is to continue identifying the most promising start-ups in the Health, Wellness, Supplements, Mobility, Beauty, and Innovative Lifestyle industries and provide them with the necessary resources and mentorship to achieve success," said Kulathendral, Chief Innovation Officer at VGL.
LONDON (PRWEB) April 18, 2023
CATAPULT is a one-of-a-kind opportunity for budding creators and innovators to launch their products on Shop TJC's TV channels in the UK, taking its business or brand to another level with exposure to millions of new customers. Shop TJC's CATAPULT team is partnering with RangeMe, the leading online product-sourcing platform for retailers and suppliers from around the world, to find the most innovative product ideas.
Through CATAPULT, Shop TJC can discover new suppliers and bring their innovative products to Shop TJC customers. The participants will have access to 100 million households in the UK, enabling them to manufacture their products en masse and receive mentorship from experienced business personnel at every step. They may also have the opportunity to be a guest host on LIVE TV and participate in the rapid launch production scheme. The application process starts on 14 April and finishes on 15 May.
"We are excited to announce the launch of the second edition of Catapult, following the tremendous success of our first programme," said Kulathendral, Chief Innovation Officer at VGL. "Our goal is to continue identifying the most promising start-ups in the Health, Wellness, Supplements, Mobility, Beauty, and Innovative Lifestyle industries and provide them with the necessary resources and mentorship to achieve success. Through this programme, we aim to foster innovation and help entrepreneurs bring their ground-breaking products to market. We can't wait to see what the next generation of entrepreneurs will bring to the table!"
"RangeMe is proud to partner with Shop TJC on CATAPULT, and we are excited to help retailers discover new suppliers and bring innovative products to their customers," said John van der Valk, RangeMe Europe's CEO. "Through this programme, we hope to provide suppliers with the opportunity to expand their reach and access new markets while providing Shop TJC and Shop LC with fresh, innovative products to offer to their customers."
To apply for CATAPULT and take your business to the next level, please visit https://www.tjc.co.uk/catapult.html

Contact: Media Relations, TJC, Email: dealab@tjc.co.uk
Share article on social media or email:
Source: https://www.prweb.com/releases/2023/4/prweb19284951.htm