What in the World is the difference between a Business System that provides compliance reporting and a State Track & Trace Compliance Reporting system?
With regulations around state reporting, confusion is never good and the smallest information gap can cause serious issues. Whether it's when to report plants being serialized, how to account for waste, or how often to report sales, things need to be crystal clear. While most businesses have a solid grasp on most (if not all) reporting regulations, there is one aspect that is not always clear to licensees – how they can report the needed information to the government agency overseeing compliance.
States that have adopted Metrc or BioTrack state tracking systems talk about the need to report to the system a lot; however, they rarely provide guidance on how to do so. With both Metrc and Biotrack, you are able to use what is known as a third party integrator to report necessary information to the state. This is accomplished through the use of each company's respective API (Application Programming Interface) and the API's endpoints. An API is essentially the mouth and ears of a software system, and the endpoints are the different conversation topics. For those familiar with video games, this can be compared to the predetermined conversation topics and responses when talking with an NPC. Viridian Sciences utilizes these APIs to integrate to state-tracking systems, gathering the specific information required by the state, and seamlessly passing those data points into the state system as if the data were input directly into the state system itself. This API integration functionality allows you, the business owner, to pick an internal business software system that best meets your company's operating processes, without being limited to manually entering data into the state reporting system.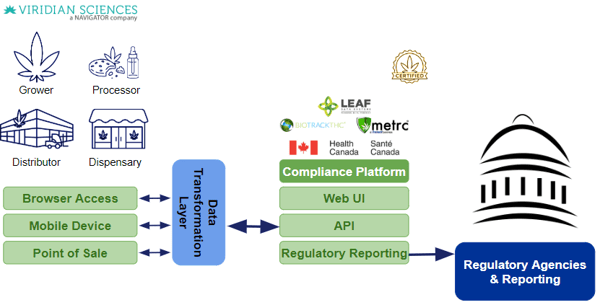 Let's be clear – you as the business owner have the power of choice. You can choose to manually work around the limitations of the track and trace reporting structure of the third party system chosen by the state, or you can choose a full business system that puts your business's needs first while also handling the track and trace data reporting for you. Many businesses find that while the state system checks all the boxes for compliance, the business metrics are lacking. Essential elements such as financial accounting, tax reporting, business analytics, and non-cannabis inventory management are just a few of the functions that licensees may be missing with their state's track and trace reporting system. As your cannabis business grows, the complexity of your business processes will scale at an even faster rate. Having a robust seed-to-sale ERP software as a platform for your growth will streamline all of your processes, from financial reporting to track and trace compliance.
Source: https://www.viridiansciences.com/blog/minding-the-gap