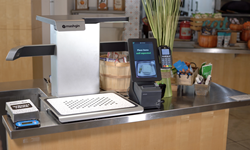 PALO ALTO, Calif. (PRWEB) April 20, 2023
Mashgin, the world's fastest touchless self-checkout system, today announced an integration with PDI Technologies, a global leader delivering powerful solutions and insights that serve as the backbone of the convenience retail and petroleum wholesale ecosystem. The integration allows Mashgin to easily deploy its computer vision self-checkout system at retailers who use PDI.
Mashgin transactions can now automatically and seamlessly flow into the retailer accounting and reporting features of PDI Enterprise, which eliminates the manual tasks of data manipulation and accounting reconciliation. The integration can be implemented in as little as a week, allowing retailers to take advantage of Mashgin's frictionless checkout while also ensuring that pricebook and related data are always correct and up-to-date. Additionally, the integration simplifies accounting by reconciling between a convenience store's primary POS and Mashgin, which keeps reporting consistent across stores that use Mashgin and those that have not yet been upgraded to Mashgin's frictionless self-checkout.
"We're really pleased with the boost of speed and convenience that Mashgin has brought to our customers in our downtown Charleston location," said Jon Rier, Refuel's Chief Financial Officer. "Having the direct connection between Mashgin and PDI has made the accounting and pricebook processes really smooth and has us excited to expand high-speed self-checkout in other locations very soon."
"Our goal is to unlock the power of retailer data to enable faster and better decision making across the convenience ecosystem," said Jeff Hassman, VP, Product Strategy and Partnerships, at PDI Technologies. "The integration of Mashgin and PDI is a game changer for retailers looking to upgrade their self-checkout experience while keeping pricebook and other key data synchronized across stores and POS."
Mashgin kiosks are already deployed at more than 2,700 locations worldwide, including convenience stores, major league sports stadiums, airports, corporate cafeterias, ski resorts and entertainment venues. Powered by AI and computer vision, Mashgin kiosks utilize multiple cameras to identify food and goods with 99.9% accuracy and ring them up simultaneously. There's no need to find and scan barcodes. Customers simply place their items on the Mashgin kiosk tray and are instantly ready to pay. View a short video of Mashgin in action here.
"Our collaboration with PDI is another important step forward for Mashgin as we work to become a convenient solution for as many retailers as possible by offering integration with market-leading back office and payment providers," said Jack Hogan, Vice President of Strategic Partnerships at Mashgin.
Transactions on Mashgin are up to 400% faster than a typical cashier and are proven to increase customer throughput by 96% — resulting in shorter lines, more sales and happier customers. Convenience stores using Mashgin process up to 70% of eligible transactions via Mashgin kiosks. Retailers who want to deploy Mashgin have the ability to do so in days, which is significantly faster compared to other frictionless technologies, which typically need months to implement.
About Mashgin

Mashgin is the world's fastest self-checkout system powered by AI and computer vision. Consumers demand instant gratification. Mashgin's Touchless Checkout System eliminates consumer frustration while increasing revenue for retailers with checkout that is four times faster than cashiers and traditional points-of-sale. There's no need to look for and scan bar codes; customers simply place their items on Mashgin's tray, pay electronically and can be on their way in as little as 10 seconds.
Founded in 2013 and headquartered in Palo Alto, California, Mashgin is a privately held company backed by NEA, Matrix Partners, Susa Ventures and Y Combinator. Follow Mashgin on Twitter and LinkedIn or learn more at mashgin.com.
About PDI Technologies

With 40 years of industry leadership, PDI Technologies, Inc. resides at the intersection of productivity and sales growth, delivering powerful solutions that serve as the backbone of the convenience retail and petroleum wholesale ecosystem. By "Connecting Convenience" across the globe, we empower businesses to increase productivity, make informed decisions, and engage faster with their customers. From large-scale ERP and logistics operations to loyalty programs and cybersecurity, we're simplifying the industry supply chain for whatever comes next. Today, we serve over 200,000 locations worldwide with solutions like the Fuel Rewards® program and GasBuddy®, two popular brands representing more than 20 million active users. pditechnologies.com
###

Media Contacts:

Michael Held-Hernandez

Mercury Global Partners for Mashgin

+1 480 306 1154

mashgin@wearemgp.com
Mindy M. Hull

Mercury Global Partners for Mashgin

+1 415 889 9977

mashgin@wearemgp.com
Share article on social media or email:
Source: https://www.prweb.com/releases/2023/4/prweb19292867.htm