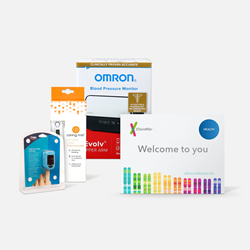 Account holders are at risk of forfeiting an estimated $1 billion in FSA funds to the December 31 deadline. Fortunately, our product bundles are a quick and easy way to spend remaining dollars on health and wellness items that individuals and families use every day.
NEW YORK (PRWEB) November 17, 2022
The average household spends hundreds, if not thousands, of dollars every year on recurring health and wellness purchases, from over-the-counter medications to menstrual care products, skin care, allergy relief, first-aid supplies, and more. In fact, FSA Store, the first and leading online retailer of exclusively FSA-eligible products, estimates that consumers spend $1,600 every year on products that could be purchased with tax-free FSA dollars. To help consumers spend down remaining dollars before the December 31 use-it-or-lose-it FSA deadline returns this year, FSA Store will introduce more than 20 all-new product bundles at a variety of price points during the months of November and December.
"FSA Store is committed to simplifying tax-free healthcare accounts, and that includes offering products and tools to help consumers spend down remaining FSA dollars – whether they have $30 or $300 left in their account," said Shawna Hausman, chief marketing officer, Health-E Commerce. "Account holders are at risk of forfeiting an estimated $1 billion in FSA funds to the December 31 deadline. Fortunately, our product bundles are a quick and easy way to spend remaining dollars on health and wellness items that individuals and families use every day. If you're buying these products already, why not buy them with tax-free dollars?"
Health-E Commerce, parent brand to FSAstore.com, offers more than 300 product bundles and multi-packs that cater to specific healthcare needs, such as diabetes, high blood pressure, seasonal and environmental allergies, and pregnancy, as well as to individual lifestyle needs, such as outdoor adventurers, fitness fanatics, or even high-tech healthcare. In addition to guaranteed eligibility and zero guesswork, account holders who shop FSAstore.com benefit from the company's ability to ensure that FSA expenses are applied to the correct plan year, which is critical this year, as consumers may have both 2021 and 2022 funds to spend before December 31.
While the full line of product bundles can be found at https://fsastore.com/featured/bundles, new bundles include the following surprisingly eligible and high-demand products:

Wellness Bundle. From Deep Muscle Pain Relievers to the Aura Full Body Analysis Scale, the Wellness Bundle supports drug-free pain relief and high-tech devices that deliver personalized data to help individuals manage their overall health.
Acne Light Therapy Bundle. Light therapy is a proven method to treat acne and to support healthy skin. This new bundle features devices that calm redness and irritation, while reducing future flare-ups.
Daily Skin Care Bundle. Get everything needed to maintain a healthy, daily skin care regimen in this new bundle, from acne fighting facial cleansers and spot treatments to daily sunscreen and more.
Home Diagnostics. Diagnostic devices are among the list of surprisingly FSA-eligible items. From digital thermometers to wireless blood pressure monitors, glucose monitors, and smart devices that track vital health information over time – home diagnostic devices are a perfect way to spend down remaining FSA dollars.
Monthly Menstrual Essentials. From tampons and pads to Rael Heating Patches for Menstrual Cramps and Midol Complete Caplets, this bundle makes it easy to manage monthly menstrual care needs.
Fertility. Planning for and managing a healthy pregnancy requires preparation. The all-new Fertility Bundles supports fertility efforts with products like ovulation test kits, prenatal vitamins, pregnancy tests, and the kegg Fertility Tracker and Kegel Ball.
COMING SOON: Chronic or acute pain can sap your energy and impact your quality of life. The Ultimate Pain Relief bundle helps to effectively manage pain with products like heated pain relief devices, the Posture Pump Dual Deluxe Full Spine with Disc Hydrator and Caring Mill Digital Tens Device.
COMING SOON: Baby Essentials. A new baby is the ultimate joy, but the costs of caring for a newborn add up quickly. The new FSA Store Baby Essentials bundle allows new parents to spend tax-free FSA dollars on daily use products, such as A+D Original Ointment, Supergoop! Sunscreen Mineral Kids & Babies Stick, Fridababy NoseFrida and Snotsucker, Aveeno Baby Eczema Therapy, Mylicon Gas Relief Drops, Caring Mill Electrolyte Power, and Caring Mill Digital Pacifier Thermometer.
In addition to offering a broad array of convenient and competitively priced bundles, FSA Store also supports consumers with its 2022 Deadline Spending Guide and:

The industry's most comprehensive and searchable FSA eligibility list;
Processing of 2022 deadline orders until midnight, PST on December 31;
24/7 access to trusted FSA experts via phone, email, or online chat;
The ability to use an FSA debit card and skip submitting paper claims; and
Fast and free shipping on orders over $50.
"While the potential for consumers to forfeit funds is higher than normal this year, the expanded eligibility rules and the extensive selection of eligible items available at FSAstore.com make it easy to spend these valuable tax-free healthcare dollars in ways that support the everyday health needs of individuals and families," said Hausman. "We urge all FSA users to check their balance today and make plans for spending their remaining funds before time runs out."
About Health-E Commerce

Health-E Commerce is the parent brand to FSA Store, HSA Store and WellDeservedHealth, a family of online marketplaces that serve the 70+ million consumers enrolled in pre-tax health and wellness accounts. The company also created Caring Mill, a popular private-label line of health products that benefits Children's Health Fund and enables customers to make a donation with each purchase. Since 2010, the Health-E Commerce brands have led the direct-to-consumer e-commerce market for exclusively pre-tax health and wellness benefits. Health-E Commerce plays an essential role in expanding product eligibility for important new categories within the list of eligible medical expenses.
Share article on social media or email:
Source: https://www.prweb.com/releases/fsa_store_releases_all_new_product_bundles_to_simplify_shopping_for_december_31_flexible_spending_account_fsa_use_it_or_lose_it_deadline/prweb19026936.htm