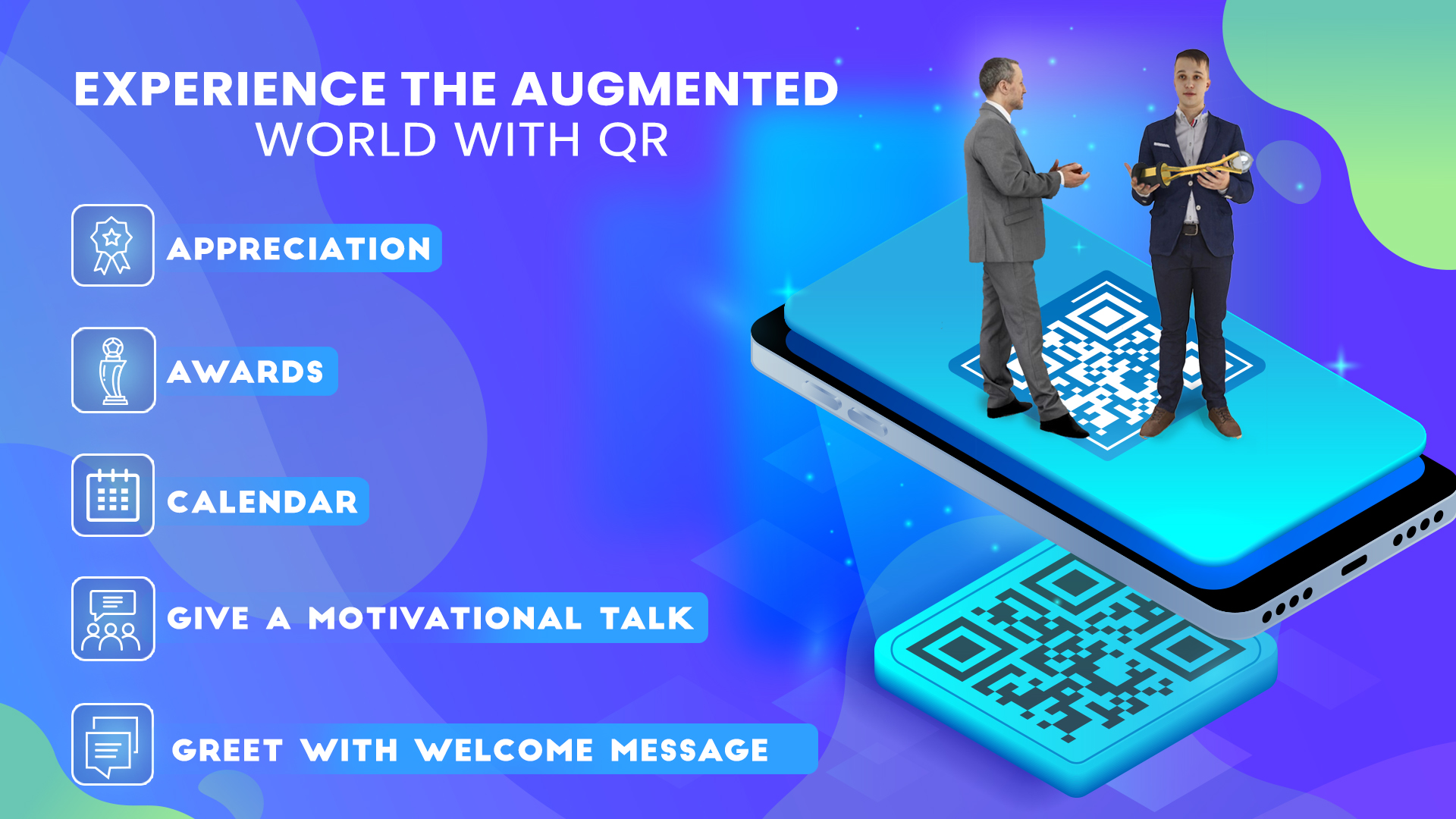 Everybody today knows what a QR Code is. Some have used it to make payments, and others to access information.
QR Codes play a crucial role in branding and marketing and are extremely versatile in the way they are used as a "trigger" to launch AR experiences.
They are simply effective and ted touch with the QR code is the new norm we are trying to achieve.
The limitless QR Codes! consumers are already using them on a daily basis for a range of purposes. Paving ways to augment using a QR code is a familiar action to consumers, making them feel more confident when accessing a new AR experience is under the radar. Since scannable codes have become one of the most common norms in the market, GooglePay, PhonePay, and other similar apps started to rigorously use it, we consider this a major hit point to start with!
"With consumers now comfortable scanning QR Codes, there are increasing opportunities for cross-channel interactions making the brand experience more tangible beyond the purchase event."

– Karissa Fletcher, Head of Marketing, Shopper Media
In 2020, the QR code interaction has grown by 94% since 2018. This means that QR codes are being scanned more frequently by consumers. This has led to a 96% increase in QR code reach over the same time period. Innovation is always a constant urge, and this has inspired us to create something new yet understandable.
Molding the QR code
Think of, say you receiving a box of goodies with regular QR codes in them. Once scanned gives you a beautiful message of a good day or you can give out information about the facts and norms that a company follows or maybe about your upcoming products.
Well, this seems to be interesting, isn't it? But, why not add some more to it with a twist?
To make it more catchy and over the box, we also have an extension of the same idea in our minds. As you scan the QR code you get to see a unique avatar tailor-made just for you! These avatars can be a single one, a double avatar, or multiple ones, simultaneously letting us customize the outfits too!
What can these Avatars do?
Well, this can wish you on your success, give a motivational talk, give you calendar updates, a welcome message, a virtual appreciation from the CEO/director, or say your Manager or any imaginable customization on the go.
To this, you can choose between the awards such as medals/trophies/gifts with gift cards, vouchers, or any gift that you can think of. You can customize the messages that you want to convey or just greet with a hello message, spreading positive vibes along with seasonal greetings and that's why we call it tailor-made!
3D Avatars give a punch to your virtual messages where your replicas play the rest of the work! Your work gets done when you choose what these avatars should do for you!
Our strong suit!
Well the most enthralling point in tech we think of, is giving an Augmented touch to our 3D Avatars.
"Pick, Place, Experience, and Share"
In addition to this, it is inspiring to see it shareable over countless social media platforms like Youtube, Linked In, Instagram, Facebook, WhatsApp, Twitter, Snapchat, and much more.
Onto the pyramid, we also have:
On the top, we have audio enablement with the avatars which gives an extravagant and realistic finish. This audio will play alongside the animations that are customized by the user so as to give a personal touch to the 3D Animated Video messages!
What do you see?
"Hey, you've got a link!".
Well, When you open it, all you see is a pop-out message seeking permission to access your camera and once the access is granted, you are all good to go. You will have a 3D Avatar ready with an Augmented video message.
You can place the Avatar on any surface by switching your camera ON! Sit back to enjoy visuals of the message you get. Share it with family and friends, have fun and cherish it for the rest of the years to come.
Everything's possible with a QR Click!
This evolving technology and drifting crowd towards change bring us close to the gateway of Augmented Reality. This gives us provocative insights into where we are and where we're marching by making our journey a lot smoother than ever! With this as a start, we are simply preparing for something bigger in reality which is Virtually Augmented!
Reference links:
https://www.qrcode-tiger.com/qr-code-statistics
https://www.aircards.co/blog/top-7-qrcode-augmented-reality-examples
https://www.qrcode-tiger.com/qr-code-statistics
Source: https://www.augray.com/blog/experience-the-augmented-world-with-qr/