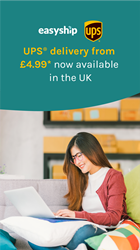 This reinforces Easyship's commitment to simplifying shipment processing and removing barriers for e-commerce entrepreneurs.
LONDON (PRWEB) March 07, 2023
Easyship, the leading shipping software accelerating borderless e-commerce, has announced a collaboration with global logistics leader UPS. Merchants can now effortlessly access UK and cross-border shipping solutions with UPS, and in seconds start processing shipment orders from all leading sales channels, including Amazon, eBay, Etsy, and Shopify. Additionally, Easyship's more than 100,000 users can now enjoy UPS's reliability and access deeply discounted rates on their UPS shipments.
"The ability to access UPS's services in seconds and enjoy discounted rates for fast and reliable shipping services makes it easier for all UK-based Easyship customers to successfully sell online," said Tommaso Tamburnotti, Co-founder at Easyship. "This reinforces Easyship's commitment to simplifying shipment processing and removing barriers for e-commerce entrepreneurs. Currently, merchants around the world use our cutting-edge platform to deliver the seamless shipping experience today's e-commerce customers expect."
Easyship's industry-leading technology automates shipping label creation and manages orders, all in one streamlined dashboard. In addition, merchants can take advantage of Easyship's integration with leading e-commerce platforms and advanced features, including competitive shipping rates, and automated tax/duty solutions for businesses looking to sell worldwide.
"We are excited that Easyship now offers UPS services to its UK merchants. We're establishing relationships with leading digital platforms such as Easyship to strengthen their offer to their customers," said Dana Nino, Global Vice-President of Marketing at UPS. "SMBs using Easyship now have seamless access to UPS's reliable shipping services at affordable rates, so they can better compete in the global e-commerce market with UPS's commitment to delivery and service excellence."
Through this collaboration, growing small and medium-sized businesses unlock access to discounted shipping through UPS's smart global logistics network, covering more than 220 countries and territories. Whether a merchant needs something shipped across the street or around the world, UPS on Easyship has a shipping option that fits their needs.
Instant integration with UPS provides Easyship merchants the ability to ship and track both domestic and international shipments with one of the largest and most trusted global shipping and logistics companies in the world.
About Easyship
Easyship is a passionate team of e-commerce industry veterans, originally founded in Hong Kong and now headquartered in London, with offices stationed across the globe. Committed to unlocking global growth for customers by building an innovative technology platform and creating a logistics network of shipping providers including over 250 global solutions. Customers can also benefit from pre-negotiated discounted shipping rates, to provide the best shipping tools to ambitious businesses.
Share article on social media or email:
Source: https://www.prweb.com/releases/2023/3/prweb19196670.htm