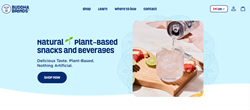 Digital Silk's engaging redesign helps promote Buddha Brands' mission to empower their community to live better, eat better, and do better.
MIAMI (PRWEB) May 11, 2023
Digital Silk, a leading global web design agency, has partnered with Buddha Brands™, a Canadian natural snacks and beverages company, to develop an engaging eCommerce experience that meets the needs of wellness- and sustainability-focused consumers.
Brands can explore Digital Silk's portfolio and request a quote for their project on the agency's website.
The new website showcases Buddha Brands' portfolio of healthy, delicious plant-based products in a visually stunning, user-friendly interface. With a focus on delivering a superior customer experience, the new website was designed with an eye towards user engagement and interactivity. The site incorporates easy-to-navigate menus, clear product descriptions, and visually appealing images to help visitors quickly find the information they need.
Buddha Brands CEO Chris Magnone says of the redesign, "At Buddha Brands, we're dedicated to providing our customers with natural, healthy products that support their wellness goals. Our new website is an important part of that mission, and we're thrilled with the result of our partnership with Digital Silk. We believe that the new site will not only make it easier for our customers to find and purchase our products but also inspire them to live healthier, more sustainable lives."
According to a report by Statista in 2022, the global health and wellness food market was valued at 841 billion U.S. dollars and is projected to increase to one trillion U.S. dollars by 2026.
To reach an audience of health-conscious customers on the go, Buddha Brands needed a website as transparent, friendly, and simple to use as their products.
Digital Silk crafted a clear and compelling messaging strategy and redesigned the website to offer a seamless user journey. Concise messaging, strategically placed calls-to-action, and a simple checkout process create an intuitive user experience from start to finish. Digital Silk also implemented easy-to-use navigation across desktop and mobile devices, with high load speed and performance.
From motion graphics that add a premium look and feel to the website to a streamlined user journey, Digital Silk's engaging redesign helps promote Buddha Brands' mission to empower their community to live better, eat better, and do better.
Brands looking to grow their brand online can request a custom quote for their project in:

About Digital Silk

Digital Silk is a full-service digital agency focused on growing brands online. Their team of experts specializes in building industry-leading digital experiences through strategically delivered branding, web design and development, and digital marketing services. 
Explore Digital Silk's services and view the agency's work at https://www.digitalsilk.com/.
About Buddha Brands™

Buddha Brands™ is Powered by Plants and Fueled by Purpose. From the very beginning the founders set out to build a company that reflects a conscious effort to eat better, do better and live better through the creation of delicious, plant-based snacks and beverages made with clean ingredients and low or no added sugar. Buddha Brands™ makes a range of natural, plant-based snacks and beverages including Thirsty Buddha® Coconut Water, Thirsty Buddha® Sparkling Coconut Water, Hungry Buddha® Bars and Thirsty Buddha® Soda. To learn more about Buddha Brands™, visit http://www.buddhabrands.ca or follow Buddha Brands™ on Instagram and Facebook (@BuddhaBrandsCo).
Share article on social media or email:
Source: https://www.prweb.com/releases/digital_silk_and_buddha_brands_partner_to_launch_a_refreshing_ecommerce_experience/prweb19331147.htm