Last week saw Zappar's second annual AR Pioneers event. The two-day event started last year to celebrate the WebXR company's 10th anniversary but continued on as part industry summit and part company product showcase. We couldn't watch all of the sessions, but we have some highlights.
"Everyone Is Invited"
"It is great to be back and fantastic to see the level of engagement with this event once again," Zappar CEO and co-founder, Caspar Thykier, said in a welcome address on the morning of day one. "Everyone is invited as this is all about our continued mission to democratize AR. . . .  It's a chance to give back to the AR community."
While there were some interesting panel discussions, some of the most engaging conversations for Zappar and potentially the community were an update to the Zapbox timeline, the announcement of an as-yet-unnamed developers tool, and more information on Zapvision.
Zapbox: Mixed Reality for Everyone
Zappar started developing a Google Cardboard-inspired MR headset in 2016. With that extra Zappar flair, the mobile phone adapter also came with printable "controllers" that really just allowed image-based hand tracking.
However, a more robust version appeared on Kickstarter four years later. The new and improved Zapbox would come with plastic parts, including a halo-style headset and a fisheye lens adapter to increase the field of view of the mobile device. After passing Kickstarter, the headset went to preorder at last year's AR Pioneers event.
This year's event saw updates to the Zapbox design and roadmap, as well as the first demos of in-app use. The biggest hardware update is that the controllers are no longer passive trackers. Rather they have input modeled after that of the Meta Quest 2 to encourage content porting. A future update may also allow the Zapbox to play streaming PCVR content.
We also saw the first gameplay within the headset: a multi-player AR billiards game. The presentation included footage of two Zappar product designers playing the game together while one was in London and one was in Scotland. Further, one played on Zapbox's mobile AR and one played on a Quest 2 via passthrough.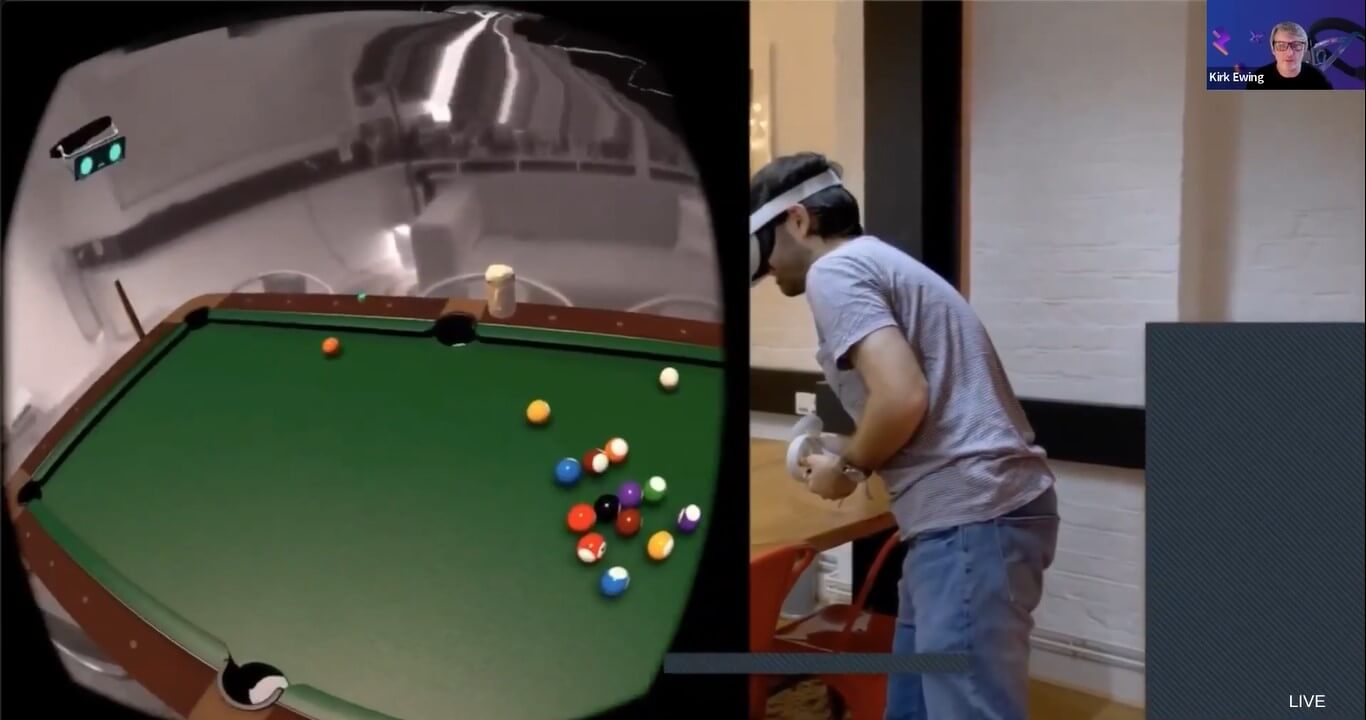 Further, we have a release target for buyers that missed the Kickstarter and preorders. Expect Zapbox to be available for sale early next year for $80.
The Next Generation of AR Creative Tooling
The other big announcement for the event was the generation of Zappar's XR offering software. So far, that's a full creator studio as well as an SDK for publishing within the web – both of which won Auggies this spring in Santa Clara. Trying to get the best of both of these tools in a single package is leading to "StudioTNG."
Here, "TNG" stands for "the next generation." It's a working title, and the project won't go into beta until early next year. The browser-based tool for building 3D content for Web3D, AR, MR, and VR experiences brings a number of powerhouse tools including:
Physically-based lighting and dynamic shadows;
Custom shaders;
glTF support;
Fully configurable rendering engine support;
Hot loading local and remote live previews;
Real-time collaboration;
"First-class animation" tools.
Updates to Existing Zappar Toolsets
For the near future, at least, Zappar's more familiar authoring tools are still the way to go. And, while we wait for The Next Generation, we get some updates to these platforms.
First off, Zappar now supports curved surface targets. While a number of AR experiences no longer require targets at all, sometimes launching from a target is the way to go. And, until now, those targets needed to be flat. Now, they can be curved – for example, on cups, cans, etc. It might not be thrilling for all readers, but I guarantee some are just thrilled about this development.
Next, Zappar builders can now embed AR and 3D products directly into their webpages. This allows users to interact with 3D models on a desktop or when they can't use mobile AR for whatever reason. This includes exploring models of products, configurators, and other options for product education.
Zapvision
Unilever leads Sarah Masters and Mark Hewitt talked with Thykier about working with Zapvision, a Zappar tool that uses beefed-up QR codes and computer vision to provide accessible product information to people with vision impairment. An interdepartmental project within Uniliver is working on rolling out Zapvision on their product packaging.
"Neither Mark nor I are anything like accessibility specialists," said Masters. "Through the connected pack project, people started talking that might not otherwise have worked together."
"Connected pack" or "connected packaging" is the move toward using images on packaging to bring consumers to information and experiences hosted online, usually through QR codes or other image targets. One of the reasons that Zapvision has so much promise is that it's not that much more space on a pack than a conventional QR code, which a lot of packers already use.
"The solution you guys came up with at Zappar really helped us solve a number of our business challenges," said Hewitt. "Hopefully, by Q1, we will be in a position where – from our Unilever point of view – we can start promoting this."
Zapvision, which started life as a testing accident that developers realized they could use for good, has been a passion project with Unilever as well as within Zappar. Thykier in particular is thrilled to see it moving forward.
"This is where the heft of a brand like Unilever can do a lot of good . . . this is the power of brands to move forward," said Thykier. "We really want to get to the point where all [consumer packaged goods] brands are asking themselves why they aren't doing this."
Lessons Learned
Not everything at AR Pioneers was about things coming next year. The event also featured a number of panel discussions on how companies and individuals are already using AR.
One trending point of discussion was that users still need to be told why to open an experience, or many will ignore experience launchers like connected packaging targets.
"When we are inviting consumers to an experience, we have to tell them what they are doing," said Gabriela Coroa, Head of Consumer Experience Lab at Pernod Ricard.
Further, companies still lack meaningful metrics for tracking whether or not XR experiences are "successful" from a business perspective.
"How do I know that the user being there for 15 minutes impacts my sales?" asked Ares Subira, an AR/VR technology specialist and Product Manager AR/VR at Nestlé.
The point was also raised by Rikard Wikander, Global Head of Customer Experience, Kidswear, at H&M.
"We want to create an experience, not just transactions all the time," said Wikander. "AR is still not easy to explain to a stakeholder who has never seen it."
Stakeholders should also understand that XR is still a learning experience for many, and that's okay. Companies can keep their plays relatively small and remember that they can reuse assets and work projects in together instead of creating a series of potentially costly one-off experiences.
"To me, the successful people are those that have dipped their toes into the pool in a lot of different places and have learned from what happened," said Accenture Global Consumer Metaverse Technology Lead Fadi Chehimi. "You can work with consumer markets and not sell to the consumer."
See You Next Year
By the numbers, this two-day event spanned 28 sessions by 45 speakers and over one thousand hours of content viewed by over one thousand virtual attendees. So, yes, the company is planning on bringing the conference back next year.
If you missed this year's event and want to catch up, fear not – recordings will be made available on the Zappar website in the next few days.
Source: https://arpost.co/2022/11/14/zappar-presents-ar-pioneers-2022/