by: Nakajin
Week 2 of the World Team League gave us our first ace matches of the season, as well as our first 6-0 sweep.
ONSYDE Gaming was the team delivering the beatdown, drubbing Invictus Gaming to take first place for the time being. The two ace matches came under wildly different circumstances: ABYDOS.Cure allowed his team to extract two points out of a tough match against DKZ, whereas SLT.Spirit salvaged two points in a match where his team really should have had three against 瘦死骆驼 (SSLT).
Looking forward to week three, the scheduling works out so this concludes a four-team 'mini-league' between PSISTORM, BASILISK, ABYDOS, and DKZ. All four teams are likely to be in the playoff mix, so these matches are likely to have huge seeding ramifications in July.
Scheduling Note: There is a gap day in this week's schedule. Matches are played on May 5th, 6th, and 8th at 12:00 GMT (+00:00).
Week 2 Recap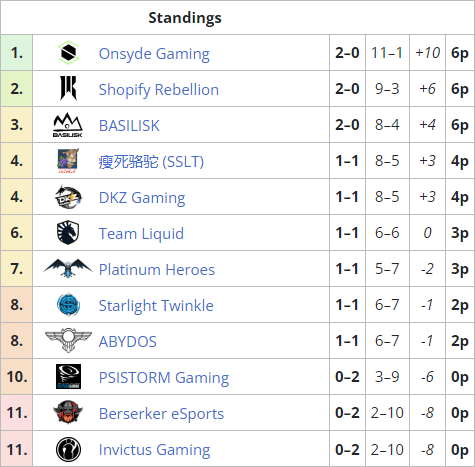 Top 7 teams qualify for the playoffs.
Bottom 2 teams must requalify.
Points are awarded as follows:
3 points for a victory in a series that does not require an ace match
2 points for a victory in a series that requires an ace-match
1 point for a loss in a series that requires an ace-match
0 points for a loss in a series that does not require an ace match
DKZ Gaming 3 – 4 ABYDOS
Watch VOD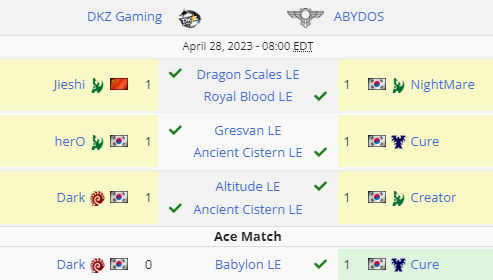 According to a
TL.net poster
, Oliveira was on vacation with his family this week, explaining his absence from such a key match. Whatever case, DKZ deployed Jieshi in place of the reigning World Champion.
It seemed like a good opportunity for NightMare to get a precious 2-0, but game one of the PvP started as a … (wait for it) nightmare for the Korean Protoss. Despite having good vision and plenty of units, he took a baffling amount of Probe damage against Jieshi's Warp Prism-Adept opening and never could really recover. Jieshi went for a similar Prism-Adept build in game two, but Nightmare's defense was slightly better this time around, allowing him to stay competitive, even if a bit behind. A beautiful surround maneuver in a key battle then allowed NightMare to compensate for being late to Disruptors and down in upgrades. After that, the two Protosses were on even footing in the game of Disruptor dodgeball, until NightMare abruptly ended the game by blowing up half of Jieshi army with the help of a DT diversion (Clip).
herO and Cure faced in the second match of the day, continuing one of the fiercest rivalries of the early 2023/24 season. Breaking out his famous Psionic Storm style, herO lured Cure into an unfortunate move out in game one, which he crushed the Terran forces to take the victory. Cure, on the verge of having a monster 18-match TvP lossless streak ended, busted out an absolutely filthy proxy-Barracks Reaper strategy in game two. herO tried to recover from his early damage with a fast third at a far away base, and that allowed him to somewhat claw back into the game. However, Cure learned about the hidden base before herO had the army to cover so much territory. Cure played the situation beautifully, reading herO's army movements and winning with a highly advantageous basetrade.
Creator brought his most Adept dancing shoes in game one against Dark, and found his 'partner' flat-footed. Awkward Baneling steps from Dark allowed Creator to shade into the Zerg natural and quickly force a GG. Game two was much more even through the early-mid game before Dark inflicted important economic damage with Ling-Bane. It seemed like Creator's four Colossus counterattack could push Abydos to victory, but the timely arrival of Ultralisks saved the day for Dark and DKZ.
Not wanting to test ABYDOS's obvious ace Cure in TvP, DKZ sent Dark out in the first game seven of the season. Dark initially seemed to have a handle on Cure's 3-base infantry push, but in typical Roach-Ravager-Bane fashion, he couldn't quite chase the opposing army all the way back. Over time, Dark took worse and worse trades as he was getting bullied around the map. A successful ling counter gave Dark some very real hope of winning, but in the end, the Terran army was just too strong and ABYDOS sealed the 4-3 victory. Overall, it was a convincing display for the ex-Team NV crew and a reminder that they, too, have a shot at the WTL crown.
PSISTORM Gaming 2 – 4 BASILISK
Watch VOD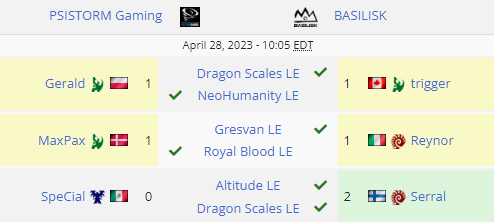 The series started with Gerald nearly taking a comeback victory against trigger, using DT's to backdoor the opponent's economy while building up a deadly Disruptor count. However, Gerald pushed out before momentum was fully back on his side, allowing trigger to win with his stronger army. Gerald got the job done in game two with an Immortal-heavy army, but his post-game head shake suggested he was disappointed in missing a chance to 2-0 BASILISK's most vulnerable player.
MaxPax and Reynor also arrived at a 1-1 split in the second series. Reynor won first, finding a chance to pounce on the Protoss army while two key Disruptors were stowed away in a Warp Prism. MaxPax hit back in game two by getting in damage early with Oracle-Adept, and then suffocating Reynor with high-tempo Gateway play.
For the second straight week, Serral's 2-0 gave BASILISK the victory after both of his teammates went 1-1. There wasn't much to write about Serral's match against SpeCial—the BlizzCon and IEM world champion continued his five-year lossless streak against the Mexican Terran to close things out (casually achieving a 25-match overall win streak in the process) .
Starlight Twinkle 4 – 3 瘦死骆驼 (SSLT)
Watch VOD (Chinese)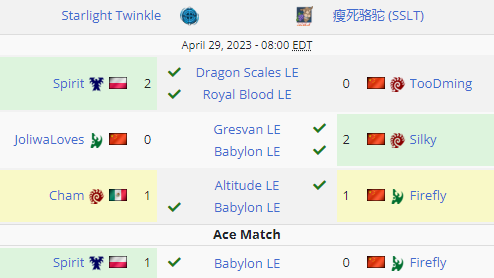 SLT and SSLT were not only playing to keep their place in the standings, but more importantly for the chance to keep their initials. Indeed, for the sake of my sanity, I decided the loser would lose their initials for the duration of the season.
Unsurprisingly, the steady Spirit ground TooDming down and created a 2-0 gap leading into our all-Chinese middle match. A lack of patience cost JoliwaLoves dearly in game one versus Silky. He took a great fight against his opponent's Hydra-Bane swarm, only to force his army onto the high ground in a game-throwing move. Game two was a lot shorter, but will haunt JoliwaLoves all the same. Silky went back to his cheesy roots, sneaking slow Zerglings around the map for a game-ending backdoor attack at around the three minute mark. With Nice finally becoming eligible to play for SLT next week, JoliwaLoves may not get many opportunities to redeem himself.
With everything tied up, it was up to Cham and Firefly to perhaps break the deadlock. Firefly drew first blood with an Oracle into 6-Gate Adept all-in that caught Cham with his pants down. Playing with his back against the wall, Cham brought us a blast from the past and emerged victorious with a Roach-Ravager-Swarm host style.
SSLT's day was arguably already a success from stealing a single point, but an even bigger upset was within grasp as Firefly went head-to-head against Spirit in the ace match. Alas, it was not to be, as Spirit dispatched of the Protoss with little more difficulty than he did against TooDming.
It was a bittersweet victory for SLT, as their playoff hopes revolve around cleaning house against the weaker teams while hoping some of the stronger teams slip up. Leaving a point on the board this early in the season already makes their postseason path harder to map out.
Anyway, goodbye SSLT, hero Starving Camels.
Shopify Rebellion 5 – 1 Berserker eSports
Watch VOD (Chinese)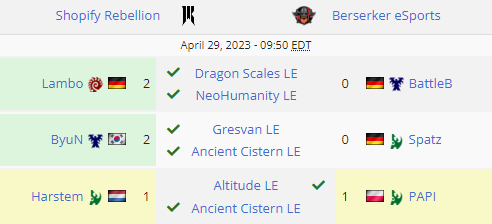 A brutal stretch of games for Berserker eSports began with a thrashing at the hands of the Rebellion.
Lambo had no pity against BattleB, bringing his famous Queen push then a Roach all-in to take the 2-0 victory. Byun was similarly expeditive against Spatz, with the German Protoss getting outpaced and out-macroed.
With the match already lost, PAPI preserved a shred of Berserker's honor by taking a map. His persistence with a proxy-Robo Immortal push paid off as he cracked Harstem's defense, despite the Captain seemingly having the situation under control with Void Rays and Shield Batteries. Not having any of it, Harstem returned the favor with his own successful proxy-Robo in game two, this time of the Immortal-into-Disruptor variety.
ONSYDE Gaming 6 – 0 Invictus Gaming
Watch VOD (Chinese)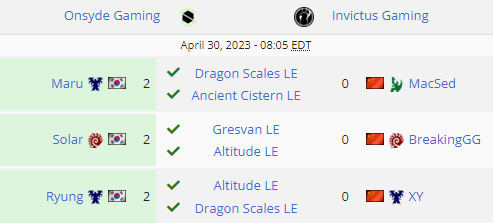 Similarly to Berserker, iG started down a rough patch of matches before they face anyone realistically beatable. XY managed to stay relatively competitive in game 1 of his match versus Ryung, but apart from that there was absolutely nothing going even remotely the way of iG. ONSYDE took the 6-0, and rose to first place in the standings on the back of their +11 map differential.
Team Liquid 5 -1 Platinum Heroes
Watch VOD (Chinese)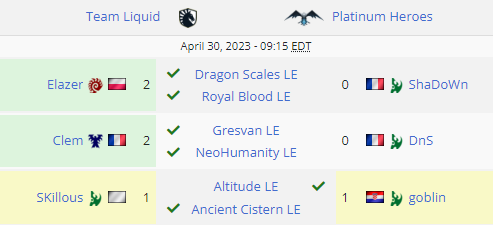 Mechanical superiority was the name of the game between Elazer and ShaDoWn. The TL Zerg started by crushing an Adept attack in game one, then shrugging off good initial pressure from ShaDoWn before winning with a huge Baneling flood in game two.
An O'Gaming Underdogs classic was on the menu for the second match between Clem and DnS. The Protoss did surprisingly well in game one, recovering from a 16 Probe loss against Clem's proxy-Starport Hellion drop and dragging things out to the late game before capitulating. Game two was quicker, as DnS never managed to get his fourth up and was quickly overwhelmed by the pace of the Terran player.
Finally, Skillous took on Goblin in a match where only map differential and individual WTL points were on the line (SCBOY will be running a sizeable solo tournament where players can qualify by earning points in the WTL and Kung Fu Cup).
This match was eerily similar to PAPI vs Harstem from earlier in the week, giving us our second proxy-rush-at-the-third-vs-one-gate-stargate-that-devolves-into-a-void-ray-shield-battery-defense game on Altitude. Just like PAPI, Goblin managed to brute force his way to a win. And just like Harstem, SKillous equalized in game two for the 1-1 split. Unlike Harstem, SKillous didn't repay his opponent with cheese, instead using mid-game blink-DT harass to achieve victory.
Weekly MVP: ABYDOS.Cure
Cure has been playing some of the best Starcraft of his life this past month, and he was the main reason why ABYDOS was able to upset super-team DKZ. He had to settle for a 1-1 against herO, but that was still an acceptable result against arguably the strongest Protoss player in the world. Cure made sure to get the job done against Dark in the ace match, giving ABYDOS two precious points against a championship contender.
I had some reservations about ABYDOS going into the season, but if Cure can keep this ball rolling, the top teams will have to watch their backs. His TvP is looking especially dominant, as he's currently on a 25-match undefeated streak since early April (probably longer by the time you've read this).
Spirit's 3-0 performance for Starlight Twinkle also needs to be mentioned, as his 2-0 against TooDming and 1-0 against Firefly salvaged two points for his team. However, when you take the strength of opponents into consideration, Cure's 2-1 was more impressive to me.
Weekly MVP's:
Week 2: ABYDOS.Cure
Week 1: BASILISK.Serral
Preview: Regular Season Week 3
Friday, May 05 12:00pm GMT (GMT+00:00) Matches
Starlight Twinkle vs Berserker eSports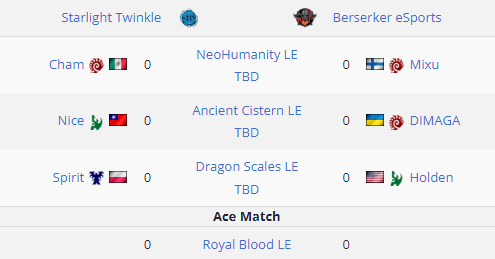 Considering that this is one of Berserker's few chances to steal a point, it is somewhat surprising to see them send a lineup missing some of their key players from the qualifiers and weeks 1 & 2.
Mixu has never taken a map off of Cham (0-14), but he'll need to break that losing streak to give his team a chance. That's far from impossible, but still unlikely.
It will then be on DIMAGA to find a crack in Nice's armor, as the Taiwanese Protoss has been historically solid in the WTL (scoring a 10-9 record last season). It will probably take some cheeky aggression to knock Nice out in this match.
If no one has pulled off an upset by this point, Berserker will need a near miracle in the third series. Holden may be—and I'm so sorry if he reads this—the least notable player to ever line up in WTL. Unless he's been hiding some unseen generational talent, he'll be hard pressed to get anything against Spirit. The silver lining is that he gets an opportunity to score, by far, the best result of his career by stealing a 1-1 against Spirit.
In another world, SLT vs Berserker could have been close, but with this lineup and set of matches, I think the German team is in for another long day.
Prediction: Starlight Twinkle 6 – 0 Berserker eSports
Shopify Rebellion vs 瘦死骆驼 (Starving Camels)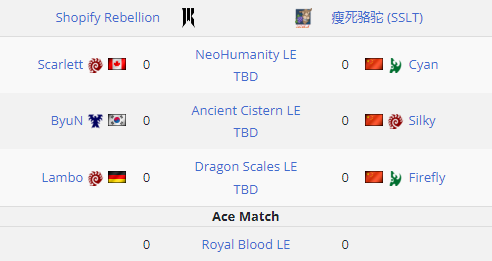 The hungry-hungry-Camels have had a great first two weeks, and could continue to exceed expectations thanks to a somewhat fortunate draw against Shopify. Sending the weaker Silky to the slaughter farm against ByuN frees up Firefly and Cyan to try and upset the comparatively vulnerable players on the Rebellion's roster.
Of course, the Camels will be underdogs in the other matches as well. Scarlett could silence the conversation quickly in her opening match against Cyan. The two veterans of the foreign scene have a fairly even head-to-head history, but more important (and worrisome) for the Camels, are his recent results against Zerg. It's been over a year since he scored a BO3 win against a Zerg of Scarlett caliber (a 2-0 vs Solar in March of 2022). Sasha is not in too good a form in ZvP either, but has much more worthy results to point to in the last few months. Still, Cyan has punched above his weight in prior team leagues, and he'll hope to do it again.
Speaking of punching above their weight, Firefly vs Lambo constitutes the second half of the hump-backed path to an upset. It will be an uphill battle for the Protoss, but if he can bring some of his traditional WTL flair (cheese), he has a shot. Ultimately, though, I can't see Cyan and Firefly combine for more than two maps.
Prediction: Shopify Rebellion 4 – 2 Starving Camels
Saturday, May 06 12:00pm GMT (GMT+00:00) Matches
Team Liquid vs Invictus Gaming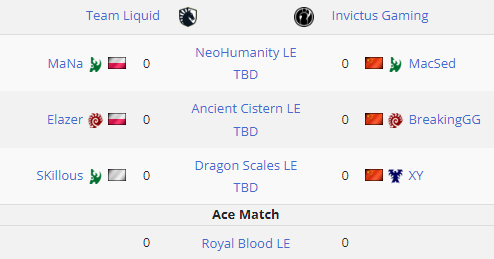 After getting tripped up by iG twice in the first year of WTL (2021), Liquid seemed to finally take the appropriate caution by winning a 6-0 sweep last season. However, this week's line-up sure seems to have all the elements of a vintage Liquid choke job. TL benching their best player? Check. Mana drawing a PvP against a very experienced Macsed? Check. Elazer in another mirror against a wild card Zerg? Check. XY in an all-maps-count match against someone who never played him before? Check.
I mean, rationally it should be all good for TL, but I'm glad the IG upset radar is blinking once again.
Prediction: Team Liquid 5 -1 Invictus Gaming
ONSYDE Gaming vs Platinum Heroes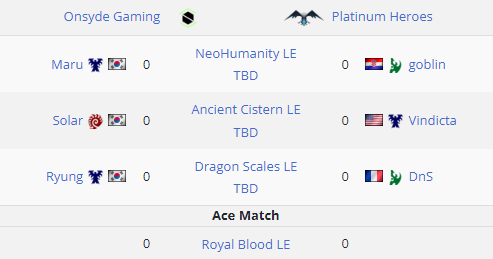 Looking at their schedule, ONSYDE may very well keep a perfect record until mid-June, but Platinum will try to throw a wrench in their wheels.
Maru should put his team up early against goblin, whose most recent PvT ended in a 0-2 against Nicoract (definitely not a good stand-in for Maru).
The pressure will then be on Solar to keep up with Maru in the score sheet. His task is a bit harder, as Vindicta has shown good TvZ in the past, including a 1-1 split vs Elazer last WTL season. Sadly, the high-tempo macro games Vindicta prefers is also the comfort zone of his much more accomplished opponent, making the 4-0 rather likely.
Even if the match could be done by this point, DnS offers another interesting challenge for Ryung. While he's technically ONSYDE's weak point, his first few outings were promising. A win over DnS would be a reassuring sign that he isn't going to drop unnecessary maps. In the end, I think Vindicta, or more probably DNS, takes a map to thwart the sweep.
Prediction: ONSYDE Gaming 5 – 1 Platinum Heroes
Monday, May 08 12:00pm GMT (GMT+00:00) Matches
(Please note that there is a gap day in the schedule. No matches on May 7th.)
Dragon KaiZi Gaming vs BASILISK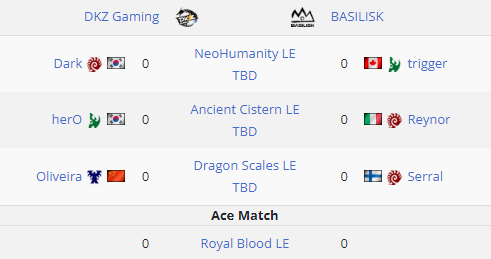 DKZ and Basilisk close their grueling three-week start with a match that could very well be a preview of the grand final.
After drawing back-to-back PvP's to 'protect' trigger in the first two weeks, BASILISK's depth will finally be tested in a real way as the Canadian Protoss goes up against Dark. Trigger will need something special to get a point against Dark, and he should probably comb over all of Dark's recent games to uncover any potential vulnerabilities.
With DKZ most likely up 2-0 headed into the second series, Reynor will need to finally snap out of his WTL regular season slump to keep his team in contention for the full three points. While herO has fallen off since his pre-Katowice peak, he's still playing some mighty fine Starcraft. So much so that I would give him the nod in a BO3, but in a BO2 the loser-map pick format makes me lean toward a 1-1 split.
Oliveira has yet to beat Serral in his career, but is still a very, very, strong ''sacrifice'' to send against the Finn. Serral has yet to falter in his time with Basilisk but will need to keep his composure if he wants to keep his perfect record.
If everything goes according to my predictions, we would then get an ace match. Every choice is a good choice for DKZ, but I sense that they would want to test either of the two European Zergs in a ZvZ with the always merciless Dark. It would be pretty much a coinflip at that point, but I'll say Dark prevails as the more experienced and successful WTL player.
Prediction: Dragon KaiZi Gaming 4 – BASILISK
PSISTORM Gaming vs ABYDOS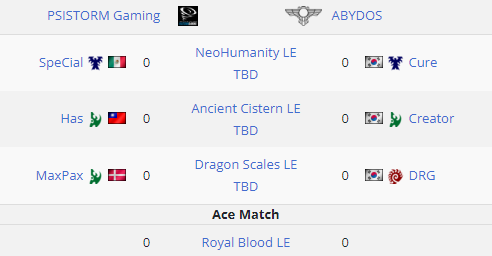 PSISTORM and ABYDOS were both candidates for 'fourth best team' before the season, but ABYDOS seems much more worthy of that status after two weeks of play. Still, PSISTORM have had a brutal early schedule, and 0-2 probably isn't indicative of their true strength.
This particular draw seems favorable to PSISTORM. Despite sending out two Protosses, PSISTORM managed to dodge Cure's untouchable TvP, and even landed a very appealing TvT for SpeCial. I still favor Cure to take a 2-0, but SpeCial is exactly the kind of player you look toward to steal a point in the Terran mirror.
Has only played a grand total of 7 competitive matches in the last 6 months so it's really a mystery what his form is (although he did recently 2-0 Macsed in the ESL Asia). Creator's play has been quite erratic lately, so this match is even more unpredictable than your typical Has PvP. Even if the result is uncertain, we can hope for some entertaining/crazy games.
Anchoring PSISTORM is MaxPax, who takes on a freshly eligible DongRaeGu. After I threw MaxPax's hat in the ring for the title of best in the world a few weeks ago, he promptly went 0-2 and 1-1 against Dark and Reynor.He now gets a much more manageable match against DRG. While not a walk in the park, the Danish Prince should be favored to take the match in my mind, especially since DRG's ZvP has often flagged behind his ZvT.
If things go to an ace match, the logical picks would be Cure vs MaxPax. Considering the aforementioned 25-match undefeated streak for Cure mentioned above, and his recent Kung Fu Cup win on the back of five straight PvT's, I have to put ABYDOS at a serious advantage if it comes down to this.
Prediction: PSISTORM Gaming 3 – 4 ABYDOS
---
Source: https://tl.net/forum/starcraft-2/611017-wtl-2023-summer-week-2-recap-week-3-preview