by: Nakajin
Week one of the WTL is in the books!
BASILISK, ONSYDE, and DKZ—the top three teams in the TL.net power rank—all won their opening matches as expected, though BASILISK invited some questions about their depth. The most consequential action happened between teams projected to be in the relegation zone, with Platinum Heroes and SSLT getting key victories against Invictus Gaming and Berserker.
Week two might bring the first surprises of the season, as DKZ and BASILISK have drawn some tricky match-ups against ABYDOS and PSISTORM.
Week 1 Recap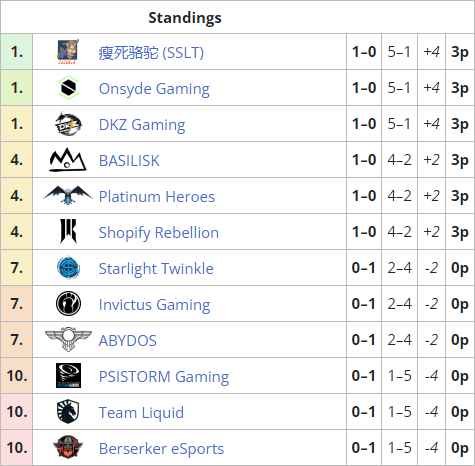 Top 7 teams qualify for the playoffs.
Bottom 2 teams must requalify.
Points are awarded as follows:
3 points for a victory in a series that does not require an ace match
2 points for a victory in a series that requires an ace-match
1 point for a loss in a series that requires an ace-match
0 points for a loss in a series that does not require an ace match
BASILISK 4 – 2 ABYDOS
Watch VOD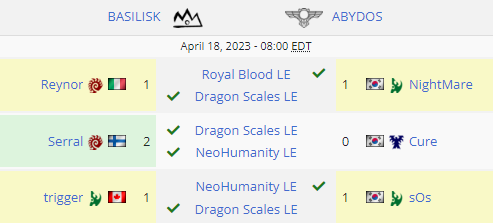 Reynor complained about getting an 82 player rating from SCBOY, but failed to quell doubts about his WTL-specific form. On Royal Blood, NightMare's initial Adept pressure managed to deal major damage before he closed the game with a sharp Blink-Stalker follow-up, stealing a very important point for his team. In game two, it was NightMare's turn to take major early damage, leaving his door wide open to Reynor Lings. NightMare never quite recovered, and Reynor navigated his way to a victory with a Roach-Ravager-Bane composition.
Respective aces Serral and Cure clashed in the second series, and Serral swung the match with a decisive 2-0. Cure was in a good position in game one on Dragon Scales, getting a good trade with his first tank push below the enemy's third/fourth base. However, he couldn't extend his advantage with his follow-up attack, maybe getting a bit too fancy by splitting off forces for a double drop instead of going for an all-out frontal attack. Having stabilized, Serral's economy quickly grew too big to fail, and he dismantled Cure. In the second game, Serral brought out a bit of flair with a mass Lurker-Queen-Roach attack into the main, and generally played an excellent Lurker-centric game to get the victory.
That left us with a PvP between trigger and sOs, the latter playing only his third professional match after a two-year break. The three-time world champion got the first point, which put BASILISK in a precarious position. However, trigger served sOs some of his own cheesy medicine in game two, going for an aggressive 3-gate Stalker rush that managed to break sOs' Void Ray defense and secure the 4-2 for BASILISK.
Platinum Heroes 4 – 2 Invictus Gaming
Watch VOD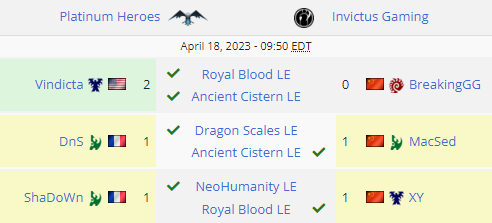 Vindicta put the Platinum Heroes crew up early with two hard-fought, but ultimately rather convincing victories over BreakingGG. The series was notable for
almost
giving us a Solar-esque nuke moment, but BreakingGG
managed to move his Brood Lords away
just in time.
DnS and Macsed split their PvP in fairly straightforward games, putting the Heroes on match point as ShaDoWn went up against XY. ShaDoWn put himself in a good position with a Blink Opener to start, but XY recovered enough to put together a deadly Bio-Ghost-Tank push off of three bases. ShaDoWn looked like he was in danger of losing, but a last second Zealot warp-in allowed him to survive the attack, after which he rode his economic advantage to victory. XY did manage to win the last map, narrowing the map differential for iG.
瘦死骆驼 (SSLT) 5 – 1 Berserker eSports
Watch VOD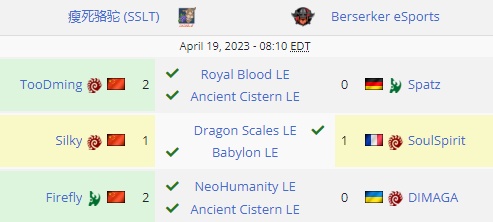 This looked to be one of Berserker's best opportunities to get some points this season, with Nice being ineligible to play until week three.
The series started with Spatz taking on a Zerg 12 years his senior in TooDming. Despite the three-Oracle openers of his opponent, TooDming managed to sneak a ling-bane bust past his opponent in game 1, and then crushed an adept all-in in game 2.
Unsurprisingly, Silky and Soulspirit never made it past the Ling-Bane phase (although Silky did try to build a spire), and the two Zerg ended up splitting the series 1-1.
That put SSLT in the comfortable position of sending out Firefly with two chances to close things out, and he delivered with a 2-0 against DIMAGA (albeit, DIMAGA should probably have found a way to take the second map). It was a convincing display for SSLT at the end of the day, and gave them a nice buffer in avoiding a bottom two finish.
PSISTORM Gaming 1 – 5 DKZ Gaming
Watch VOD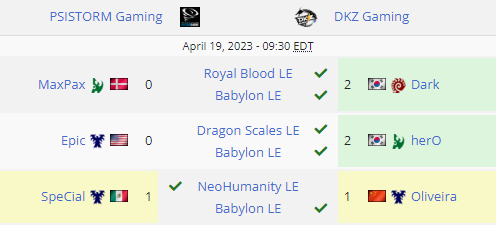 Despite recent history favoring MaxPax in head-to-head matches, it was a blackout victory for Dark in the marquee match of the week. Dark took a convincing 2-0 that reminded us that he's a monster in the WTL, and was TL.net's obvious pick for MVP last season with a 18W-2L map record.
herO quickly finished the job in the second series, dismantling a heavily overmatched Epic 2-0. SpeCial managed to avert the 0-6 against Oliveira, winning the first map with a proxy-Marauder-into-Hellion-into-Cyclone-into-Banshee strategy. The world champion got his win back in the next game, executing a clean defense against proxy-Reapers.
Starlight Twinkle 2 – 4 Shopify Rebellion
Watch VOD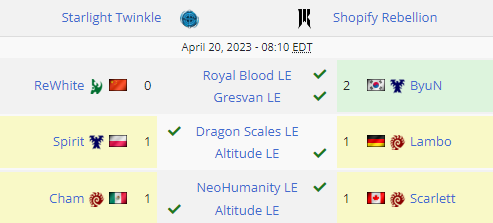 ReWhite put up a remarkably good fight against ByuN despite his 0-2 loss, but sadly WTL doesn't award points for moral victories (perhaps it will boost his WTL player rating a little…). Still, ReWhite might be able to get some victories for SLT if he can keep playing like this for the rest of the season.
Spirit and Lambo were up next in the second series, with the Terran player taking first blood. The next game on Altitude was without a doubt the match of the week. Lambo put himself in the driver's seat before one too many Ultralisk headbutts swung momentum back in Spirit's favor, despite his scrawny SCV count. After a good five minutes of the two players battling while below 100 supply, they both managed to get their economies running for a brief, soft reset. After more neck-and-neck fighting, Lambo was able to land the killing blow by sectioning off Spirit's main and camping the production. It certainly was not a match without mistakes, but it was very entertaining nonetheless.
With her teammates having done their part, Scarlett delivered as the closer with a 1-1 tie over Cham to give the Rebellion the victory in their opening match.
Team Liquid 1 – 5 ONSYDE Gaming
Watch VOD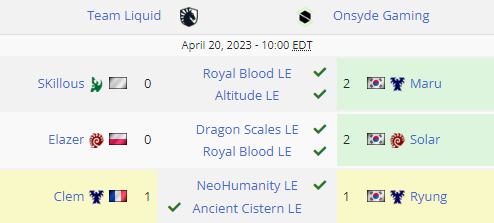 Having just defeated Creator (2-0) and herO (3-0) in the Gamers8 qualifier, Maru continued his TvP rampage by dismantling SKillous's Colossus style in two games. Solar proved to be just as strong, staying one step ahead of Elazer in both maps to give ONSYDE the 4-0 victory before the last match.
Ryung made his ONSYDE debut in a victory over TL ace Clem in a drawn-out TvT, reassuring fans that he will be pulling his weight this season. He couldn't quite lock in the only 6-0 of the week, as Clem put TL's sole point on the board on his way out.
Weekly MVP: BASILISK.Serral
In a week without any ace match nor major upsets, Serral's 2-0 victory over ABYDOS ace Cure stands out as the most crucial match of the week. Things could have gone south early for Basilisk with Reynor dropping a map to Nightmare and sOs stealing a 1-1 off of trigger. Serral made sure his team got the full 3 points, showing his rock solid ZvT play against Cure.
Dark would have been another strong contender for weekly MVP, having scored probably the most impressive victory of the week with his 2-0 of MaxPax. However, I have to give the most valuable nod to Serral since his 2-0 actually decided the overall series, while Dark could have gotten away with a 1-1 split.
Weekly MVP's:
Preview: Regular Season Week 1
Friday, Apr 28 12:00pm GMT (GMT+00:00) Matches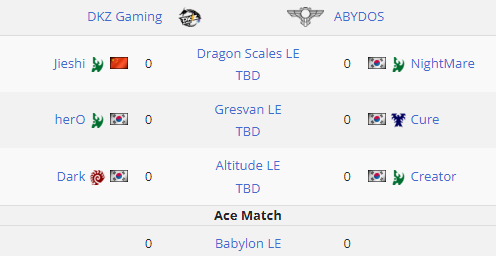 ABYDOS once again starts us off with a match against one of the favorites of the league, now fielding what's theoretically their full-strength line-up by swapping Creator in for sOs. In contrast, DKZ has made the curious and risky decision to bench Oliveira in favor of Jieshi.
NightMare has been playing well lately, especially in PvP, and has done enough to be favored to get a 2-0 at this point.
Cure vs herO is a pivotal match, and ABYDOS should feel good about their chances. Not only is Cure on a 18-match winning streak in TvP, but he's also had herO's number recently with a 2-0 win in Code S, 3-0 victory in the Kung Fu Cup, and 3-2 win in Gamers Without Borders. Streaks are meant to be broken eventually, but if Cure can manage to keep his momentum rolling through Friday, ABYDOS could shock DKZ before even getting to the last match.
Even if Abydos can't confirm their win early, they will still have some small hope that Creator can close things out against Dark. Creator's heartbreaking defeat to Dark in the quarterfinals of IEM Katowice was the culmination of an almost 5-year streak of futility, but he may only need to win one map by this point. Considering that Creator barely lost 2-3 to Dark at IEM, and has taken a few series off of him in the pre-season, a 1-1 tie isn't a huge ask.
Overall, ABYDOS have multiple viable victory scenarios, and as such, I will once again predict that DKZ will suffer an upset.
Prediction: DKZ 2 – 4 ABYDOS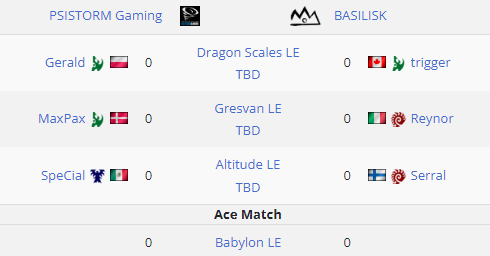 PSISTORM Gaming have already enjoyed teamleague success this week, winning the Sniper Team League with a 4-3 over Platinum Heroes in the finals. However, their WTL opponent will be much tougher.
Gerald and Trigger are tied 26 to 26 in series entering their first WTL match, so a tie seems like the most probable result to start us off.
Both Maxpax and Reynor will be looking to push past their disappointing performances last week, and have a chance to redeem themselves in the same match-up. Things could very well go either way, and when the result is in doubt, it's a 1-1 on my prediction chart.
Finally, SpeCial will take on Serral in the final match. We're accustomed to seeing the Mexican Terran scheme his way to victories with clever builds against stronger opponents, but with Altitude being the opening map his chances of upsetting seem low.
Prediction: PSISTORM Gaming 2 – 4 BASILISK
Saturday, Apr 29 12:00pm GMT (GMT+00:00) Matches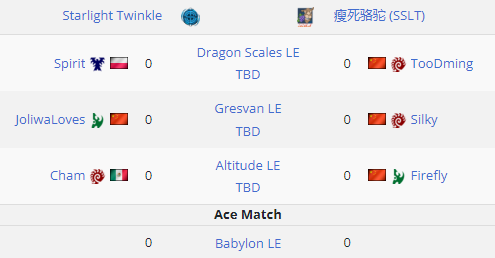 Due to whatever formula Liquipedia uses to sort the table, SSLT currently sit at #1 in the WTL rankings. We won't begrudge them that—you take what you can get as SSLT. They'll be looking for their second win against SLT, who should really be given a less confusing team name abbreviation.
While Spirit should have things under control in the opener, Silky vs. Joliwalove seems entirely impossible to predict for anyone who isn't steeped in the Chinese scene. Firefly and Cham are much more familiar to me, but their match is no less difficult to predict. Firefly has been blazing as SSLT's ace player since last season, but Cham played the best StarCraft of his career recently at IEM Katowice. Throw in both players' tendencies for cheeky and offbeat strategies, and we may be in for a doozy of a match.
SLT should have the advantage in the ace match with Spirit being in fantastic form, but I don't think it will come down to that.
Prediction: Starlight Twinkle 4 – 2 SSLT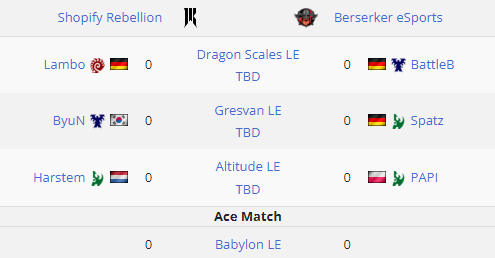 There's not much of a silver lining for Berserker, with the Rebellion being favored in every single match. A 6-0 is in the cards, but I'll stay conservative and say Papi or BattleB manage to steal a point,
Prediction: Shopify Rebellion 5-1 Berserker eSports
Sunday, Apr 30 12:00pm GMT (GMT+00:00) Matches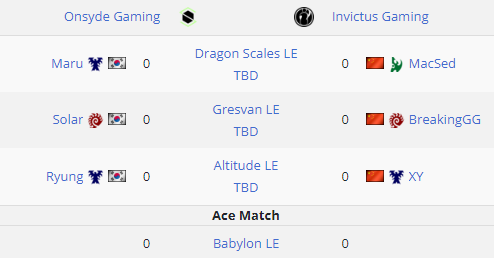 Our second major mismatch of the week is iG in an unfortunately familiar-looking beatdown scenario. If someone gets a point on the board for, it will probably be XY against Ryung, but even that seems highly unlikely against the TvT specialist.
Prediction: ONSYDE Gaming 6-0 Invictus Gaming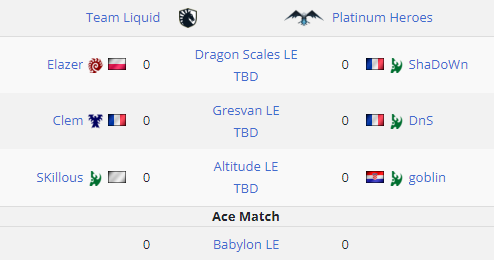 PH are deploying an all-protoss lineup this week, a daring choice for anyone who has followed StarCraft in the last half-decade, and one that may not pay off. Elazer has made a career out of gatekeeping Europe's upper echelons, beating many players with similar careers as ShaDoWn. The French Protoss has been in good form lately, but Elazer should get a 1-1 split at worst.
Clem is similarly favored against DnS, getting to wield his all-powerful TvP without any cross server fuss. Finally, the newly arrived SKillous is looking like a very reliable insurance versus Goblin should anything go wrong in the first two confrontations.
Prediction: Team Liquid 5 -1 Platinum Heroes
---
Source: https://tl.net/forum/brood-war/610718-wtl-2023-summer-week-1-recap-week-2-preview