by: Nakajin
After two rounds of qualifiers and a tremendously busy off-season, a new season of WTL Code S is finally set to begin.
The biggest change of all is probably the sheer number of league spots that changed hands! When you combine all the teams from qualifiers, mergers, and reorganizations, a full six spots on the league table have turned over. Here's a list of who's in, and who's out.
In++
ABYDOS
BASILISK
Berserker eSports
Dragon KaiZi Gaming
Platinum Heroes
Starlight Twinkle
Out–
Alpha X
CranKy Ducklings
Dragon Phoenix Gaming
KaiZi Gaming
Good Game Gaming
Team GP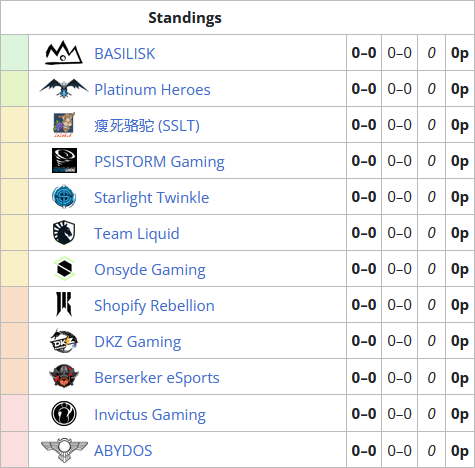 Top 7 teams qualify for the playoffs.
Points are awarded as follows:

3 points for a victory in a series that does not require an ace match
2 points for a victory in a series that requires an ace-match
1 point for a loss in a series that requires an ace-match
0 points for a loss in a series that does not require an ace match
The most eye-catching new entrant is surely BASILISK, who finally bring Serral into the WTL fold. While BASILISK's roster of Serral-Reynor-trigger lacks depth, they are already top-tier title contenders in their debut season (see how highly they rank in the Power Rank below).
Another major change is the merging of rivals KaiZi Gaming and Dragon Phoenix Gaming into the newly formed "DKZ Gaming." However, this union hasn't necessarily resulted in an overpowered squad, as Dark, herO, and Oliveira were the only survivors of the merger (among regular participants). Can DKZ continue DPG's legacy and win a fourth straight WTL title?
Let's move onto the first part of our preview where we figure out where all the teams stand in this new WTL landscape.
Regular Season Power Rank
As tradition dictates, we start off the new season with a ranking of all twelve teams.
#12: Berserker eSports

Terran: BattleB


Protoss: Holden (ineligible until week #3), PAPI, Spatz


Zerg: DIMAGA, SoulSpirit, Mixu (ineligible until week #3)
Alpha X's surprising withdrawal was a hard hit for the league, but it did benefit Berserker eSports who had fallen just outside the qualification line in Code A.
The young Germans Spatz and BattleB demonstrated good form in Code A, and should be the core pieces in the line-up. DIMAGA, PAPI, and the freshly acquired Mixu are likely to rotate for the third spot unless someone establishes themselves as a regular with a few big victories.
Berserker showed their upset potential with a surprising victory over ABYDOS in the first round of Code A, which essentially won them their spot here in Code S. However, their subsequent losses to Starlight Twinkle, Platinum Heroes, and Invictus Gaming suggest that opponents already know better than to take them too lightly. While Berserker could hope to catch a few more opponents napping, it's fair to say any finish outside the relegation zone would be a massive achievement for them.
#11: Invictus Gaming

Terran: XY


Protoss: MacSed


Zerg: BreakingGG
Invictus Gaming are back, surviving Code A and winning their eleventh participation in a modern-era teamleague (SCBOY teamleagues + NeXT). Alas, throughout those eleven tournaments, they've amassed a map record of 112 wins and 297 losses for a whopping -185 differential. As they stare into the abyss of the -200 mark, they must cope with the fact that they lost perhaps their best player in Coffee during the off-season. To make things worse, XY and Macsed are now so old that even Emmanuel Macron would not oppose their retirement.
Then why or why are they not dead last in this power ranking? Well, first, almost a decade of watching StarCraft II has taught me that old farts tend to be remarkably hard to put down, even when they are well past their primes. Second, an IG season often has a magic moment when they string together a series of clown fiesta victories and steal the points needed to ruin some other team's season. Let's hope the gang can do it again this time around.
#10: SSLT (瘦死骆驼)

Terran:None


Protoss: Cyan, Firefly


Zerg: Silky, TooDming
Our second all-Chinese squad of the "Starving Camels" just barely sneaked past IG in the rankings. With Cyan coming in to reinforce Firefly, they have two Protoss players used to overachieving in team leagues. If SSLT can luck out some ZvZ draws for Silky or TooDming, then they're a respectable threat to force a few ace matches out of teams in the playoff race.
However, that view could be a bit optimistic. Cyan seems to have somewhat cooled off since his 2020-2022 peak, and despite the incredible heater Firefly went on in the previous WTL season, he comes in with the worrying Aligulac rank of #52 in the world. That's enough to make even the most ardent 'Aligulac isn't accurate because it doesn't weigh tournaments properly!'-posters on TL.net have doubts.
#9: Platinum Heroes

Terran: AqueroN, Vindicta


Protoss: ArT, DnS, goblin, Rodzyn, ShaDoWn


Zerg: HateMe, Iba (ineligible until week #3), eGGz (ineligible until week #3)
A season removed from a harsh all-kill at the hands of Firefly in Code A, the Heroes are back in Code S on the back of a strong showing against Mystery Gaming. The roster is noticeably different from the last time they qualified—Botvinnik, FightingFrog ([Wax: Alas, my adored alliterative amphibian is amiss]), and PAPI are out, and while DnS, eGGz, Goblin, ShaDowN, and Vindicta are in. Having effectively signed the best players of ROOT Gaming, CranKy Ducklings, and Team Rotti, this season's Platinum Heroes roster is definitely an improvement on the previous WTL iteration.
What is less clear, however, is if those improvements can really materialize into more points on the board. Vindicta and ArT are the only two players on the team that have recorded a 2-0 victory in the regular season before (1 time each), and none of the players really have the explosiveness needed to worry the more solid squads in the middle of the table. If everything goes well, the Heroes should be able to grind out the lesser teams and protect their spot in Code S, but they should not let their guard down against anyone.
#8: Starlight Twinkle

Terran: Majinbu, Spirit


Protoss: HHH, JoliwaLoves, Nice, Remilia, ReWhite, YoungZest, 望夜的星星


Zerg: Cham
By broadening their cosmic gaze outside of EPT/WCS China and adding WTL veterans Cham, Spirit, and Nice, Starlight Twinkle has transformed from an obscure qualifier squad into a team with an outside shot at a playoff spot.
Spirit should be the anchor, getting consistent 2-0's over lesser adversaries and serving as a reliable ace option. Cham, on the other hand, has been a feast-or-famine player in previous seasons. He is very much at risk of dropping maps to everyone else in the league, but has proven in his time with Team GP that he can score some massive upsets—especially against his fellow Zergs. Nice falls in between the two extremes, for better or for worse.
With the late addition of Nice, it will be interesting to see if any of Starlight Twinkle's long-standing China-region players make regular appearances this season. ReWhite, in particular, has shown some interesting upset potential. Maybe he'll get a chance to show it in the regular season.
#7: Team Liquid

Terran: Clem, Kelazhur


Protoss: MaNa, SKillous


Zerg: Elazer
We are now three years removed from Team Liquid's first entry into the WTL and we can safely say it has not panned out as expected. It's not that they have ever been bad per se, but things just seem to refuse to fall their way.
Teams like Alpha X and Shopify Rebellion have shown that the whole can be greater than the sum of its parts, getting great results without a true 'super-ace' player. On the other hand, Liquid have consistently struggled to make the most of their opportunities. In their four seasons in WTL, they have only reached the playoffs a single time (by virtue of a map score tie-breaker), and ended up one place outside the playoffs the other three seasons. Be it Clem getting proxy void-ray by Nice, Elazer dropping a map to Rex in a god-given matchup against ONSYDE, or Harstem and uThermal fumbling a match against IG late in the season, nothing ever seems to come easy (or Liquid makes things unnecessarily hard on themselves).
There has been a lot of discussion on the amount of blame that needs to be put at the feet of Clem. Obviously, he has been the best player on the team, as is expected of him, but a 62% win rate is far from the dominating numbers players like Dark, Maru, or Zest have put up. Similarly, his 50/50 ace match history holds a couple of crushing losses, including the mentioned proxy Void Ray match against Nice, a season ending defeat at the hands of DRG, and a momentum halting bout against Byun.
On the other hand, it's not like Clem has always gotten the best of help from his teammates and TL is working on fixing that. Elazer was the first piece of the puzzle, and now SKillous comes in to secure that third player spot that has been bothering TL for a while.
On paper, TL has one of the better all-around three man rosters in the league, and by all accounts, should vault into the playoffs. Yet, I just can't make myself rank them any higher until they prove they can play near 100% of their ability in WTL.
#6: ABYDOS

Terran: Cure, QuanTa


Protoss: Creator, NightMare, sOs


Zerg: DRG (ineligible until week #3), Mondo
Ladies and gentlemen, the hour was dire. As we were preparing for the start of the season, news emerged that ABYDOS may have been forfeiting their newly earned spot into Code S after a major controversy emanating from the Chinese community forums. While all of the lurid details of the story still elude us poor non-Chinese readers, I'll try to summarize it to the best of my understanding (as pieced together from TL.net posts).
During an interview with ABYDOS, someone made a joke about Starlight Twinkle that maybe wasn't a joke. Or maybe it was, who knows. After that someone named IceStar who may or may not be the same person as Starshim, but definitely is a member of ABYDOS, except if he or she isn't, allegedly wrote on a forum that they didn't approve of the thing that was said (or perhaps not said) in the interview. Of course, that was seen as an attack on Mystery Gaming and Akira. But then! It came out that DRG and Classic didn't practice, and, as such, the thing that was said in the interview was not the bad thing it was seen to be originally, but a different kind of bad thing somehow related to Mondo who was a fan of Team/Club/The Artist Collective of NV players. Throw in the interventions of the famous « Madman Dumplings » (I mean you know how he gets), and it really got people's blood boiling.
Anyway.
ABYDOS's performance in Code A wasn't the most reassuring, making one question the team's ability to field full-strength line-ups on a regular basis. sOs was a no show, and Creator and Cure sat out a few matches in favor of the non-pro players in the roster. The good news for ABYDOS is that when they fielded their main line up of Cure-Creator-Nightmare, they posted an impressive 16-2 record in Code A. With DRG on board, they actually have one of the deeper four-man rosters in the entire league. Also, maybe it's actually a good thing that they gave up an upset to Berserker in the qualifiers—they have fair warning about what could happen if they underestimate the weaker teams in the league.
Still, with neither Creator nor DRG playing at their peak levels from 2022, a heavy burden is going to fall on Cure initially. Despite the considerable name value on the team, ABYDOS's season may be harder than many fans anticipate.
#5: Shopify Rebellion

Terran: ByuN


Protoss: Harstem


Zerg: Lambo, Scarlett, TLO
The Rebels are among the most stable teams in the league, both in their line-up and in their results. Thus, they can be expected to reach the playoffs with a decent seed, and have a chance at making a small run once they get there.
Byun has been on the up and up in the last couple of weeks and is a solid choice to beat almost anyone in the league. Individual tournament results say Lambo should be the clear #2 option, but Scarlett has actually outshone him as a very strong WTL player in recent seasons. Also, even the YouTuber Harstem has a high enough natural base skill to threaten the top players in the league and win the Rebels a good number of maps across the season.
4: PSISTORM Gaming

Terran: Epic, Nicoract, SpeCial


Protoss: Gerald, Has, MaxPax, MindelVK


Zerg: EStoryTeller, Namshar
Now, more than ever, PSISTORM's destiny is in MaxPax's hands. After forming a fearsome duo with GuMiho and leading the team to second place in the previous regular season, MaxPax stands as the sole ace following GuMiho's departure.
Losing the towel Terran definitely hurts, but this blow is softened by MaxPax's great play in recent events. By winning 4-3 over Maru in the finals of PiG Festival #3, the (somewhat infuriating) idea that Maxpax is the best StarCraft II player on the planet must now be considered. And, as if to show he isn't going to be giving up any soft 1-1 draws this season, he recently went 15-0 in OSC King of the Hill against WTL rank-and-file quality opponents.
Of course, Gerald and SpeCial have performed admirably for PSISTORM in the past, and Has is a welcome wild card. Still, this combined roster pales in comparison to the murderer's row of world champions ahead of them.
The ideal scenario for PSISTORM is to overachieve once more in the regular season, securing a high seed in the playoffs. Then, they can hope that MaxPax will have continued on the upward trajectory he's been on for the last two years, and pay it off with some glorious performances in the semi-all-kill format.
The Favorites >>>
While previous TL.net Power Ranks have made use of more tiers, this season a simple two-tier system may suffice: the top three, and everyone else. These next three teams come in as the clear favorites to win the title, boasting some of the most exciting line-ups ever assembled in the league.
I'm not fixed on this specific ranking between them, and could easily be convinced to rank them in any order. That's precisely what makes this season exciting to me—there aren't any super-teams like Jin Air or DPG that are favorites among favorites. We're back to having a proper, all-out brawl for the championship.
#3: Dragon KaiZi Gaming

Terran: Oliveira


Protoss: herO, Jieshi


Zerg: Dark, F91, XiaoSe
Dragon Phoenix Gaming and KaiZi Gaming, the cornerstones of the WTL, have joined forces. Between them they have claimed all but one of the Chinese teamleague titles in what I call the post-JAGWIU ("Jin Air Green Wings is unfair") era, including last season when Dragon Phoenix Gaming overcame KZ for their third straight championship.
One would imagine, then, that a merger between the two would result in a super-team that would roll over the rest of the table. Yet, DKZ is arguably more vulnerable than DPG by itself has ever been. Mirroring the corporate world, not everyone survived the merger, and the rightsized squad is "only" fielding two world champions and a top-2 Protoss in the world. It's hardly a terrible situation, but not quite the absurd DPG line ups of the past few seasons that featured four or more Code S champions.
The current roster may be more than enough to win the championship anyway. Well before he became the IEM World Champion, Oliveira showed incredible clutch play by winning KaiZi Gaming their only WTL championship in a grand finals ace match. Now that he's shown us what heights he can reach, there's no questioning his value (take that, whoever refused to revive Oliveira in the previous WTL grand finals!). Dark and herO will look to do their usual destroy-everyone things, meaning that DKZ will be able to beat almost everyone else without too many worries.
Dark's approaching military service does cast a pall on the long-term outlook for DKZ, but as we've seen with Zest, it's tough to forecast these things with any accuracy. If worst comes to worst, Xiaose and F91 better have INnoVation or Gumiho's number on speed dial, because heading into the playoffs with Jieshi as a third option wouldn't bode well.
#2: ONSYDE Gaming

Terran: Maru, Ryung


Protoss: CranK


Zerg: Solar
Maru and Solar have united with Ryung for another crack at the WTL crown. It's a well-deserved reward for the former Team GP ace—after seasons of hard-carrying the underdog team, a tragic incident of rescheduling caused his contract to lapse just before he could play in the previous WTL playoffs. There will be no dramatic struggle to get into the postseason this time around for Ryung, as his new teammates Maru and Solar combined for a total 32-11 map record last season.
With Maru being in great form (at least outside of grand finals), ONSYDE should be looking to exceed their previous finish of fourth place (3rd in the regular season). Last season, Neeb's on-and-off presence forced ONSYDE to turn to Rex on multiple occasions, and that probably cost them the couple of maps that would have put them first place in the regular season. Ryung should be a much more reliable presence, although he isn't quite playing his best StarCraft since the start of 2023.
Overall, it will be very, very, hard to knock down ONSYDE off from their trajectory to the trophy, but there might just be a team that could.
#1: BASILISK

Terran: None


Protoss: RotterdaM, trigger


Zerg: Reynor, Serral
When BASILISK announced they were creating a StarCraft II team at HomeStory Cup, there was a lot of anticipation about a strong new Western team entering the WTL. They've finally arrived in the WTL, and it's been well worth the wait. Serral is finally a part of the competition, giving it that last, finishing touch.
Serral's strengths perfectly fit the WTL regular season format, which rewards players who cross their T's and dot their I's by grabbing every map possible against weaker players. Of course, you expect him to be a tremendous ace player as well, even if he's not the hyper-dominant Zerg of years past. DKZ, ONSYDE, and BASILISK are essentially interchangeable, but I've watched enough StarCraft to know that when in doubt you bet on Serral.
Reynor had a poor regular season the last time around, recording a disappointing 55%-win rate. Still, he lit things up in the playoffs with an explosive performance, teaming up with Oliveira to pull KaiZi from the bottom of the playoff ladder all the way to the grand finals. He wasn't able to force KaiZi to the championship in the end, falling to a god-mode DPG.Cure in the finals (no, I will NOT get over KaiZi's decision to revive Reynor instead of Oliveira), but it was a great playoff run on the whole. Also, considering that Reynor is now partnered with one of the few players who might be an improvement on Oliveira in this league, you imagine things can only improve for him.
Reynor and Serral form a terrifying duo, but they may have to account for a full team by themselves. Going into the season with Trigger as the third player instead of snatching another star was a bit puzzling from BASILISK, but as a viewer I welcome it. I once praised the young Canadian as the heir apparent to Neeb and Astrea, a prediction that has not aged particularly well up to this point. However, 11 weeks of top-notch competition will be the perfect opportunity for him to develop and show us what he's truly made of.
Preview: Regular Season Week 1
Tuesday, Apr 18 12:00pm GMT (GMT+00:00) Matches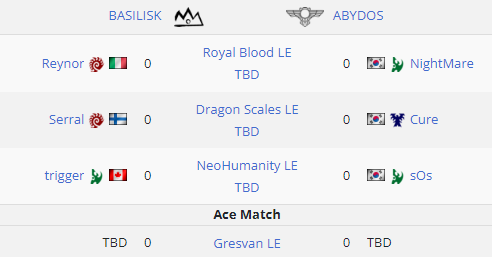 We start the year with the banger everyone was expecting at the end of Code A, and a match that will set the tone of both ABYDOS and BASILISK's seasons.
The Koreans certainly got the short-end of the straw in terms of timing and match-ups. With DRG not yet available because of the transfer rules, one would have expected Creator to play. However, for whatever reason, Creator has been benched, leaving sOs to take the field in a rather unexpected 'comeback' match.
I can't see Reynor and Serral not getting at least 3 maps between them, and they could very well finish it early with a 4-0. Still, it's interesting to think about what happens if BASILISK is up 3-1 headed into the final match of Trigger vs sOs. For Trigger, it would be the kind of match he needs to at least split 1-1 to pull his weight in the competition. As for sOs, it's hard to place expectations on him now, so the match will serve as a check-up on how seriously he's taking this comeback. Ultimately, I think a 1-1 split is the most likely result at this time.
Prediction: Basilisk 4 – 2 ABYDOS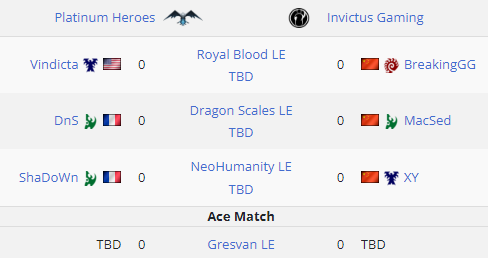 The Heroes and IG jump right into the fray in a match with heavy implications on both teams' chances to avoid relegation. Vindicta is favored to get a fairly straight forward 2-0 against BreakingGG, while DnS and ShaDoWn have trickier situations to handle. A 4-2 or 4-1 result is very possible, but I think Invictus will manage to eke out 3 maps before Vindicta cleans up as the ace.
Prediction: Platinum Heroes 4 – 3 Invictus Gaming
Wednesday, Apr 19 12:00pm GMT (GMT+00:00) Matches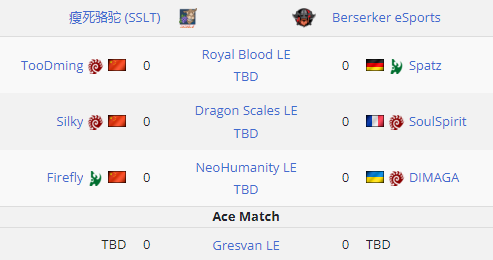 Just like the previous match, SSLT and Berserker start with one of their most important matches of the season as they're both looking to avoid finishing in the bottom two. It's good news for Berserker that SSLT decided not to send out Cyan, sticking to their starters from the previous season.
Spatz should be considered the favorite against TooDming and the same goes for Firefly against DIMAGA, that leaves us with Silky vs SoulSpirit. Silky's cheesy style is very well documented in the WTL, and I'm expecting SoulSpirit to be ready for it.
Prediction: SSLT 2 – 4 Berserker eSports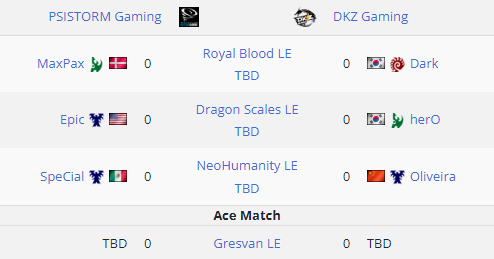 Since the start of 2023, Maxpax is 5-2 in matches against Dark and will be looking to improve that record with a necessary 2-0 to open things up. herO will probably clean up against Epic, which leaves us with SpeCial versus Oliveira in a duel of build order gurus. I think SpeCial will have enough in store to force an ace match, or in the best case, perhaps even win the series.
If it ends up going to the ace-match, I'll take my first big risk of the season and say the Danish Protoss is slightly favored against everyone on DKZ. He should round out a perfect day's work and clinch the win for PSISTORM.
Prediction: PSISTORM 4 – 3 DKZ
Thursday, Apr 20 12:00pm GMT (GMT+00:00) Matches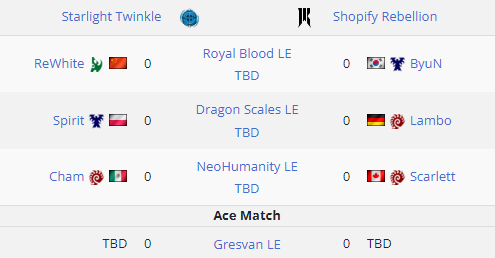 With Nice not available until week 2, Starlight Twinkle has actually gotten a decent draw where ReWhite is the 'sacrifice' to ace player to ByuN. Even so, I can't see the Twinkles scrapping out three wins in the latter two matches, as Scarlett and Lambo should be extremely familiar with their opponent's tendencies and how to take advantage of them.
Prediction: Starlight Twinkle 1 – 5 Shopify Rebellion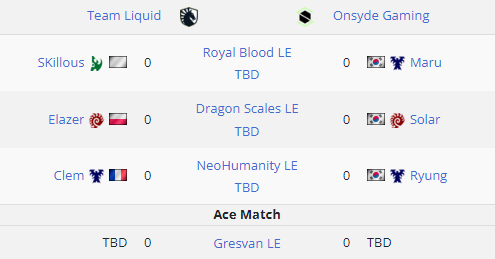 Remember when I said that TL usually don't make the most of their opportunity? Well their opening match vs ONSYDE will be a good test to prove me wrong. While it's hard to find a 'good' match-up combination for Liquid here, Elazer getting Solar in a ZvZ and Clem getting Ryung in a TvT is on the decent side. There's definitely a chance to sneak in at least an ace match and grab an important point.
However, the odds still favor ONSYDE, and I think they'll capture the full three points.
Prediction: Team Liquid 2 – 4 ONSYDE
---
Source: https://tl.net/forum/starcraft-2/610261-wtl-2023-summer-power-rank-and-week-1-preview