Share:
Roku reported Q4 revenue some $64 million ahead of consensus for Q4.
ROKU stock responded by bouncing up 10% afterhours and in Thursday's premarket.
Due to high operating costs, Roku lost $250 million in the quarter.
CEO Anthony Wood guided for Q1 revenue ahead of Wall Street estimates.
Roku (ROKU) stock has leapt ahead by 10% in Thursday's premarket after the previous day delivering a large beat to revenue expectations in the fourth quarter. Afterhours on Wednesday Roku reported revenue of $867 million that destroyed Wall Street consensus for $803 million. Still hefty growth in operating expenses handed shareholders a $250 million net income loss for the quarter.
Roku stock news: Profits still not the main goal for CEO Anthony Wood
Roku delivered fourth quarter GAAP earnings per share of $-1.70, three cents better than expecations. Operating expenses exploded YoY by 71% to give the smart TV company an operating loss of $250 million. This compares to an operating profit of $21 million in the quarter one year ago.
"We plan to continue to improve our operating expense profile to better manage through the challenging macro environment, while building on our platform's monetization and engagement tools and partnerships," said CEO Anthony Wood.
Wood and other executives added that Roku has a definite runway to "positive adjusted EBITDA for full year 2024," whatever that means.
Prior communication of the advertising decline in Q4 had led Wall Street to forecast a much worse revenue picture, but an increase in platform revenue kept Roku flat overall with the fourth quarter of 2021. Platform revenue rose 5% YoY to $731 million, while device revenue declined 18% YoY to $136 million.
Anthony Wood was clear that the device segment did not need to be profitable, because the segment is intended to bring more users to Roku's platform. Active accounts did grow at a healthy pace in the quarter, hitting 70 million, up 16% YoY. Total streaming hours jumped 23% YoY to 23.9 billion, and average revenue per user ticked up 2% (below inflation) to $41.68.
For the current first quarter, management guided for $700 million in revenue, $12 million ahead of consensus, and adjusted EBITDA of $-110 million. In the fourth quarter of 2021, Roku had reported nearly $87 million in adjusted EBITDA.
Roku stock forecast
Roku stock is now sitting right on resistance from the February 2 high of $66.86. If it can best that recent range high, then bulls may have their eye on the September 2022 resistance level at $75. Still Roku stock is returning near to overbought on the Relative Strength Index on the daily chart, so keep that in mind. Support remains at $54.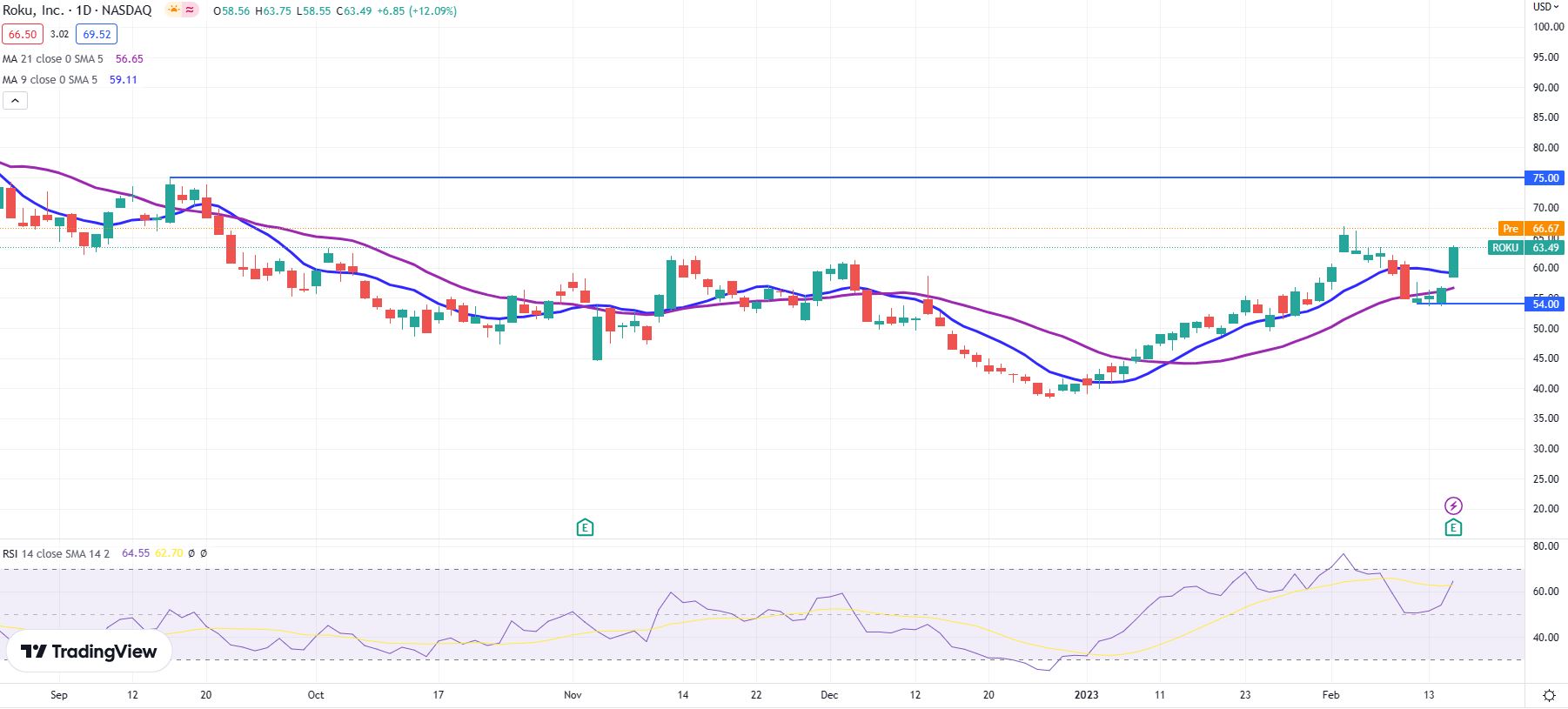 ROKU daily chart
Source: https://www.fxstreet.com/news/roku-earnings-roku-stock-up-10-despite-extreme-growth-in-q4-operating-expenses-202302161402