Story One
How Sam Bankman-Fried killed the world's greatest money printer
Hands up if you had "amphetamine addicted sex nerd rug pulls the international crypto market" on your 2022 bingo card. Anyone? Anyone?
Hell, where do you even start? Over the past week the Twitter hive mind has done what it does best and unearthed a ceaseless parade of sordid details, wild conjecture and good, old-fashioned sleuthing and now we're beginning to get a picture of exactly how SBF managed to take a business earning 8-figures a day and transform it into a US$10 billion abyss of unsecured liability. This thread covers the details pretty well.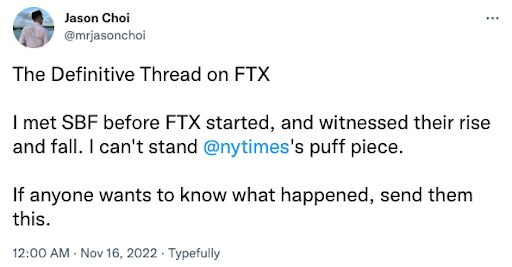 The picture that has emerged is one of extreme financial recklessness – hello, US$40 million Bahamian penthouse – driven by desperation, a dictatorial management style and SBF's now well-documented addiction to stimulants. When Alameda Research couldn't repay its loans in the wake of the LUNA-UST meltdown, SBF bailed it out with customer cash from FTX. Things got worse and they continued draining the accounts, throwing good cash after bad as they tried to gamble their way out of the hole.
Where it gets interesting is how SBF and FTX used the opaque valuations of the crypto marketplace to convince investors to keep giving them money. While Alameda's initial outsize success was a symptom of "right place, right time", when the capital began to dry up they simply started releasing tokens and then pumping them to high heaven (while also front-running their users).
At the time of the bankruptcy, they had US$900 million in liquid assets and more than US$9 billion in illiquid "Sam coins" such as FTT, SOL, RAY and SRM. But while the going was good, they could point to those assets and say "Look how much money we have! Please give us more!"
And they did. The most recent raise was US$400 million in January, an astronomical sum that they received without ever having to disclose their financials. That $400 million is now worth zero. The mind boggles.
Story Two
And here comes the contagion
Remember back in May when all we could talk about was contagion? It's back, baby, and this time it's a tropical virus that makes you bleed from your eyes.
When LUNA imploded the collateral damage was devastating, but also largely contained among those companies directly engaged in the business of crypto lending.
This… this is a whole other level. 130 companies have direct financial ties to FTX. Hundreds of exchanges, investment funds and market makers trusted them with millions upon millions in assets. More than a million users are thought to have been impacted, most of whom can expect to receive cents on the dollar for their investments once bankruptcy has been finalised.
The most immediate losers are the VC and investment firms – Paradigm is down US$278 million and Sequoia, who basically bragged about giving SBF money without conducting any due diligence, has lost US$213 million. They even managed to take the Ontario Teachers Pension Plan for a cool US$93 mill.
FTX.US, theoretically a different company, went into administration. BlockFi and Voyager – bailed out by SBF & co in June – are preparing to go under again. Multi-billion dollar lending house Genesis has suspended trading, which led Gemini Earn to pause withdrawals. A number of Bitcoin miners, under severe pressure due to sub-20k prices, could be expected to fold. Rumours are swirling around Crypto.com and Gate.io and a handful of exchanges have already sent out the dreaded "withdrawals suspended" email.
The one saving grace this time round may be that many of the weakest links were already exposed back in May. By all rights, Alameda should have been one of them, but Sam's desperate attempts to save the day have merely delayed (and exaggerated) the inevitable.
Overheard on Twitter
"1) What"
@SBF_FTX, Nov 14
Story Three
So… what happens now?
Now I may not be one of them fancy-pants, big-city lawyers, but to me the deliberate misuse of billions worth of customer funds, in direct contravention of your agreement with said customers, sounds an awful lot like what we might call "massive fraud".
SBF and the CEO of Alameda Research, Caroline Ellison – both of who may or may not have been part of a 10-person "polycule" involving FTX's senior management – have openly admitted that they were using FTX customer funds in ways they weren't legally allowed to. Which may explain why their preferred next destination is rumoured to be sunny, no-extradition-treaty-with-the-US Dubai.
In the short-term, the haemorrhaging has at least paused thanks to Binance's announcement of an industry recovery fund to try and unblock liquidity for "strong" companies. Bitcoin and Ethereum, while hurting, are doing better than most other tokens; expect the flight to strength to be a theme going forward. Bitcoin ain't stealing your coins.
At the same time, decentralised exchanges and self-custody are having their moment. DEX trading volumes have more than doubled since the disaster began and Uniswap now ranks as the second largest Ethereum market. Users are pulling their assets off centralised exchanges at an unprecedented rate and sales of hardware wallets are through the roof.
We can assume that regulation is coming and it will be fierce. At this point we don't really have any right to complain. Crypto has well and truly proven itself incapable of self-regulation. The Australian government has already announced its intention to pass a new regulatory regime next year, and I assume they will be one of many. Next month the US Congress will hold a hearing into the FTX meltdown. Bring your popcorn.
We may well be witnessing the end of a market phase that commenced during the 2017 ICO boom and has spent the past 5 years generating billion dollar companies with no product, plan or viable path to success. While the getting was good we could ignore all the less palatable aspects of the industry. The money grabs and chaos were just part of the process.
But now it's time to grow up, clear house and get back to basics. When the next bull run occurs, crypto will be a very different place and – screwed as everything is right now – that's a good thing. (But more about that next week.)
Luke from CoinJar
CoinJar's digital currency exchange services are operated in Australia by CoinJar Australia Pty Ltd ACN 648 570 807, a registered digital currency exchange provider with AUSTRAC; and in the United Kingdom by CoinJar UK Limited (company number 8905988), registered by the Financial Conduct Authority as a Cryptoasset Exchange Provider and Custodian Wallet Provider in the United Kingdom under the Money Laundering, Terrorist Financing and Transfer of Funds (Information on the Payer) Regulations 2017, as amended (Firm Reference No. 928767). Like all investments, cryptoassets carry risk. Due to the potential volatility of the cryptoasset markets, the value of your investments may fall significantly and lead to total loss. Cryptoassets are complex and are unregulated in the UK, and you are unable to access the UK Financial Service Compensation Scheme or the UK Financial Ombudsman Service. We use third party banking, safekeeping and payment providers, and the failure of any of these providers could also lead to a loss of your assets. We recommend you obtain financial advice before making a decision to use your credit card to purchase cryptoassets or to invest in cryptoassets. Capital Gains Tax may be payable on profits.