Share:
Oil price reverses gains and marks a decline on Friday after Fed Chair Powell restates his commitment to fighting inflation.
The US Dollar dips as safe-haven demand dries up on easing debt-ceiling worries, Oil is mainly priced in USD.
Downside for the US Dollar is likely to be contained amidst heightened inflation expectations.
Oil price is in a technical downtrend, favoring shorts, although there are signs a bottom may be forming.
Oil price trades modestly lower on Friday after the Chairman of the Federal Reserve (Fed) Jerome Powell restates his commitment to fighting overly high inflation. Earlier in the day Oil rose after a mixture of optimism about the debt ceiling, and the start of the US driving season, indicated future demand for Oil would remain resilient. The US Dollar Index (DXY) is down marginally at the time of writing, lending a backdraught to Crude prices, which are predominantly priced and traded in US Dollars.
WTI Crude Oil is currently trading around $72 and Brent Crude Oil $76.
Oil news and market movers
Fed Chair Jerome Powell highlights the need to bring persistently high inflation down at a speech given at the Thomas Laubach Research Conference in Washington, D.C, on Friday. This suggests further tightening might be on the horizon, curbing economic growth and demand for Oil.
US President Joe Biden gave his clearest assurance yet that he would do whatever it takes to secure a deal to raise the US debt ceiling, averting a financial crisis and securing future demand for Oil. "We're going to come together because there's no alternative," he said before talks with House Speaker Kevin Mccarthy on Thursday.
The start of the US driving season is around the corner, with demand for gasoline expected to pick up for that.
Data from the Joint Organizations Data Initiative (JODI) showed a surge in global demand for Oil in March on Thursday, further supporting Oil prices.
The JODI report showed a surge in global demand of 3 million barrels per day (bpd) in March.
The US Dollar comes under pressure as debt-ceiling fears ease, reducing safe-haven demand.
The Greenback's downside is curtailed, however, by expectations that continued inhibited borrowing and growth will lead to higher inflation and higher interest rates which will, if they materialize, support the USD.
Crude Oil Technical Analysis: Downtrend showing signs of ending
WTI Oil is in a long-term downtrend, making lower lows. Given the old adage that the trend is your friend, this favors short positions over long positions. It is trading below all the major daily Simple Moving Averages (SMA) and all the weekly SMAs except the 200-week at $66.89.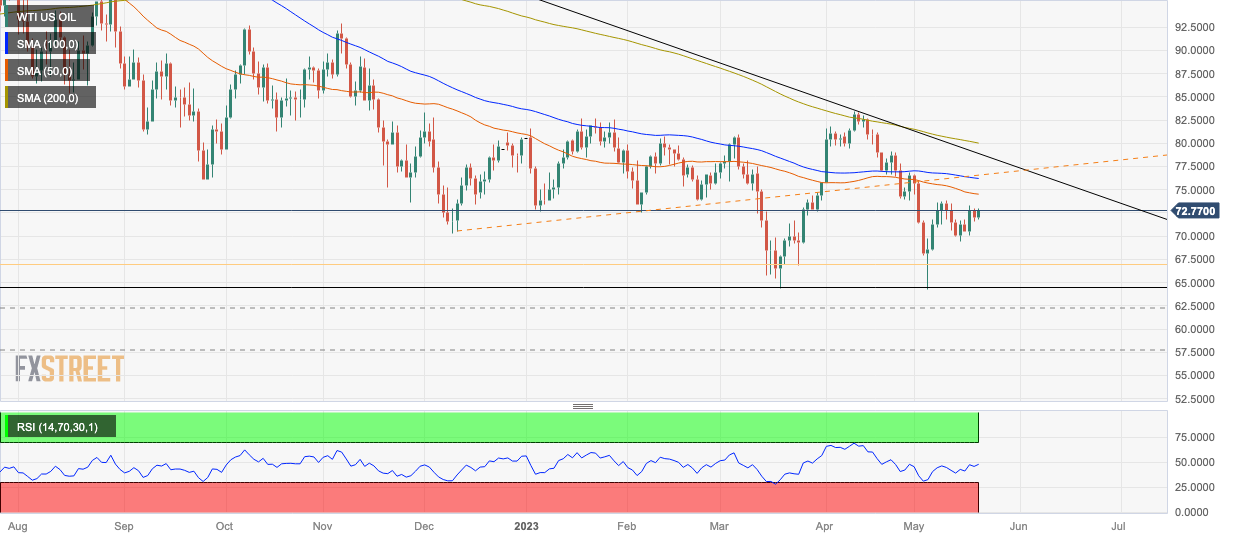 WTI US Oil: Daily Chart
A break below the year-to-date (YTD) lows of $64.31 would be required to reignite and reconfirm the downtrend, with the next target at around $62.00 where trough lows from 2021 will come into play, followed by support at $57.50.
Despite the dominant downtrend, there are signs that it might be reaching an end. There is mild bullish convergence between price and the Relative Strength Index (RSI) at the March and May 2023 lows, with price making a lower low in May that is not matched by a lower low in RSI. This is a sign bearish pressure is easing.
The long hammer Japanese candlestick pattern that formed at the May 4 (and year-to-date) lows is a further sign this may have been a key strategic bottom.
Oil price bulls, however, would need to break above the $76.85 lower high of April 28 to bring the dominant bear trend into doubt.
Brent Crude Oil FAQs
What is Brent Crude Oil?
Brent Crude Oil is a type of Crude Oil found in the North Sea that is used as a benchmark for international Oil prices. It is considered 'light' and 'sweet' because of its high gravity and low sulfur content, making it easier to refine into gasoline and other high-value products. Brent Crude Oil serves as a reference price for approximately two-thirds of the world's internationally traded Oil supplies. Its popularity rests on its availability and stability: the North Sea region has well-established infrastructure for Oil production and transportation, ensuring a reliable and consistent supply.
What factors drive the price of Brent Crude Oil
Like all assets supply and demand are the key drivers of Brent Crude Oil price. As such, global growth can be a driver of increased demand and vice versa for weak global growth. Political instability, wars, and sanctions can disrupt supply and impact prices. The decisions of OPEC, a group of major Oil-producing countries, is another key driver of price. The value of the US Dollar influences the price of Brent Crude Oil, since Oil is predominantly traded in US Dollars, thus a weaker US Dollar can make Oil more affordable and vice versa.
How does inventory data impact the price of Brent Crude Oil
The weekly Oil inventory reports published by the American Petroleum Institute (API) and the Energy Information Agency (EIA) impact the price of Brent Crude Oil. Changes in inventories reflect fluctuating supply and demand. If the data shows a drop in inventories it can indicate increased demand, pushing up Oil price. Higher inventories can reflect increased supply, pushing down prices. API's report is published every Tuesday and EIA's the day after. Their results are usually similar, falling within 1% of each other 75% of the time. The EIA data is considered more reliable, since it is a government agency.
How does OPEC influence the price of Brent Crude Oil
OPEC (Organization of the Petroleum Exporting Countries) is a group of 13 Oil producing nations who collectively decide production quotas for member countries at twice-yearly meetings. Their decisions often impact Brent Crude Oil prices. When OPEC decides to lower quotas, it can tighten supply, pushing up Oil prices. When OPEC increases production, it has the opposite effect. OPEC+ refers to an expanded group that includes ten extra non-OPEC members, the most notable of which is Russia.
Source: https://www.fxstreet.com/news/oil-price-recovers-on-biden-debt-ceiling-assurances-and-demand-pickup-202305191224