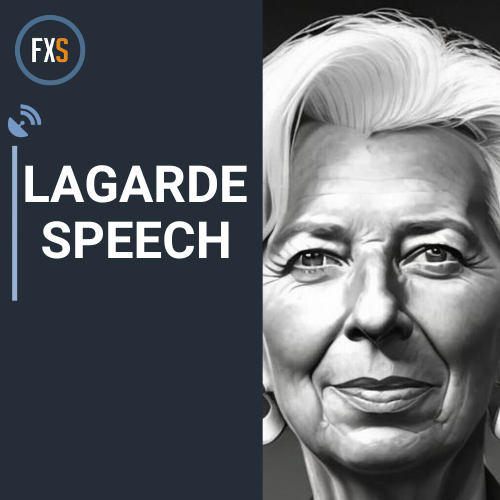 Share:
Christine Lagarde to hold key press conference on Thursday.
European Central Bank expected to raise interest rates by 50 basis points.
Q&A section of ECB President speech will be highly scrutinized.
The European Central Bank (ECB) has raised its main refinancing operations rate by 50 basis points, as expected, to 3.5%, following its March monetary policy meeting. Read the full statement from the ECB. In its policy statement, "elevated level of uncertainty reinforces the importance of a data-dependent approach to ECB's policy rate decisions, which will be determined by its assessment of inflation outlook in light of incoming economic and financial data, dynamics of underlying inflation, and strength of monetary policy transmission," the ECB noted.
Christine Lagarde, President of the ECB, will hold a press conference on Thursday, March 16 at 13:45 GMT, to make further explanations about the decision. The Q&A session by Lagarde is a highly anticipated one, as the current ECB tightening monetary policy will be questioned in the aftermath of the banking crisis triggered by the Silicon Valley Bank (SVB) collapse, which also has affected European banks.
You can follow the ECB press conference, with Christine Lagarde's speech, in the following video:
These are the main takeaways from Lagarde's Q&A sessions in the ECB press conference:
No tradeoff between price and financial stability
"Given uncertainty, better to make a decision that we believe is robust."
"The board proposed no other option, the decision was adopted by a very large majority."
"3-4 didn't support the decision, dissenters wanted more time."
"No tradeoff between price and financial stability."
"We stand ready to provide new facilities if needed."
"Euro liquidity is perfectly addressed."
Can exercise creativity in short order if there is a liquidity crisis
"We have seen further slowdown in loan growth to households."
"Impossible to determine what the rate path will be."
"Banking sector is currently in a much stronger position than 2008."
"We can exercise creativity in short order if there is a liquidity crisis but this is not what we are seeing."
Wage pressures have strengthened
"Underlying price pressures remain strong."
"Services inflation is driven by past energy increases."
"Wage pressures have strengthened."
"Most meansures of long term inflation expectations stand around 2%."
"These warrant continued monitoring in light of recent volatility."
"Risks to growth outlook tilted to downside."
Monitoring market tension closely
"We are monitoring market tension closely."
"Our policy toolkit is fully equipped to provide liquidity support."
"ECB forecasts were finalized in early March."
"Economy looks set to recover over coming quarters."
"Industrial production should pick up as supply conditions improve further."
"Labour market remains strong."
---
The European Central Bank has been raising interest rates in the past months, since the summer of 2022, lifting the main operations rate from 0% to the current 3.5%. Another 50 basis point interest rate hike was expected this time around, but the banking crisis that started in the United States with the default of SVB had spread quickly to the European banking sector, casting some doubts on the ECB decision-making.
It will be very important to see if Christine Lagarde addresses these issues – and whether they have impacted the ECB decision-making – in her prepared statement or in the following Q&A session, where she will surely be asked about it.
About Christine Lagarde
Christine Lagarde was born in 1956 in Paris, France. Graduated from Paris West University Nanterre La Défense and became President of the European Central Bank on November 1st 2019. Prior to that, she served as Chairman and Managing Director of the International Monetary Fund between 2011 and 2019. Lagarde previously held various senior ministerial posts in the Government of France: she was Minister of the Economy, Finance and Industry (2007–2011), Minister of Agriculture and Fishing (2007) and Minister of Commerce (2005–2007).
About ECB press conference
Following the ECB´s economic policy decision, the ECB President gives a press conference regarding monetary policy. Her comments may influence the volatility of EUR and determine a short-term positive or negative trend. Her hawkish view is considered as positive – or bullish for the EUR – whereas her dovish view is considered as negative, or bearish.
Source: https://www.fxstreet.com/news/lagarde-speech-preview-all-about-ecb-press-conference-202303160844