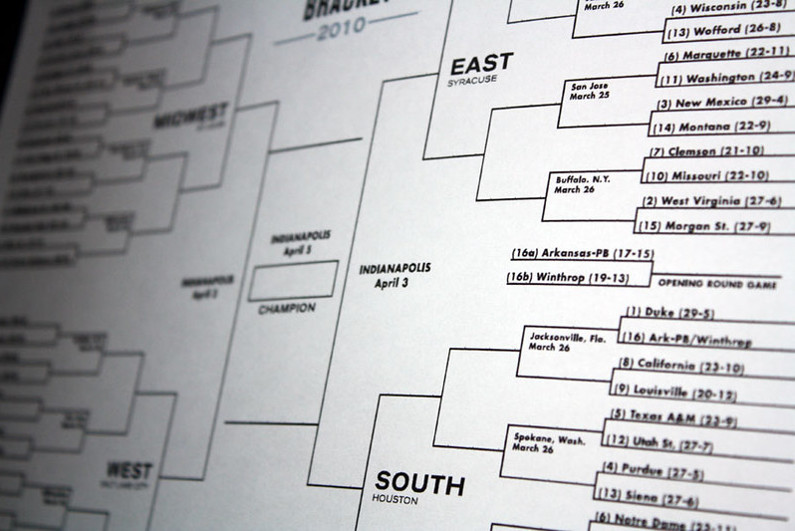 A special time of year
College basketball conference tournaments are playing out across the country right now, but every team's ultimate goal remains to win March Madness.
March Madness is an annual 68-team single-elimination tournament that is comprised of the best programs in the country (in this case, we are focusing on the men's tournament). There are tons of upsets, exciting games, and heartwarming stories every year, making it consistently one of the most unpredictable events in sports.
winning a conference tournament is often not a prerequisite for eventual March Madness winners
But despite what modern simple logic would lead one to believe, winning a conference tournament is often not a prerequisite for eventual March Madness winners.
Painting a picture
Only half of the last 20 national champions were the champions of their conference. Think about what that means for a moment.
How can this be explained? Well, single-elimination tournaments are much different than a playoff series because there's an element of variability.
A best-of-seven series like those used in the NBA playoffs, for example, are designed to find out which team is the better of the two over the course of a couple of weeks. The result is more difficult to misrepresent because of the larger sample size.
Best-of-ones, however, could produce any result under the sun. Take the following as an example.
On November 30, 2021, Steph Curry shot 4-21 (19%) from the field and 3-14 (21.4%) from three as the Golden State Warriors lost to the Phoenix Suns 104-96. Curry, who is a career 47.5% shooter and 42.8% three-point sniper, had such a terrible individual performance that there was practically nothing his teammates could do to have won that game.
Now consider that Curry is the greatest shooter of a basketball in the history of the world. Had that November 30 game been a best-of-one, none of his accolades or achievements would have mattered, and his team would have been sent packing. That's the ruthlessness of March Madness in a nutshell.
Conference tournaments impact on March Madness
March Madness is about one thing and one thing only: getting hot at the right time. That's exactly why teams can succeed under the best-of-one formula even if they were unsuccessful over a larger sample, also known as the regular season or even conference tournament.
four didn't even make it to their conference championship final
Not only have ten of the last 20 March Madness winners not won their conference tournaments, but so have six of the last eight. Of those, four didn't even make it to their conference championship final (all lost in the semifinals).
Just because teams have proven that winning the conference tournament isn't a must doesn't mean that they can flame out early. Every March Madness winner since 1994 made it to the conference semifinal, although they were also allowed to enter the tournament later on because of their favorable seeding based on regular-season record.
The 2022 national champions, the Kansas Jayhawks, rebuked the trend of champions coming up short in their conference tourneys. Bill Self's squad beat West Virginia, TCU, and Texas Tech in three straight days to secure the Big 12 Championship. They had an average margin of victory of 15.3 points during their three-game run.
Diving deeper
There are six primary conferences to focus on heading into March Madness: the ACC, SEC, Big Ten, Big 12, Pac-12, and Big East, although the No. 1 team in the country, the Houston Cougars, hails from the American Athletic Conference.
The conferences listed above will wrap up their postseason tournaments over the weekend. Since the results of those are unknown, we are going to look at the top seeds in each conference and cross-reference them with their odds to win March Madness.
Odds to win March Madness 2023 are provided by the BetMGM sportsbook.
March Madness 2023 odds
Houston +600
Kansas +800
Alabama +800
UCLA +900
Purdue +1100
Arizona +1200
Baylor +1600
Connecticut +1600
Gonzaga +2000
Texas +2500
Marquette +2500
Tennessee +3000
Saint Mary's +3300
TCU +3300
Indiana +4000
Creighton +4000
ACC
This is the easiest conference to analyze because it has no representatives in the list of top March Madness contender. The twoe ACC teams that share the best odds of winning the national title, Duke and Miami, are both at +5000. Duke is the conference's four seed, and Miami is the one.
SEC
The SEC team most likely to win March Madness, per betting odds, is Alabama, the No. 1 seed in the conference. Score one for conventional wisdom.
Big Ten
Purdue is the top seed in the Big Ten and has the fifth-best chance of winning March Madness overall. Speaking of getting hot at the right time, however, Purdue lost four of its last eight regular season games. That's not a positive indicator for a team that only has five losses on the year.
Big 12
Kansas is the top seed in the Big 12 and has the best chance to win March Madness of all major conferences. No school has repeated as champions since Florida in 2006-07, which is exactly what Kansas would have to do to fulfill this prognostication.
Pac-12
The top seed in the Pac-12 is UCLA, which recently suffered a blow as standout player Jaylen Clark was injured. However, they still have the best odds of any Pac-12 school and are fourth overall to win March Madness.
Big East
The Big East is the only major conference where the No. 1 seed is not at least tied for the best odds to win March Madness among teams in their conference. The March Madness favorite from this conference is Connecticut, which is the third seed. Top seed Marquette is second in March Madness odds for Big East schools.
Overall synopsis
The sportsbooks are mostly sticking with the teams that performed the best in the regular season, which makes sense. It's sometimes impossible to predict those out-of-nowhere teams catching fire at the perfect time.
there is an opportunity to steal value elsewhere
Because the top seeds are favored so heavily also means there is an opportunity to steal value elsewhere. Picking the right school is where it gets hard and exactly what college basketball in March is about.
The full 68-team March Madness bracket will be unveiled on Selection Sunday. Games get underway on Tuesday, March 14 with two First Four matchups.
Source: https://www.vegasslotsonline.com/news/2023/03/09/how-do-conference-tournaments-impact-march-madness/