Share:
Gold price triggered another bearish run after FOMC Minutes showed a somewhat hawkish stance.
US Dollar stays dominant across the board ahead of US Gross Domestic Product second estimate for Q4.
PCE disinflation should continue, but any surprise could have a notable impact on Gold.
Gold price keeps trending lower after a bearish Wednesday, where the bright metal was weighed down by the release of somewhat hawkish Federal Open Market Committee (FOMC) Minutes. US Dollar made gains across the board, and XAU/USD closed below what had been thick support at $1,830 for the first time since January 3.
Market eyes will turn now to Friday's US Personal Consumption Expenditures (PCE) Price Index release, the Fed's preferred measure of inflation.
Gold news: FOMC Minutes hawkish, US Gross Domestic Product second estimate next
The FOMC Minutes showed that all Federal Reserve policymakers agreed more rate hikes would be needed to achieve inflation objectives and even that "a few participants" trend towards raising interest rates by 50 basis points, which would speed up the tightening monetary policy again.
This hawkish tone helped US Treasury bond yields rally, supporting the USD and weighing on the Gold price.
Thursday's economic docket has the publication of the second reading of the US Gross Domestic Product (GDP) numbers for the last quarter of 2022, but the market does not expect any changes to the 2.9% growth printed in the preliminary estimate. The weekly Jobless Claims release and some Fed speakers could bring some action to Gold price.
US PCE disinflation to continue, but how fast?
More important is the economic data to come out on Friday. The US Bureau of Economic Analysis (BEA) will publish the PCE Price Index, the Fed's preferred gauge of inflation, at 13:30 GMT on Friday. Gold traders and investors will watch the data release closely, as Core PCE inflation is forecast to rise by 0.4% on a monthly basis but the annual figure is expected to decline to 4.1% in January from 4.4% in December. The market reaction should be straightforward, with a softer-than-expected monthly PCE inflation weighing on the US Dollar and vice versa, with Gold price reacting the opposite way.
Considering that the CPI report already revealed that inflation remained sticky in January, it would be surprising to see this data have a long-lasting impact on markets.
Gold price risks skewed to the downside
Dhwani Mehta, Senior Analyst at FXStreet, sets $1,850 resistance as the key level Gold price bulls would need to breach for a change of trend:
The $1,850 psychological level need to be scaled on a sustained basis to revive the bullish interests. The intraday high at $1,831 and the last Friday's high at $1,848 could make it a tough road for Gold buyers on a potential recovery attempt.
Gold price: US Treasury bonds, the US Dollar and inflation dynamics
Gold is a non-yielding asset – holding it does not provide regular revenue – so it usually remains negatively correlated with United States Treasury bond yields. The benchmark US 10-year bond yield was constantly on the rise for most of 2022 as a response to the Federal Reserve raising interest rates to combat skyrocketing inflation.
Price pressures remain high early in 2023, but Consumer Price Index (CPI) readings in the US and other big economies have shown signs of slowing down, and economists project this disinflation trend to continue through the rest of the year. A prolongation of this trend should help Gold price regain some footing from the demand side.
Treasury yields are not the only asset to track for Gold price (XAU/USD). The yellow metal is primarily traded in US Dollar terms, which makes it really vulnerable to currency market action. When the USD rallies against other major currencies and becomes the go-to asset, like it has been doing for the most part of the last year, Gold price tends to trend down as well. Of course, US Treasury yields and the US Dollar are highly correlated, so these dynamics are intertwined.
Gold price in 2023: Up-and-down action
Financial markets have been a two-tale story for the early part of 2023, in which Gold price has reflected in its price action like no other asset. XAU/USD rode an uptrend during all of January with the market optimism about inflation slowing down and constant Federal Reserve dovish talk, only to see a drastic turnaround back to the old dynamics in February after a hot US Nonfarm Payrolls (NFP) report. The US economy adding more than 500K jobs in the month of January shifted the market expectations for the Fed easing its monetary policy, and the US Dollar has come back to the market King throne.
Gold price opened the year at $1,823.76 and reached a year-to-date high of $1,960 on February 2, right in between the first Federal Reserve meeting of the year and the surprising release of the US jobs report for January. Since then, the ongoing downtrend has been relentless, reaching levels close to the yearly open, around $1,830.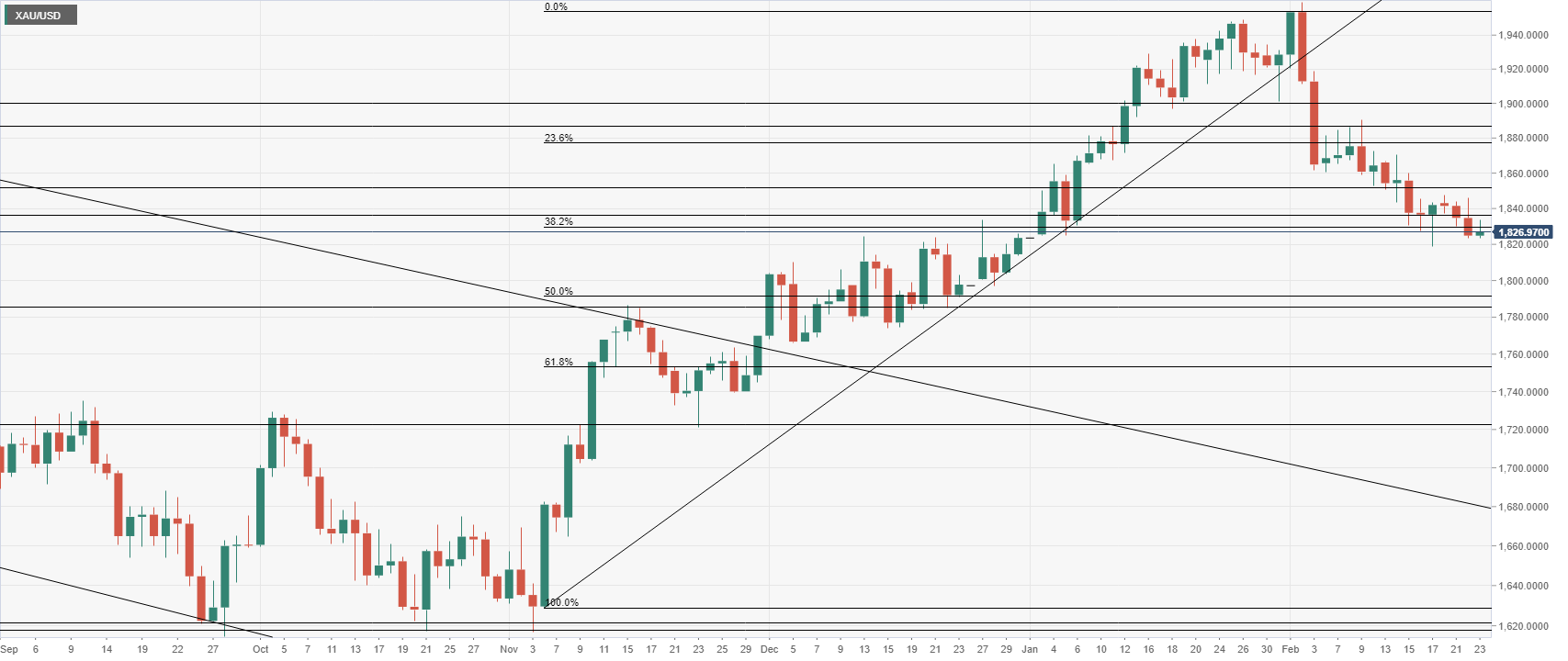 Gold price daily chart
Source: https://www.fxstreet.com/news/gold-price-forecast-close-to-year-to-date-lows-after-hawkish-fomc-minutes-202302230853