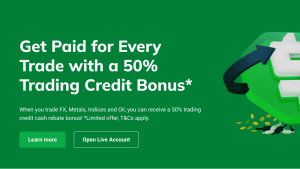 The industry-leading UK trading platform Go Markets is now offering customers 50% cash back on all deposits up to $15000. The platform, which is fully regulated and one of the UK's leading CFD brokers, recently started this scheme to reward new and existing users.
On top of this new rewards scheme, Go Markets integrates with MT4 and MT5 trading software to deliver the most powerful, full-featured trading experience in the world – all with tight spreads and low fees.
Earn a 50% bonus on deposited funds
Depositing between $100 and $15000 to Go Markets UK will grant you access to trading credits worth 50% of your deposit. You will receive a rebate in your account each time you trade with these credits.
For Retail Standard Accounts, you receive a $2 rebate for each forex or metal contract you trade and $0.10 for oil contracts. Users with the Retail+ Account earn $1 per forex and metal contract and $0.10 for oil contracts.
Both new and existing users can take advantage of this deposit bonus, which ends on April 30.
Tight spreads starting at zero pips
The CFD trading platform is known for its tight spreads, starting at 0 pips for Go Plus+ traders and 1.0 pip for Standard account traders. This means there is no difference between a contract's buy and sell price, leading to profit maximisation for traders.
This is because when spreads are wide (as with some other CFD brokers), traders start each trade with a build disadvantage. Before making a profit, they first need to make the difference between a contract's cost and sell price.
In other words, tight spreads lead to a better average buy-in price and, therefore, a better overall profit and loss.
Go Markets has zero non-trading fees, zero commission for Standard accounts trades and just a $3 per lot fee for Go Plus+ account trade, making it one of the most competitive CFD brokers in the United Kingdom.
Go Markets referral scheme
Go Markets offers a referral scheme to its users where they can earn a full-time income by referring just a handful of users each month. The program is open to anyone with an online audience interested in trading; this could include signal providers and educators.
The referral program is a valuable way for Go Markets users to earn a second income stream. Trading can be complicated and unreliable, so having a steady cash flow each month from referrals is a fantastic way to offset trading risks.
When you sign up for the scheme, you get a referral program dashboard, flexible terms, cookie trackers, marketing materials and much more. With this in mind, the Go Markets referral scheme is the ideal way to monetise your digital audience.
Markets analysis and trading strategies
Go Markets is a leading provider of MT4 and MT5 trading software on their platform. For users, this means you can use technical analysis, bots, backtesting and much more. Moreover, you can do all this on a beginner-friendly user interface.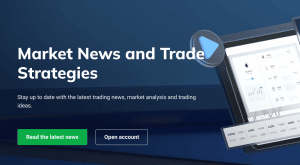 So no matter if you are a beginner looking to gain a competitive edge, or an advanced trader running high-frequency trading scripts, Go Markets MetaTrader integrations can do it all.
The Go Markets trading platform has a mobile, web browser, and desktop version. So no matter where you are or what device you use, you can conduct robust analysis on your favourite CFD contracts and never miss a trade.
Finally, the MetaTrader integration with Go Markets means you can execute trades from the app to Go Markets, with the estimated execution time being just 4-5 milliseconds. This is ideal for all users but even more so for those running automated or high-frequency trading.
Go Markets provides virtual hosting for those running automated trading so your robots can run even when your PC is down.
About Go Markets
Go Markets, founded in 2006 in Australia, is a powerful trading software with MT4 and MT5 capabilities. It is fully regulated in the UK and has received multiple awards for its security and user experience. Currently, the platform offers a 50% rebate for all user deposits between $100 and $15000.
The platform provides some of the tightest spreads in the UK, low fees, a lucrative referral program and industry-leading trading software.
Source: https://www.forexcrunch.com/go-markets-uk-is-offering-50-cash-rebate-on-deposits/