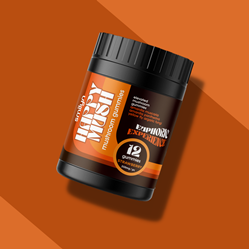 It's truly remarkable what we have created here at Smilyn Wellness. There really is nothing as innovative and great tasting as what Smilyn brings to the table
CARLSBAD, Calif. (PRWEB) March 16, 2023
Smilyn Wellness launches its gigantic St. Patrick's Day sale on its entire line of Smilyn products –– from Delta 8 to chocolate malt balls. Follow the rainbow to the pot of gold to unlock this special deal. The sitewide sale runs through March 17th, 2023. Use code PAT50.
"It's truly remarkable what we have created here at Smilyn Wellness. There really is nothing as innovative and great tasting as what Smilyn brings to the table," stated Howie Haber, General Manager of the Smilyn brand. "The Smilyn brand is a great option for those looking to add wellness to their lives in 2023. It's exciting to see our Smilyn community continue to grow as we work on more delicious, high-quality, pioneering products."
Featured Item: Smilyn Happy Mush Gummies
To the moon! Get trippy with Smilyn's Happy Mush Elevated Mushroom Gummies that provide a euphoric experience. These gummies are bursting with bold fruity flavors and are available in cherry berry, strawberry, and blueberry.
"After intensive research, Smilyn is thrilled to announce our newest creation of Smilyn Happy Mush gummies. What's even better is that our customers can try them now for 50 percent off of the cost. Our latest and greatest products are a huge departure from what currently exists in the market," explained Brett Weiss, CEO and Founder of Smilyn Wellness.
Don't Believe the Hype – THC-O is Here to Stay
THC-O has very similar effects to Delta-9, however because it binds more tightly to the body's cannabinoid receptors than the other THC forms, THC-O is more hallucinogenic than Delta 8, Delta 10 or HHC — and is said to be stronger than Delta-9 THC.
There has been some false information spreading regarding THC-O and its legalities — don't believe the hype. It's here to stay. Can't find your favorite THC-O products on shelves? Check out the Smilyn lineup below:
Live Resin THC-O 3ml Vape Disposables: This revolutionary blend of THC-O, Delta 8 Distillate, and rich Live Resin from fresh frozen hydro-carbon extracted flower. Dripping in Myrcene and fruity flavored terpenes — each strain delivers a blast of bold flavor and strong sedating effects.
THC-O Live Resin Gummies: THC-O / Delta 9 gummies offer a nice, relaxed state of mind, accompanied by a pleasant body high. Each Smilyn THC-O gummy contains 15 mg of THC-O and 10mg of Delta 9, and trace levels of other cannabinoids.
THC-O Pod Starter Kits: The Smilyn Starter Kits are sleek and modern vape pod systems for the on-the-go, stylish lifestyle. This kit includes a 210mAh rechargeable battery and one hemp-derived pod. The Smilyn Vaporizer Delivery System only utilizes replaceable Smilyn Pods. *Additional pods sold separately PODs contain THC-H, Delta 8, THC-P, and THC-O.
About Smilyn Wellness
Smilyn Wellness in California is a CBD-wellness brand simplifying the benefits of premium hemp extract. We exist to revolutionize. We exist not only to help individuals look and feel amazing — but also smile throughout the adventures of life. Combining scientific data with health-based knowledge, Smilyn offers a portfolio of hemp-derived CBD and Delta products that are trustworthy, tasty, and geared toward an active new-age lifestyle.
Share article on social media or email:
Source: https://www.prweb.com/releases/get_lucky_with_smilyns_50_off_sitewide_st_patricks_day_sale/prweb19228978.htm