Share:
First Republic stock loses nearly 30% Thursday.
Fitch, S&P cut ratings on FRC.
Worries persist over depositor outflow.
Management is discussing a strategic sale.
First Republic Bank (FRC) stock is once again taking a beating. Shares of the San Francisco bank are down 29% in Thursday's premarket after losing more than 21% on Wednesday. The market is worried after the banker known for its high-net-worth customers announced it is open to a buyout offer. Shares have fallen more than 80% since Silicon Valley Bank collapsed last Friday. Like Silicon Valley, First Republic has a large percentage of uninsured depositors. Unlike Silicon Valley, First Republic has taken much lower losses on its bond portfolio relative to its shareholder equity position.
First Republic Bank stock news
In order to stem the negativity surrounding its situation, reporting has emerged that management at First Republic is evaluating a possible strategic sale. Bloomberg also reports that the bank is looking at other avenues for raising more liquidity.
This may seem strange to onlookers as the US Federal Reserve formed a lending facility to buy long-maturity bonds from distressed banks at par. This should make it easier for banks to get rid of some of the underwater bonds that have lost value due to the Fed's higher interest rates without taking a major loss like Silicon Valley Bank did last week. Additionally, the Federal Deposit Insurance Corporation (FDIC) and the US Treasury have said that uninsured depositors will be protected like they were with SVB Financial (SIVB) and Signature Bank (SBNY) over this past weekend.
Of course, the US government's communications are not followed by everyone, and sometimes bank runs have a mind of their own. On Wednesday, both Fitch and S&P downgraded First Republic Bank's credit rating. Fitch placed the bank on negative rating watch, while S&P labelled their bonds at junk status. S&P said this was due to the risk of further depositor outflows.
Over the weekend, First Republic's management reported deals with both the Fed and JPMorgan (JPM) that had raised its liquidity posture to $70 billion. These and other headlines led FRC stock to trade back up to nearly $51 on Tuesday, but negative sentiment appears to be stubborn at present.
The situation with Credit Suisse (CS) also has not helped sentiment for the banking industry as it is the bank best positioned to make the US banking crisis turn international. However, the 50 billion Swiss Franc lifeline given by the Swiss central bank on Thursday helped the bank's Swiss shares to advance 20% higher in the European session.
First Republic Bank stock forecast
First Republic first needs to swing back above the 361.8% Fibonacci level at $33.68 to have any chance of digging out of this whole. Above there, bulls will need to push with force to make it back up to the 261.8% Fibonacci at $65.19. There is no support at the present level of any significance.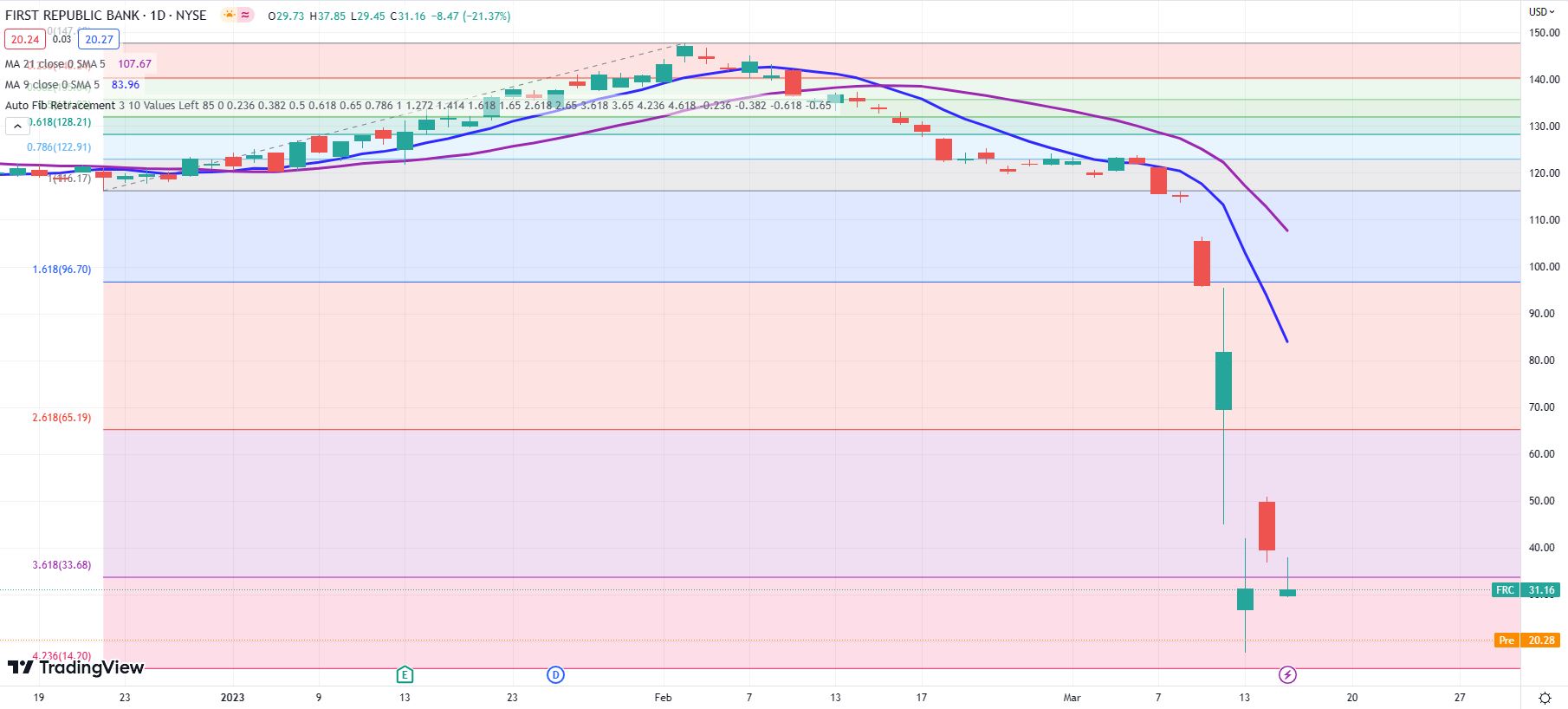 FRC daily chart
Source: https://www.fxstreet.com/news/first-republic-stock-news-frc-flails-once-again-shares-lose-29-in-thursday-premarket-202303161337