Can you imagine a world without payment cards?
The absence of electronic payments would disrupt our financial system and our daily lives. Slower transactions, limited accessibility and security concerns would change the way we make payments.
The need for fast and convenient money transfers is forcing people to use digital wallets, which are becoming more and more common.
In this article, we look at the digital wallet market share and the potential for their further adoption in different regions around the globe.
Digital wallet solution
Develop your FinTech product on top
The digital wallet market share and its potential for growth
The global e- wallet market has experienced remarkable growth in recent years, and its development suggests a promising future. According to industry reports, the market for digital payment applications is expected to reach trillions of dollars in the coming years, driven by factors such as rising Internet penetration, and growing preference for contactless payments.
The most important statistical data of the e-wallet industry
According to Statista, the global digital payments market was estimated to exceed $4 trillion in 2020 and is expected to exceed $10 trillion by 2026.
In 2020, there were approximately 2.8 billion mobile wallet users worldwide, and this number is expected to increase to over 4 billion by 2025, according to Juniper Research.
Retail and e-commerce are the largest segments, with a global share of over 30.0
Global mobile wallet market share, by application (%)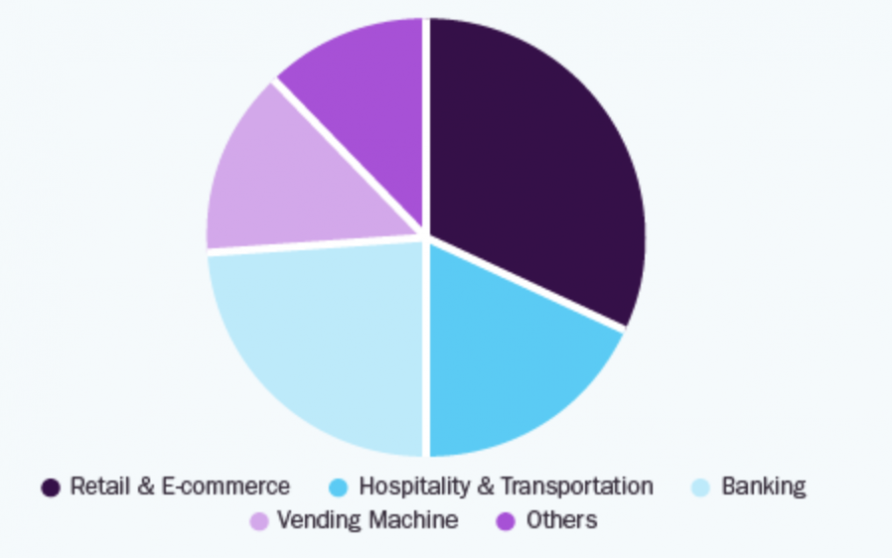 What are the most promising regions for digital wallets?
Asia Pacific, Europe, North America, Latin America, and the Middle East and Africa are currently the most promising regions for digital wallets due to a combination of factors.
The transaction value for digital wallets is expected to increase by 60% by 2026 in the following regions.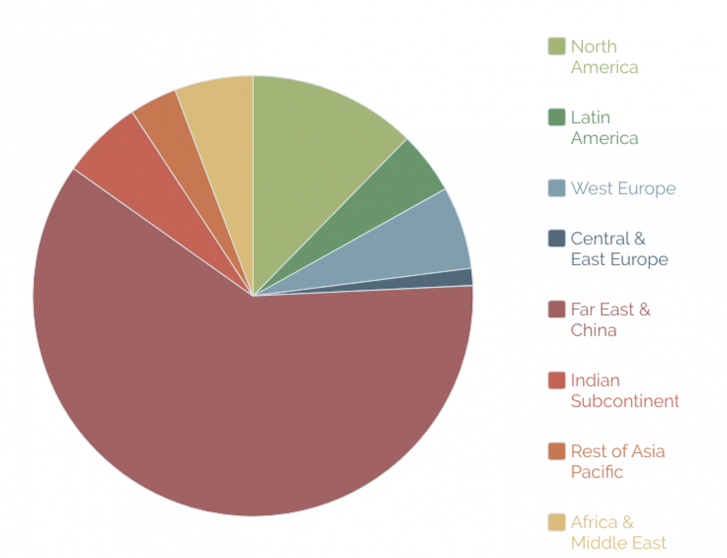 Overview of the digital wallet market in the Asia-Pacific region
Asia Pacific has emerged as a major player in the global virtual wallet market due to several factors.
One of the most important factors is the high smartphone adoption in the region, which has boosted the adoption of mobile payments.
In addition, many governments in the region have supported the digital payments industry and introduced policies and regulations to encourage growth.
As a result, the electronic wallet market in Asia Pacific has witnessed rapid growth, and many successful players have emerged in the region.
AliPay
One of the most notable examples is AliPay, which is owned by Chinese e-commerce giant Alibaba. AliPay has become one of the most popular digital payment providers, with over 1 billion users worldwide.
API-driven neobank software
Flexible platform to build a digital retail bank on top
WeChat Pay
WeChat Pay, owned by Tencent, is another popular digital wallet provider in China with over 800 million users. In India, Paytm has become one of the leading payment providers with over 350 million users.
These e-wallet providers offer a wide range of services, including mobile payments, money transfers, and bill payments. They have also expanded into other areas such as e-commerce, insurance and wealth management, offering their users a more comprehensive range of financial services.
Asia is way ahead in mobile wallet adoption, accounting for 69% of payment transactions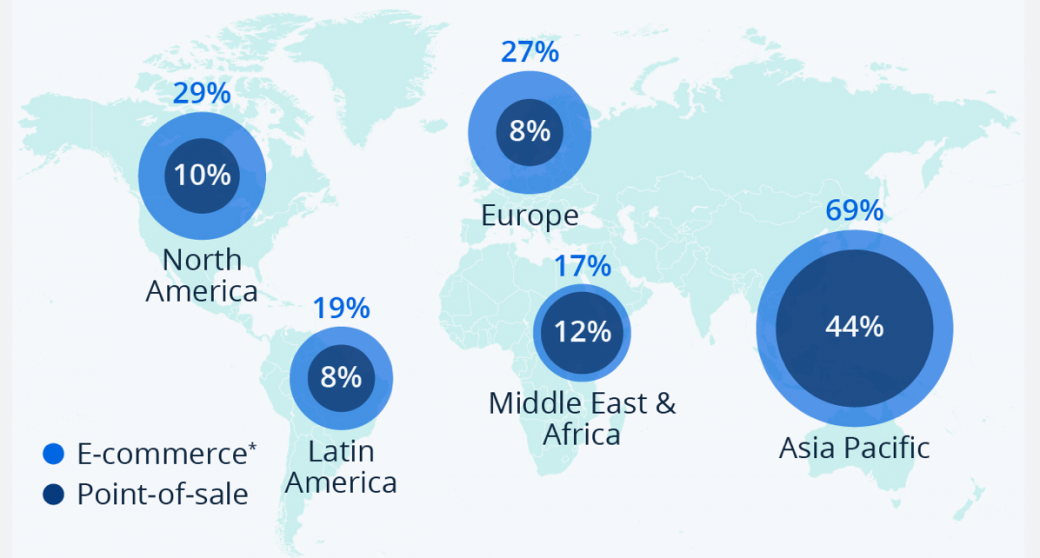 Source: Statista
The digital wallet market in Asia Pacific is poised for continued growth, with many opportunities for new entrants to enter the market. As more consumers in the region adopt mobile payments and governments continue to support the industry, the online payments market in Asia Pacific is expected to become increasingly competitive and innovative.
Overview of the digital wallet market in Europe
One of the major factors driving the growth of the electronic wallet market in Europe is the increasing adoption of contactless payments.
Europeans appreciate the convenience and speed of contactless transactions, which have become a preferred payment method for everyday purchases. The tap-and-go functionality offered by e-payment apps allows users to make quick and secure payments by simply holding their smartphones or wearable devices near contactless payment terminals.
In addition, the emergence of mobile banking has contributed significantly to the growth of online wallets in Europe.
Mobile banking applications offered by traditional banks and innovative fintech companies are gaining popularity. These apps often include payment features that allow users to seamlessly manage their finances, make payments, and access other banking services through a single app. The convenience of combining banking and payment functions in one platform has driven the adoption of online wallets among mobile banking users and further accelerated market growth.
In the European market, several payment app providers have emerged as major players catering to the diverse needs of consumers and businesses. The most popular digital wallet providers in the region are PayPal, Apple Pay, and Google Pay.
PayPal
PayPal, a global leader in online transactions, has established a strong presence in Europe. With a large user base and wide acceptance among online merchants, PayPal offers its users the ability to link their bank accounts, credit or debit cards to their PayPal accounts.
Apple Pay
With its integration with Apple devices such as iPhones, iPads, Apple Watches and Macs, Apple Pay provide contactless payment methods both in stores and through apps and websites. The convenience and security offered by Apple Pay, combined with Apple's strong brand loyalty and user base, have contributed to its success in the European market.
Mobile wallet solution
Build your payment app on top faster and cheaper
Google Pay
Google Pay enables users to make cashless transactions using their Android smartphones and smartwatches, as well as through apps and websites. By integrating with users' existing Google accounts, Google Pay offers a seamless payment experience and additional features such as peer-to-peer payments and loyalty card storage for financial institutions.
As digital wallet adoption continues to grow, these key companies will likely continue to innovate and expand their offerings to meet the evolving needs of European consumers.
Overview of the digital wallet market in North America
The North American market for digital payment software has a competitive landscape and experiences consistent growth. This can be attributed to several factors such as the increasing adoption of mobile payment solutions, the convenience and security offered by electronic payment apps, and the growing mobile wallet market trends for contactless transactions.
Consumers in North America are increasingly embracing digital wallets as a convenient and efficient way to make payments. As a result, North America mobile wallet market size surpassed USD 23 billion in 2019 and is anticipated to expand at a CAGR of 16% between 2020 and 2026, conforming to the market research report by Graphical Research.
The introduction of EMV chip technology in North America has been a major driver of digital wallet adoption. EMV technology enhances the security of card transactions by replacing traditional magnetic stripe cards with chip-enabled cards. This transition has led to the introduction of contactless payment options, including mobile wallets.
North America mobile wallet market share, by technology, 2015-2026 (USD million)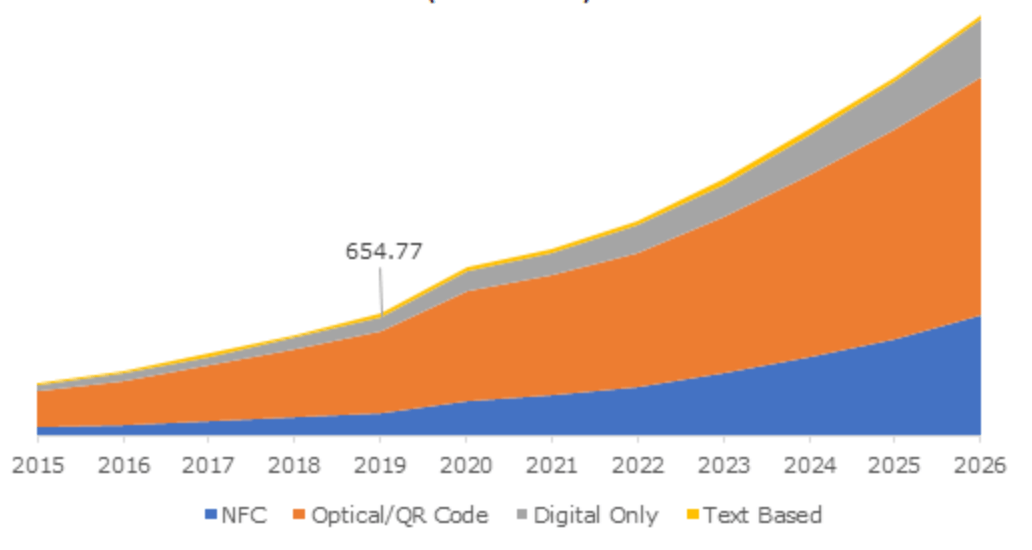 Source: Graphical Research
In North America, telecommunications providers, device manufacturers, banks, and technology companies are the leading adopters of mobile wallets. Regional banks are striving to improve their customers' banking experience by offering convenient transaction options.
Below you can find the key players in the North American mobile wallet market.
Venmo
Venmo, which is part of PayPal, enjoys popularity in North America, especially among younger demographics. Venmo allows users to easily send and receive money to friends and family. It has a social component that allows users to share and comment on transactions, making it a preferred choice for peer-to-peer payments.
Cash App
Cash App, developed by Square, has gained significant popularity in North America. It offers a number of features, including person-to-person payments, the ability to buy and sell bitcoin, and a cash card that allows users to make purchases with the app's balance. The user-friendly interface, fast payment transfers, and additional financial services have made Cash App popular among people looking for a versatile digital wallet solution.
Hybrid-cloud fintech platform
Create your own digital financial ecosystem faster
Zelle
Zelle is a digital payment network that enables fast, secure and direct bank-to-bank transfers in North America. It is backed by a consortium of major banks and allows users to transfer money directly from their bank accounts. Zelle's integration with participating banks' mobile applications has simplified the payment process for users. Its widespread adoption and seamless integration with existing banking relationships have contributed to its success in the region.
These successful digital wallet providers have captured significant mobile wallet industry growth by offering user-friendly experiences, operational efficiency, and seamless integration with popular social and financial platforms tailored to the needs of North American consumers.
Overview of the digital wallet market in Latin America
According to Forbes, Latin America will soon rank third among the regions with the most users of mobile wallets.
One of the key drivers of the online wallet market in Latin America is the rapid growth of e-commerce sector in the region.
As more consumers store online, the need for convenient and secure payment solutions has increased. E-wallets offer users a seamless and efficient way to facilitate payments, making them an ideal choice for e-commerce platforms, the financial technology company and customers alike.
Digital wallets market share for e-commerce transactions, by percentage, Latin America

Source: Enable
Another factor contributing to the growth of the financial market in Latin America is the emergence of mobile banking.
These technologies have gained traction across the region, allowing users to conveniently conduct banking transactions via their smartphones. Mobile wallets complement mobile banking services by providing a secure and user-friendly platform for storing payment information and conducting financial transactions.
Mercado Pago
Latin America has witnessed the success of several FinTech providers in the region. One notable example is Mercado Pago, a leading digital transactions platform in Latin America that is affiliated with e-commerce giant MercadoLibre. Mercado Pago offers a range of services including money transfers, and even credit options to meet the needs of both consumers and businesses.
PagSeguro
PagSeguro, another prominent virtual wallet provider in Latin America, offers a full range of financial services, including online payments, point-of-sale solutions and online banking capabilities. The company enjoys popularity among small and medium-sized businesses and individuals seeking secure and convenient payment solutions.
Digital wallet solution
Develop your FinTech product on top
Oxxo Pay
Oxxo, a well-known supermarket chain in Mexico, has ventured into the digital wallet space with its Oxxo Pay platform. Oxxo Pay allows users to make payments for various services such as utilities, transportation, and online purchases using their payment software linked to their Oxxo account. The widespread presence of Oxxo stores throughout Mexico has contributed to the success and adoption of Oxxo Pay.
Overview of the digital wallet market in the Middle East and Africa
The digital wallet market in the Middle East and Africa region (MEA) is experiencing rapid growth. According to Mordor Intelligence, the MEA payments market will grow at a CAGR of 16.2% through 2027.
One of the key drivers for the growth of the MEA e-wallet market is the increasing smartphone penetration.
As smartphone ownership continues to increase in the region, more and more people have access to the necessary technology to use virtual wallets. Smartphones provide users with a platform to manage their payment applications and enable them to conduct convenient and secure transactions anytime, anywhere.
Another important factor driving the growth of electronic wallets in the MEA region is the increasing demand for financial inclusion.
Many people in the region, especially in underserved or remote areas, do not have access to traditional banking services.
Digital wallets bridge this gap by enabling these people to conduct financial transactions, such as making payments, receiving funds, and accessing basic banking services. The convenience and accessibility of these payment systems plays a critical role in expanding financial inclusion efforts in the region MEA.
M-Pesa
Several successful digital wallet providers have emerged in the MEA market to meet the diverse needs of the region's population. One notable example is M-Pesa, a widely recognized mobile money service in East Africa. M-Pesa allows users to store money digitally, transfer money, pay bills, and conduct various financial transactions through their cell phones. The service has been instrumental in financial inclusion in the region, particularly in countries such as Kenya and Tanzania.
PayBy
PayBy is another well-known digital wallet provider in the region MEA. The platform offers a range of services including mobile payment services, in-store payments, online transactions, and bill payments. PayBy is gaining traction among consumers and businesses by providing secure and convenient digital payment solutions.
Tap Payments
Tap Payments is also a successful digital wallet provider in the region MEA, targeting both individuals and businesses. The platform offers seamless payment experiences, including online payments, recurring payments, and customizable checkout solutions. Tap Payments has partnered with several regional and global merchants to expand its reach and user base.
Conclusion
The most promising and fastest growing regions for electronic payment applications are Asia Pacific, Europe, North America, Latin America, and the Middle East and Africa. In these regions, the adoption of digital wallets is increasing significantly due to factors such as high smartphone penetration, the growth of e-commerce and mobile banking, and the need for financial inclusion.
By offering a seamless digital payment experience, FinTech companies can benefit from the adoption of digital wallets in promising regions and increase their revenue. With SDK.finance digital wallet software, you can speed up the development process and get your product to market faster. If you want to develop or scale your own financial software, contact us to turn your idea into reality.
Source: https://sdk.finance/digital-wallet-market-share-exploring-the-most-promising-regions-for-payment-apps/