SINGAPORE, May 3, 2023 – (ACN Newswire) – Dato' Seri Dr Derek Goh BBM (L), a renowned Singapore business and community leader has been installed as the 47th President of the Teochew Poit Ip Huay Kuan (TPIHK), the leading clan association of the Teochew community in Singapore. The installation was officiated by the Guest of Honour, Mr Heng Swee Keat, Deputy Prime Minister and Coordinating Minister for Economic Policies.
Heng Swee Keat, DPM, Derek Goh, Chua Kee Teang, Lifetime Honorary President and
Woo Chee Chay, Deputy President [L-R]">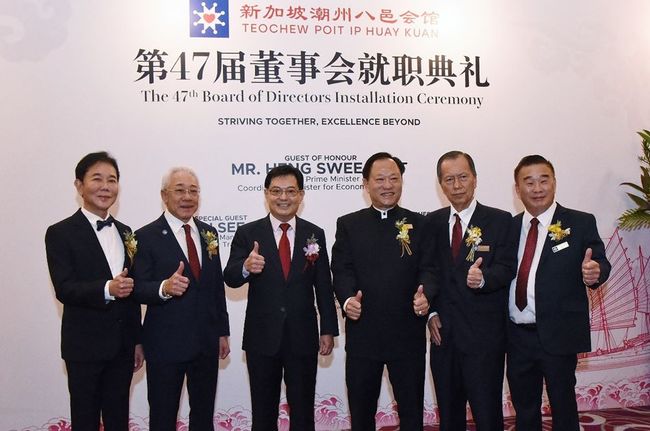 George Quek, Adviser and Hon Lifetime President, Chan Kian Kuan, Immediate Past President,
Heng Swee Keat, DPM, Derek Goh, Chua Kee Teang, Lifetime Honorary President and
Woo Chee Chay, Deputy President [L-R]
The installation (for the 2023-2024 term of two years) of the TPIHK President and 54-member Board of Directors at a dinner on 2 May 2023 was attended by over 1,000 Teochew and Chinese business and community leaders from Singapore and the region. Also present were Singapore Government leaders including ministers, mayors, senior parliamentary secretaries and members of parliament. Excellencies from Brunei, Belgium, Chile, Hungary, Jordan, Portugal, Qatar and Timor-Lester also graced the event.
Established in 1929 with 6,500 members, the TPIHK is the apex organisation of various Teochew clan associations in Singapore representing the community whose ancestor originate from the eight districts in Guangdong Province, China. Numbering about 700,000 out of the 3.02 million ethnic Chinese residents in Singapore, Teochews comprise the second largest dialect group after the Hokkiens.
At the new board installation ceremony, DPM Heng said he was pleased to learn that the new leadership is taking a further step forward to support the local Teochew business community in seizing new opportunities across the region, while playing a part to foster an inclusive society.
In his installation speech, Dato' Seri Dr Goh said that as the association prepares to celebrate its centenary in six years, its leadership has been placed with an onerous task facing the community, Singapore, and the world at large.
While emerging from the ravages of the pandemic, new challenges such as geopolitical tensions and economic uncertainty have emerged. He urged the Teochews to contribute to the community, society and the country, including to the Forward Singapore social compact – amid these challenges.
"Our forefathers, seeking a better life when they left their hometowns, faced numerous challenges when they arrived here and other parts of Asia. They banded together to identify the problems facing the community. The Teochew spirit has always revolved around trust and contributing to the community, society and country that we live in," he said.
Dato' Seri Dr Goh, the founder of SGX Mainboard-listed Serial System Limited and a past recipient of numerous entrepreneurship and corporate awards, outlined four main initiatives. The TPIHK under his leadership has adopted the theme 'Thriving Together, Excellence Beyond'.
The first is to further strengthen unity among various Teochew clan associations so that they can participate more actively with a single voice with other clan associations and civic organisations of the ethnic Chinese community in Singapore.
Second, TPIHK leaders also need to attract Teochew youths, encourage the latter to appreciate their heritage and to contribute actively to the community and conversations on Forward Singapore.
Third, the association must uphold the spirit of giving back to society by strengthening ties with grassroots organisations to care and support the needy and vulnerable groups regardless of race, language and religion.
Finally, Dato' Seri Goh and his team will seek to forge stronger ties with Teochew organisations overseas to improve networking and business opportunities among the Teochew diaspora in an age of globalisation and digitalisation.
A special recognition was made to TPIHK's past presidents for their contributions to the organisation. Appreciation tokens were also presented to key sponsors and donors of the installation ceremony.
TPIHK President's speech (PDF): https://www.acnnewswire.com/docs/files/20230503_TPIHK.pdf
Media Contact:
Ms Tan Siew Kiang
Chief Executive Secretary, TPIHK
Hp: +65 9199 6320
Email: poitip@teochew.sg

Topic: Press release summary
Source: TPIHK
Sectors: Daily Finance, Daily News
https://www.acnnewswire.com

From the Asia Corporate News Network

Copyright © 2023 ACN Newswire. All rights reserved. A division of Asia Corporate News Network.
Source: https://www.acnnewswire.com/press-release/english/83516/