The saying's origin
Flashing back over a decade, the announcer is introducing the players at the final table of Event 54 at World Series of Poker 2012. For the most part, it is dull formulaic stuff. Name, birth place, occupation, number of WSOP cashes to date. After each announcement, there is polite applause from the rail. Until my friend, business partner, and condo-mate Jason Tompkins in seat five is announced, at which point Nick Newport stands up and roars "Oh my God, it's Jason Tompkins!" so loudly and clearly it is heard round the world (thanks to the livestream).
I started using it as the default morning greeting
This cry had been a running joke in our circle since we got to Vegas and I started using it as the default morning greeting.
The phrase originated in the Fitzwilliam Card Club in Dublin. A young player (whose blushes I shall spare for now by withholding his name) found himself sitting in the same cash game as Jason Tompkins. He was so overwhelmed by the sight of the player many (myself included) consider to be the best all round Irish Hold'em player of his generation that before he could stop himself he had exclaimed "Oh my God it's Jason Tompkins!"
Simply the best
Jason has always been something of an enigma in Irish poker. One of a select number who turn up deep in Irish tournaments way more often than should be possible, crushing live Hold'em cash. He's a winner in all types of tournaments including online, and has a High Roller title on his Hendon Mob. He has cashed in a WSOP event that featured Limit Hold'em, a game that just isn't played in Ireland. In terms of overall consistency and versatility across the Hold'em spectrum, he has no real peers in Irish poker. He is simply the best.
Jason was the first to get an accurate read on my live game in Ireland
I'm pretty sure I've spent more time sitting at a table trying to figure out how to play against him than any other player in Ireland. This has not been to my advantage. Jason was the first to get an accurate read on my live game in Ireland, and to figure out how to exploit it. So when I sit at a table with him, I'm forced to re-adjust and re-calibrate. Even as I do so, I know Jason won't take very long to work out my adjustments and re-adjust. It's an endless process I expect to continue until the day one of us quits poker.
Given that he's crushed the game in all its forms both online and live for well over a decade (he is the answer to the trivia question "Which Irish player has final tabled a WSOP, an EPT, a WPT, a UKIPT, three European Deepstacks, a WCOOP, a SCOOP, and the Sunday Million?), it came as a surprise to many when he recently announced he was launching his own live poker tour, the APT:
A chat with Tompkins
We spoke exclusively to the man himself ahead of the launch tournament next month.
You've been one of Ireland's top players both online and live for almost my entire career. What prompted the move into running your own live events?
I believe my career as a player came to a unique and swift crossroads where games were too lacking around the country to be able to sustain a decent income. I also got barred from a casino unfairly claiming I had "won too much money." I wanted to step away from online poker even before COVID hit. Once I stopped being excited online anymore I decided it was time. I know myself as a person so if I didn't get busy now I may have let a couple of important years slip away doing something I wasn't loving.
When you take care of the Irish poker community they tend to show up and support
I love live poker and I always want to see it thrive. Just as importantly I want to see fair reg fees in tournaments and fair rake in cash games. When I looked around Ireland and thought of setting up my own tour these values are what I wanted to bring as well as good structures. I feel there is a gap in the market for this and most importantly I believe the Irish poker community is an educated one, thanks in part to your own good work over the years. When you take care of the Irish poker community they tend to show up and support.
True value is what I am here to offer. The margins are crazy tight for a start up poker tour so I am trying to do it the right way to build a community and give back to it long term. This is a business at the same time so of course I am hoping to make money but I want to do so without exploiting my future player base. This is all I ever wanted to see in poker throughout my career. So, I'm going to give it my best shot and see where it takes me.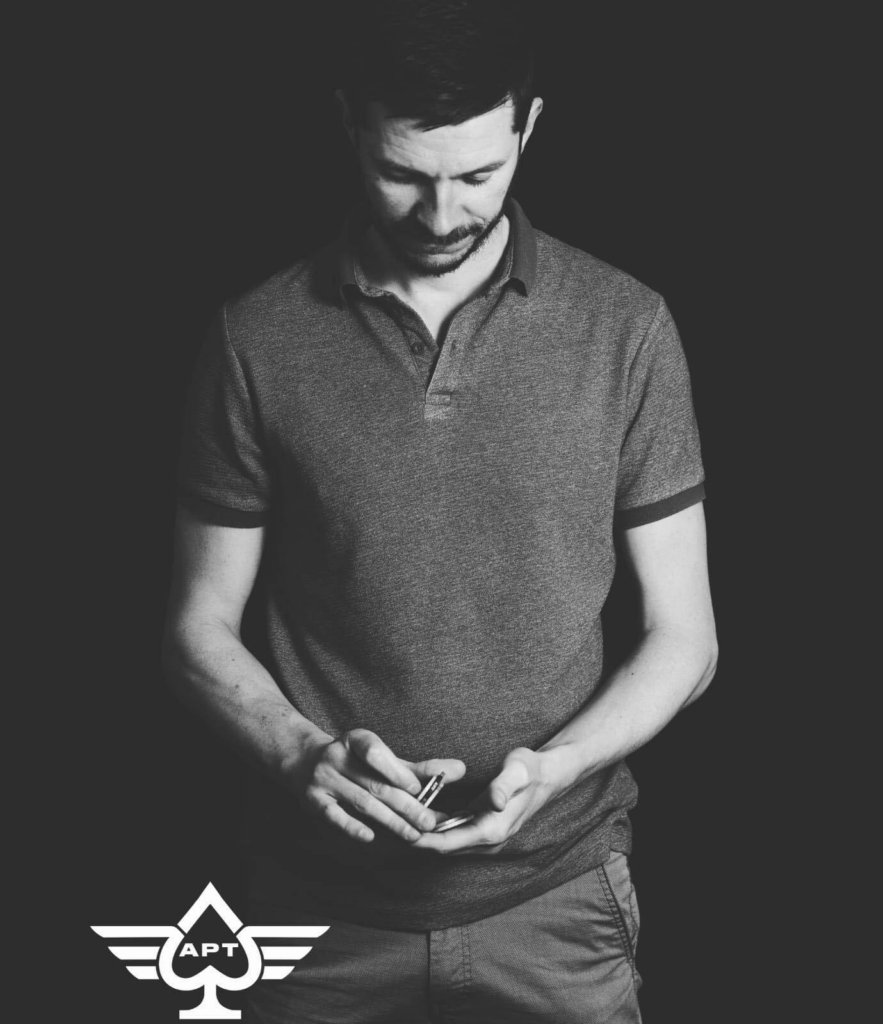 There's quite a lot of live poker in Ireland already. How do you want the APT to be different?
There is. Most of it in the form of card clubs and casinos. There are a few good festivals per year but for the most part I see a gap for €300-€500 ($318-$530) buyin events that offer more than the current one-day events. Better structures. Better incentives for players. It's not so much about being different, it is still the game we love at the end of the day, but as we grow it is is very important to give back and I hope I get the chance to show it.
Who else is involved?
I am building everything for the tour and will be doing it all behind the scenes. Liam Delaney is my tour director for the APT. Liam comes with a wealth of knowledge and is well respected and well liked around the country so I felt he was a perfect fit for what we are trying to do here.
I have help from my wife Joy, friends, pros, knowledgeable amateurs and even other operators. So a thank you to all of them.
Tell us about your launch event?
It will be on the 24 and 25 March in the City North Hotel close to Dublin Airport. It has a €300 ($318) buyin two-day Main Event that boasts a €50,000 ($53,000) Guarantee. Friday will have Day 1A at 1pm & Day 1B at 6pm. I am trying to cater for all types of players to give as many chances as possible to qualify for Day 2. We will have a turbo flight at 11am Saturday morning with Day 2 kicking off at 2 pm. You will also be able to buy into Day 2 directly. We play through to a winner.
We will also have a €150 ($159) side event on the Saturday at 5pm which also plays through to completion.
I think it is important for multi-flight events to have shorter scheduled days
I am also bringing a unique structure to our Main Event. I do plan to qualify a higher than average percentage of players into Day 2 than the current industry standard. I think it is important for multi-flight events to have shorter scheduled days not longer. We will also offer cash games at these events and I will do my best to offer incentives so that players are happy to bring their action.
As a professional poker player or an amateur I want good structures and I want fair rake and a quality environment to play. So this is the model I have built this tour around.
Tell us about the WPTGlobal connection?
I approached WPTGlobal a few months back and they seemed to have an immediate interest in what I am trying to do here long term. They have been great to work with and have a highly educated team that has been willing to share its resources with me while I've been building APT. I couldn't ask for much more as a start-up company.
When I set out looking for a sponsor for my tour I really couldn't think of a better or more driven sponsor than WPTGlobal. We have all seen what they have done in their short time and all our values seemed to click. What they did in Las Vegas with the Wynn poker was nothing short of spectacular. To dare to be that bold to put on a $15m guarantee and then smash it to reach an amazing $29m prizepool, I think that may have been an industry first. The whole poker world took notice and everyone's socials seemed to be flooded with what an amazing job they had done.
We have lots of great ideas for this tour
I am hoping to emulate this on a smaller scale and then simply see where this takes us. We have lots of great ideas for this tour but for now it is all about getting APT off the ground and to do our very best to gain the Irish poker community's support right from the off.
Anyone who wants to sign up to WPTGlobal and show support for the tour can visit the website.
Finally, I believe you just announced your first tour ambassador?
I was hoping you wouldn't bring that up as it's rather underwhelming, but since you have I guess I can say that all expense has been spared and we have signed Dara O'Kearney. I appreciate almost none of your readers will have heard of Doke as he is widely unknown, but he used to be a somewhat profitable mid-stakes grinder back in the day and we shared a condo or two in Vegas.
He's obviously completely washed up these days, last I heard he was trying to sell a few books at live events, so I thought I'd give him a dig out for old time's sake. Plus, let's be honest, he's all we could get on the limited start-up budget. But rest assured if the tour does take off he will hastily be replaced by a bigger name. The dream is to one day sign someone like David Lappin, the biggest Irish legend there is, who would also (he assures us) look devilishly handsome on the poster.
But for now, yeah, we and you are stuck with Doke.
Source: https://www.vegasslotsonline.com/news/2023/02/23/dara-okearney-oh-my-god-its-jason-tompkins-and-his-new-tour/