Share:
Coinbase reported a lower Q1 loss than expected.
COIN stock is down more than 9% in the premarket.
Operating expenses have nearly been cut in half over the past year.
SEC pushback is a major worry for analysts.
Coinbase Global (COIN) stock impressed the market late Thursday with a loss that was far lower than Wall Street expected. Coinbase lost $-0.34 per share in GAAP earnings, whereas analyst consensus was calling for $-1.36 in the leadup to the first quarter results.
COIN shares rose 9.2% in late Thursday trading afterhours to $53.75.
Coinbase stock news: Expenses nearly cut in half from a year ago
Revenue of $772.5 million plunged 33% YoY but still beat the extremely dour Wall Street consensus by $119 million. Even with the major downturn in revenue, which was a product of lower crypto prices, management was able to cut the stratospheric losses of prior quarters by trimming operating expenses by a full 24% QoQ. Operating expenses in the first quarter fell from $1.18 billion in the quarter ending in December to $896 million. This was a staggering 48% drop YoY.
Revenue for the quarter consisted of $374.7 million from transactions, while subscriptions and services brought in $361.7 million. Transactions revenue grew by more than $52 million from the fourth quarter, while subscriptions and services increased by nearly $80 million over the prior quarter.
Trading volume of $145 billion was roughly flat from the fourth quarter but way off the crypto boom on year ago that saw $309 billion in transactions on the Coinbase platform.
"This is the fourth crypto cycle that Coinbase has been through, and we've emerged stronger after each one," said Coinbase CEO Brian Armstrong in a statement.
Generally speaking, analysts were less impressed than the market on the results. Mizuho Securities cuts it price target on COIN stock from $30 to $27, arguing that Coinbase is too reliant on risky segments of the crypto industry like yield products. The Securities & Exchange Commission (SEC) has Coinbase in its crosshairs, and Coinbase admitted in its filings that SEC pushback could cause a material impact on the business. The SEC is expected to rule that certain cryptocurrencies traded on Coinbase are in fact unregistered securities.
A Cowen & Co. analyst flagged this regulatory worry as a reason for retaining its underperform rating. Analyst Stephen Glagola said regulators "potentially could require Coinbase to jettison its entire customer-facing business."
Coinbase stock forecast
Coinbase stock has moved up quite a bit in Friday's premarket, but it still needs to break above $62 to instill an uptrend. The daily chart shows that $62 has been integral to both support and resistance levels since May of last year. The Relative Strength Index (RSI) demonstrates that COIN remains generally oversold, and this is a main feature of why COIN is bouncing so strongly on Friday. The further resistance levels that work as price targets for bulls of $76 and $85 still look far off at the moment. In the meantime, the 9-day moving average just above $52 should provide support.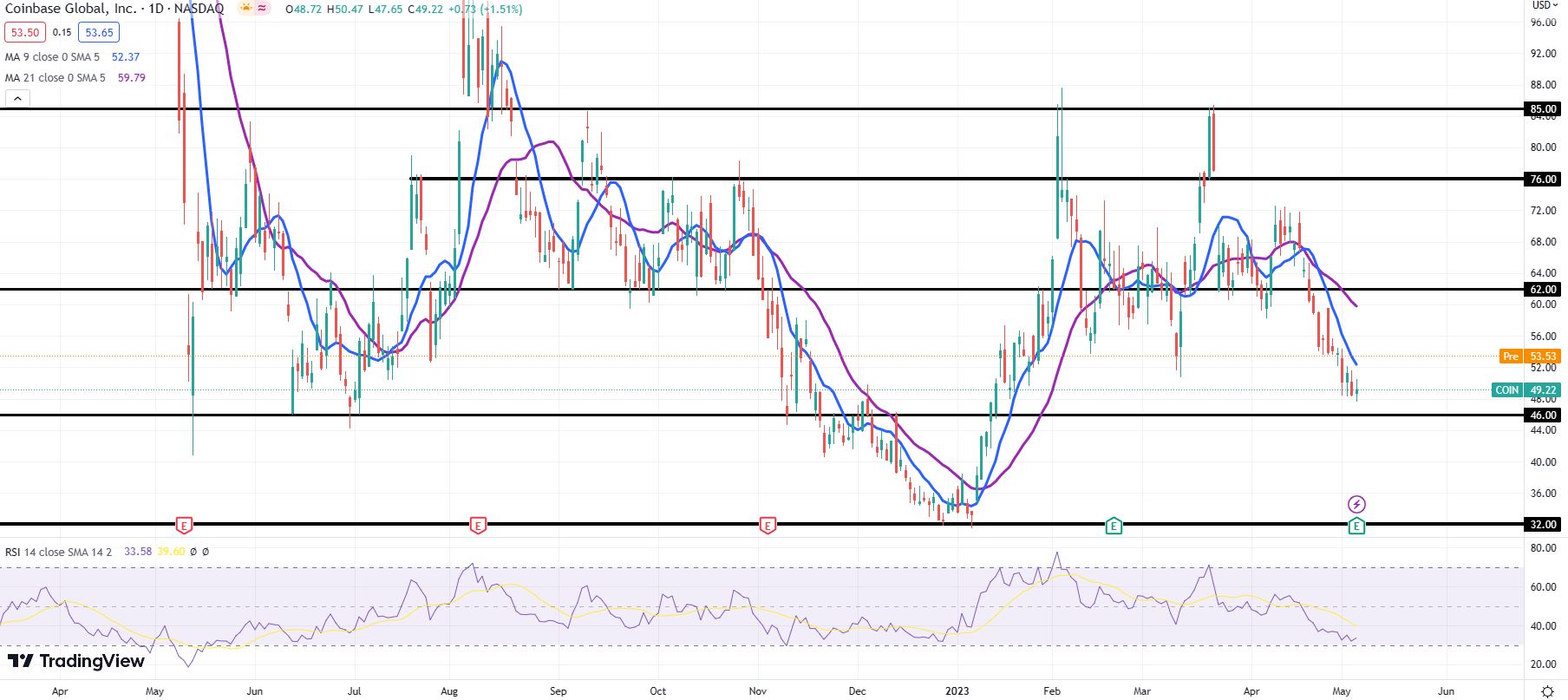 COIN daily chart
Source: https://www.fxstreet.com/news/coinbase-global-stock-earnings-coin-shoots-up-9-on-sharply-reduced-q1-loss-202305051108