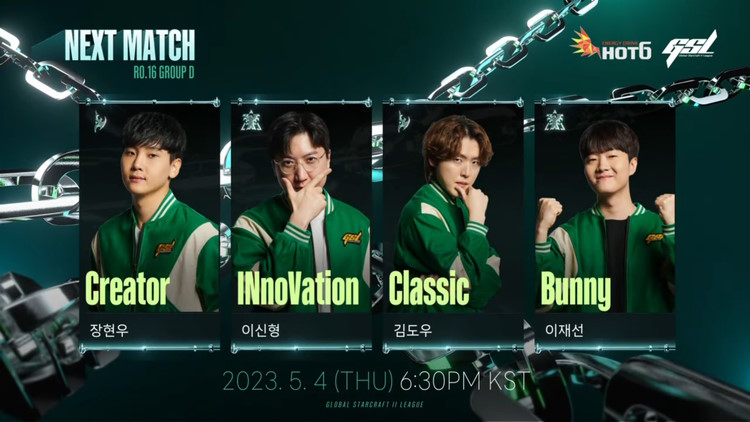 RO16 Group D Preview: Dark, Stats, GuMiho, Ryung
Start time: Thursday, May 04 9:30am GMT (GMT+00:00)
by Mizenhauer
Group D features the second major comeback of the season, as the legendary INnoVation will play in his first Code S since 2021. Few players in StarCraft II history have possessed as much raw macro talent INnoVation, and he'll have to lean on that strength if he's to survive this group.
Creator proudly enters Group D as the highest seeded player, an honor he couldn't have dreamed about at around this time last year. Indeed, the 2022/23 campaign was a period of almost complete reinvention for the once downtrodden Creator, where he started with a Code S runner-up finish and ended with a top 12 finish in the World Championship.
The top seeds are typically gifted an easy initial opponent in the group stage—like KeeN or NightMare who already went 0-2 this tournament—but Creator faces a slightly trickier opponent in INnoVation. Make no mistake about it, INnoVation is the heavy underdog in this match-up—a complete reversal of positions from his pre-military days. However, that change seems to be more the result of long rust from military service, rather than a change in these two players' baseline abilities.
A few players have already remarked in GSL interview videos that they're quite surprised INnoVation qualified, with Solar even saying The Machine took a two week break and hastily practiced the day before the qualifiers. Given that INnoVation beat strong ZvT players RagnaroK and DRG to reach Code S, you have to wonder just how tremendous his innate talent must be.
INnoVation's return has been going as well as could be expected given his lengthy break from the game, but it seems prudent not to read too deeply into his qualifier run. INnoVation hasn't produced any notable results outside of the qualifiers, and the other big qualifier surprises in KeeN, NightMare, and Stats all failed to deliver once they had to play in Code S. Combined with his peers' comments about his practice time, it doesn't seem like INnoVation is on the ByuN track of military returnees. Perhaps he will eventually restore the old balance of power with Creator, but that day doesn't seem to be coming any time soon.
For fans of INnoVation in search of a lifeline, one can point to the fact that Creator has been somewhat shaky post-Katowice, and his poor qualifier performances were why the aforementioned Stats and KeeN made it into Code S at all. While Creator seems to have found more solid footing in the last week or two, INnoVation could be an unexpected threat if Creator is not at 100%.
Creator 2-0 INnoVation
The second match of Group D is much closer, featuring two players at a potential crossroads.
Bunny was on absolute fire toward the end of 2022, peaking with a top four finish in Code S and runner-up finish at DreamHack Atlanta. At his best, he even looked like he could squeeze his way into Korea's most elite tier alongside Dark-herO-Maru. However, all this momentum came to a screeching halt when Bunny flopped out of the group stages at the IEM World Championship. Things have continued to go downhill from there, as Bunny failed to make the qualifier cut for the $400,000 Gamers8 tournament (a somewhat forgiving qualifier where 8 of 12 players advanced). With Bunny experiencing such severe performance whiplash, one must wonder what level he's at headed into this group.
In contrast, Classic's arrow is currently pointing up. He isn't experiencing anything like Bunny's incandescent rise last year—it's a quieter, steadier improvement that makes nostalgic fans hopeful. Classic had a rough time of things in 2021-22 after returning to StarCraft II from military service, but in 2023 he began to show the class that made him a champion in the past. IEM Katowice 2023 was the beginning, where he exceeded expectations by fighting his way through the RO36 play-in and into the group stage. He's built on that result, playing some very solid StarCraft in the pre-season.
Classic's stretch of play since April is especially notable, as he put up a 23-11 match record with victories over many clear, Code S caliber players including Dark, RagnaroK, Solar, DRK, herO, Creator and GuMiho. He even managed to qualify for Gamers8, which unofficially marks him as one of Korea's top eight players.
Despite Bunny's slide, he still seems to be the favorite in this match. We haven't forgotten about 2022 Bunny quite yet, and it seems inconceivable that all traces of that once-scintillating player are completely gone. On the other hand, Classic's theoretical ceiling is even higher—he did actually win Code S in the past.
Regardless of who wins or loses, both players would be favored in a loser's match against INnoVation. With only two spots in the Round of 8 yet to be decided and qualification for ESL Masters Summer determined by those who finish in the top six of Code S, it's essential for both players that they take the opening match and give themselves two shots at advancing.
Predictions
As it turns out, picking Stats to advance out of Group C due to sentimentality wasn't so wise. So, while INnoVation is still the pick in our hearts, he won't be making the 'official' prediction cut this time.
With Bunny on the decline, Classic on the up-and-up, and Creator on the… … something, it's extremely hard to predict which two will advance. While Creator and Classic have been very active during the pre-season, Bunny made this prediction even murkier due to his very few games played (only competing in the Gamers8 and Code S qualifiers). It could very well be the case that the Gamers8 qualifiers and IEM Katowice were blips, and Bunny comes out and dominates this group.
Interestingly enough, Classic is actually the most likely player to advance from this group according to Aligulac.com with at 62% chance, due to his great form in online tournaments in recent weeks.
While it's risky to pick two players competing in an opening match, Bunny and Classic will be the predictions here. Two bad tournaments doesn't isn't enough to wipe away Bunny's reputation as a high-peak player, while Classic seems to have gotten over the military returnee hump.
Prediction: Bunny and Classic to advance.
---
Source: https://tl.net/forum/starcraft-2/610922-code-s-ro16-preview-creator-innovation-bunny-classic