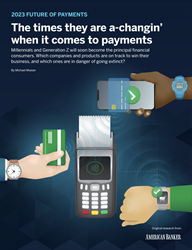 "This is a pivotal moment. Boomers are moving out of centerstage and taking their preferred payment methods with them. Customers have a lot of options now, and the choices that Gen Z and millennials make will decide which companies and payment forms are the winners and losers"
NEW YORK (PRWEB) May 03, 2023
A new research report from Arizent, the parent company of American Banker, highlights current trends in emerging payments and the risk they hold for legacy offerings and the financial institutions that provide them. The results indicate that an era of payments is ending: As aging boomers are replaced by Gen Z and millennials as the principal financial consumers, mass adoption of new innovation is opening doors for tech giants to compete with banks and credit card companies on equal footing.
The report shows at at least half of Gen Z and millennial respondents have made a digital P2P (peer-to-peer) payment and used a digital wallet for an in-store payment or an online purchase. Compare these numbers to a third of boomers making P2P payments and digital wallet online payments, and one in 10 using a digital wallet for in-store payments.
"This is a pivotal moment — the future of payments can be seen through the lens of how Gen Z and millennials are approaching them today," says Janet King, VP of Research for Arizent. "Boomers are moving out of centerstage and taking their preferred payment methods with them. Customers have a lot of options now, and the choices that Gen Z and millennials make will decide which companies and payment forms are the winners and losers."
With the rising popularity of digital commerce, big players such as Paypal and Apple are now offering buy now pay later (BNPL) services that allow consumers to pay 25% of the purchase price at time of the transaction with the remaining 75% divided into three equal bi-weekly payments taken from their debit card at no interest and with no late fees.
Nearly half (47%) of participants said BNPL allowed them to make a purchase; however, 60% of Gen Z and 66% of millennial consumers report being likely to use BNPL in the future, compared to only 31% of boomers.
"BNPL has become one of the biggest reasons why market shares are shifting from legacy banks to fintechs," says Daniel Wolfe, Content Director at American Banker. "Banks need to recognize that the current payments era will end, and change is already underway. Boomers' dominant use of credit cards, paper checks and retail store cards will be replaced by Gen Zers' and millennials' preferences for debit, BNPL, digital wallets and P2P."
Another way that tech giants are reaching the next generation of consumers is through wearable payment devices like Apple Watches or Fitbits. The report shows that 28% of Gen Z and 36% of millennials said they plan on purchasing one, while 58% of boomers expressed zero interest in this technology.
The full report can be downloaded here: https://www.americanbanker.com/research-report/the-times-they-are-a-changin-when-it-comes-to-payments
Research Methodology
This research was conducted online by Arizent/American Banker during February 2023 among 507 consumers aged 18 and older. The respondent pool was balanced to match the U.S. population based on gender, generational age and race demographics.
For more information on this survey or other Arizent research, contact:

Janet King

Vice President, Research

Arizent

janet.king@arizent.com

M 207-807-4806
About American Banker

American Banker empowers banking professionals with unique analysis and insight into the ideas transforming their business and industry. Across its journalism, events, research and benchmarking, it helps drive the way forward through the complexity of business innovation, retail and commercial disruption, technology, regulation, and reform. With a banking community 850K strong, American Banker's transformative content connects leaders online, in person and in print every day.
About Arizent

Arizent is a business information company that advances professional communities by providing insights and analysis and convening industry leaders. The company uses deep industry expertise and a data-driven platform to deliver its services, which include subscriptions, marketing services, live events and access to Leaders, an executive forum. Arizent also connects business communities through leading financial services brands like American Banker, The Bond Buyer, Financial Planning and National Mortgage News, as well as professional services brands like Accounting Today, Employee Benefit News and Digital Insurance.
Share article on social media or email:
Source: https://www.prweb.com/releases/american_banker_publishes_future_of_payments_2023_research_report_exploring_adoption_and_usage_among_gen_z_millennials_and_boomers/prweb19313895.htm